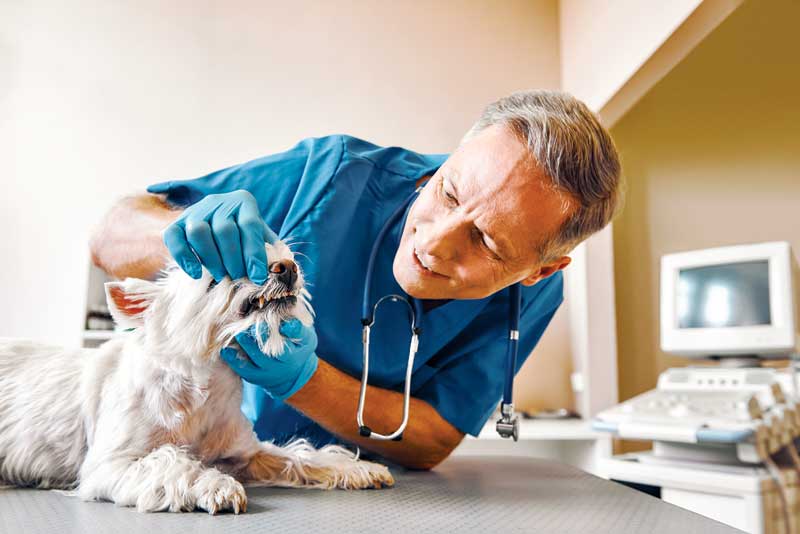 While eight out of 10 patients you examine will need dental treatments, fewer than four clients will accept professional care for their pets.1 Dentistry is a dismal 2.5 to four percent of revenue, despite being the No. 1 health concern you diagnose.2 Let's fix these bad habits to stop getting "no" from pet owners:
You don't offer payment plans. When financing isn't available, 43 percent of pet owners decline procedures due to cost.3 When a client says, "I can't afford it," the first no is not the final no.
Acknowledge pet owners' concerns, and then share financial solutions. Say, "I understand you're concerned about the cost of your pet's dental procedure, which is $600. We offer XYZ, a payment plan for approved clients that has six months of deferred interest. Your monthly payment will be $100. You can apply in less than five minutes on your smartphone. Let me show you how."
Dental disease will get worse and more expensive to treat. Financing can provide immediate care that's best for the patient's health and for your practice. A quick search online yields numerous third-party providers who offer financing for veterinary clients.
You ignore the client's fear of anesthesia. This is the elephant in the room. In an online survey, pet owners said one in three veterinarians and one in two technicians did not mention anesthetic risk.4 Imagine how clients may feel when they learn their beloved pets need to be anesthetized for procedures.
Discuss anesthetic protocols and risks in ways that are both informative and transparent, advises Ryane E. Englar, DVM, DABVP, an assistant professor and clinical education coordinator for Kansas State University College of Veterinary Medicine. She advocates summarizing anesthetic risks as four points when speaking with clients:
1) Anesthetic risks are unlikely, but possible.
2) The potential risks include ___________.
3) At our hospital, the risks we see have been limited
to ___________.
4) This is how we manage those risks to improve anesthetic safety for your pet ___________.
Open-ended questions start dialogues with clients that will increase their understanding and lead to yes decisions. Dr. Englar uses phrases such as "Explain your concerns to me about this procedure" or "Share with me what's going through your mind about the decision to anesthetize <pet's name>."
You email dental treatment plans post-visit. At a seven-doctor practice with five exam rooms where
I provided consulting services, technicians were emailing dental treatment plans after exams. They justified the tactic by saying that taking another five to 10 minutes to go over treatment plans would slow down room turnover and increase wait time. The time-saving scheme resulted in poor compliance: a mere 17 percent. Emailing treatment plans later inferred to clients it wasn't important enough for medical staff to discuss during exams, so many assumed treatment was "just a recommendation" and not medically necessary.
While I'm a raving fan of exam efficiency, there's a better way.
I had the team build Grade "1" to "4" dental treatment templates with core services, which sped up the process because they only needed to add extractions or specific services based on the patient's diagnosis. Services are listed in the order they are delivered, so technicians could efficiently walk clients through the steps of a dental treatment from preanesthetic testing to recovery.
You wait for clients to call you to book procedures. By the time clients reach their cars in your parking lot, they've mentally moved on to their next tasks. You need to ask for a commitment to treat on the day of diagnosis. To lead the pet owner to book now, offer the veterinarian's next two procedure days as options. Book the dental treatment with the same doctor who diagnosed the condition because he or she will be familiar with the case and enjoy production pay. Scheduling with the same doctor also increases clients' confidence.
If you have computers in exam rooms, doctors or nurses should book procedures during the appointment, which elevates the importance of treatment. If you don't have computers in exam rooms, put alerts in electronic medical records, on paper charts, or on travel sheets so front-office staff knows to book procedures.
You shock clients with surprise extractions. Your treatment plan included three extractions but you performed six. Clients question extra charges and unanticipated oral surgery.
Use dental models with clear gums to illustrate that 60 percent of the tooth structure is below the gum line. Explain, "On physical exam, I can see 40 percent of the tooth structure and gum line. Once your pet is under anesthesia, we will take X-rays to reveal the other 60 percent. If I see decayed roots, resorptive lesions, or other oral health issues, I will call you to explain my diagnosis and to get your permission to proceed." Share examples of dental X-rays with normal and abnormal teeth in a two-up view to illustrate to the client how imaging helps you get the complete picture.
Question your routine of who, how, and when you present dental treatment plans. Fine-tuning the process helps your team be better, more effective communicators who persuade clients to say yes today.
Wendy S. Myers, CVJ, has been training veterinary teams for more than 20 years as owner of Communication Solutions for Veterinarians in Castle Pines, Colo. She helps health-care teams improve telephone and communication skills that result in getting more pets the medical care they need. Myers shares her expertise through conferences, online courses, and monthly CE credit webinars. She is a certified veterinary journalist and author of five books. You may reach her at wmyers@csvets.com or www.csvets.com.
References
1 Report: Compliance: Taking Quality Care to the Next Level. American Animal Hospital Association, 2009;11,16.
2 How Does Your Practice Measure Up? Live Oak Bank Measures Veterinary Practice Performance. Available at:
bit.ly/2LknOgv. Accessed Dec. 2, 2019.
3 CareCredit Path to Purchase study, 2016. Study on file at CareCredit.
4 Midwestern University College of Veterinary Medicine, Glendale, Ariz., 2016 online survey to explore clients' understanding of anesthetic risk.