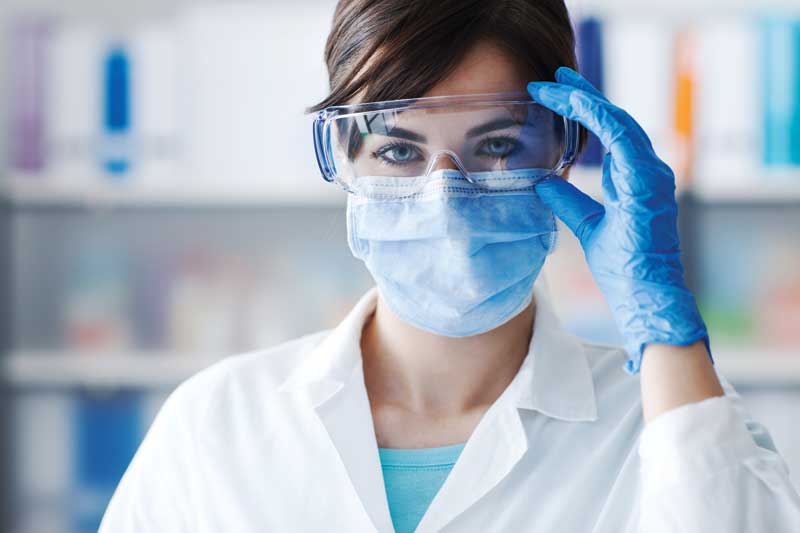 No one is exempt from doing their part to keep the workplace safe. Why? Because in 2018 (the most recent data available), there were 2.8 million nonfatal workplace injuries and illnesses reported in private industry, with the health-care and social assistance category coming in third in terms of the overall most cases.1
One list reports the 10 most common workplace accidents and injuries as being:2
1) Slips, trips, and falls
2) Muscle strains
3) Being hit by falling objects
4) Repetitive strain injury
5) Crashes and collisions
6) Cuts and lacerations
7) Inhaling toxic fumes
8) Exposure to loud noise
9) Walking into objects
10) Fights at work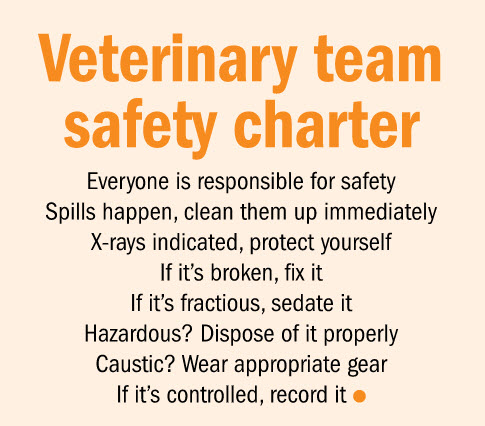 How many of these are potential accidents just waiting to happen in your clinic? While number 10 seems a bit removed from the scope of the Occupational Safety and Health Administration (OSHA), and number 9 is, well, simply the result of being distracted, the rest are genuine risks in a veterinary setting.
The bottom line is that all accidents can be minimized or prevented. That said, it takes a team effort to make sure they happen as seldom as possible. To get started, consider creating a "Veterinary team safety charter." It may read something like this:
A team charter is best designed as a group effort. Ask your team to read this article before creating one of your own.
Well-managed practices have employee handbooks and/or safety manuals outlining safety precautions and expectations. But don't let them just sit on the shelf and collect dust, or worse, use them to prop up a table that should have been fixed ages ago.
Managers and supervisors need to review the importance of safety when people are first hired and throughout the year with the entire team. Here are just a few areas to consider:
OSHA
Safety data sheets (SDSs)
Personal protective equipment (PPE)
Dangers (e.g. aggressive animals, natural disasters)
Pregnancy
Reporting accidents
Let's take a closer look at each:
OSHA
Every employer with one or more employees must operate in compliance with the Occupational Safety and Health Act of 1970. OSHA was established to regulate the safety of all workplaces, knowing that American workers want and need a safe work environment. The purpose of the act is to "assure so far as possible every working man and woman in the nation safe and healthful working conditions."3
In one of the many downloads found on OSHA's site (OSHA.gov), managers and technicians can determine their state and federal regulations. A safety handbook can be printed and used by management to establish policies, identify a safety coordinator, and outline training. Veterinary practices can request a free review of their small business. To find out more, contact OSHA to set up an on-site consultation, which is completely separate from enforcement and does not result in penalties or citations.
Safety data sheets
SDSs must be kept on file—all employees are required to know where they are located (they can also be kept electronically as long as they are easily accessible). Having SDSs helps the business to stay in compliance with OSHA's "Right to Know Law," which requires employees are informed of hazardous chemicals they may be exposed to while at work. It also requires the employer to provide the appropriate personal protective equipment that is prescribed by the manufacturer when handling chemicals.
In addition, containers must be labeled according to the defined hazard and SDS. Primary containers sent from the manufacturer will carry appropriate warning labels. When primary ingredients are placed into smaller containers, secondary containers must be properly identified with contents and warnings.
PPE
As mentioned, having appropriate personal protective equipment is not optional. All workplaces must provide PPE at no cost to the employee.
The table above is a short list of potential hazardous exposures and the appropriate equipment.
Dangers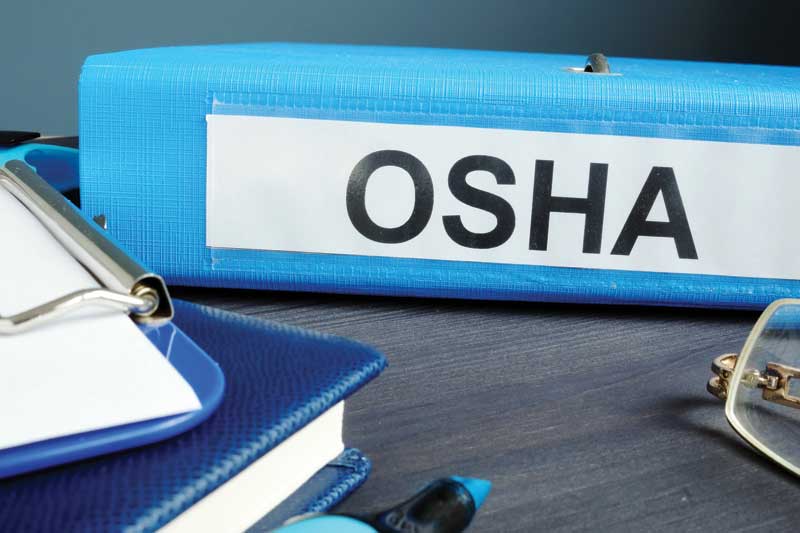 Every day, veterinary teams are exposed to dangers. Fractious cats, aggressive dogs, and startled horses are just a few. Properly restraining patients decreases the chances of harm to the patient, owner, and handler. Stocks, chutes, cages, cat bags, leashes, and restraint poles all can be used to decrease injuries. Consider Fear Free professional training for your entire team.4
There are other perils within a veterinary setting, including radiation exposure, gas anesthetics, carcinogenic chemicals, bacteria, zoonotic diseases, and caustic solutions. Everyone on the team needs to follow proper protocols and disposal methods to avoid putting the clinic, team, patients, and owners at risk.
And lastly, fires, floods, and other natural disasters can interrupt a veterinary hospital's daily routine. Fire drills, evacuation plans, and temporary shelters are best determined before the disaster strikes. By having plans in place and working with state and local agencies, your team will be ready when the unfortunate occurs. Learn more by checking out Federal Emergency Management Agency's (FEMA's) website.5
Controlled substances
Since veterinary hospitals stock controlled substances—and the general public knows it—be cautious. Following strict regulations for ordering, storing, and disposing of scheduled drugs will keep everyone safe.
Jan Woods, a professional services and regulatory affairs manager for Cubex, reported in her Veterinary Practice News article (October 2019), "72 percent of respondents said they had worked with someone in the veterinary workplace they suspected of having a drug problem. More than 40 percent said they knew two or more people who fit that description. A full 68 percent said drug abuse and addiction are at least as big a problem in the veterinary profession as in the general population, if not bigger." She makes reasonable considerations, "To stay compliant, best practice would strongly suggest keeping a very tight ordering and receiving system; current, complete, and accurate closed and open logs; daily reconciliation counts; a discrepancy log; and an administration waste log. In order to save valuable time, increase security to reduce risk and consider using an electronic recordkeeping system to help prevent theft and determine if the drug loss was significant."6
While it can be difficult to sound the alarm, not reporting abuse—both in and out of the veterinary hospital—serves no one and only enables individuals to continue with addictive habits.
Slips, falls, storage, and flammable materials
Spills happen. When a mess occurs, clean it up immediately. Don't expect someone else to do it. After all, clients, employees, and patients are at risk. In most cases, using towels or a mop suffice. If a hazardous material spill occurs, follow precautions listed on the primary container or SDS.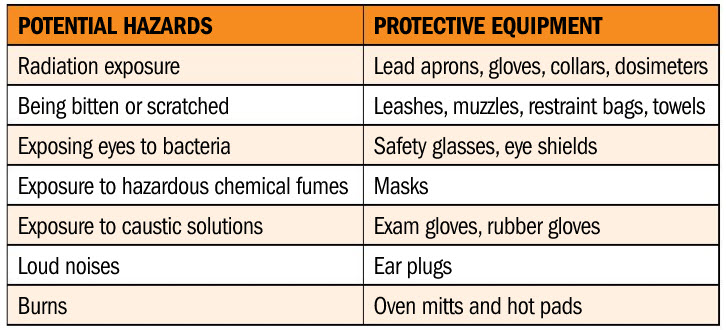 Storage can be a challenge in veterinary hospitals. Assess the area before stacking multiple boxes or placing items wherever they will fit. Staircases are not storage units. Ideally, items should be well secured so that even if someone bumps into a shelf, nothing will fall and hurt someone.
How many electrical items can be plugged into one outlet? Beware of overloading circuits, electrical equipment, cords, and heating units, as all may pose a hazard. Always secure electrical cords and keep them from getting wet, especially in busy surgical suites when people may not be looking down as they move around.
Flammable materials must be stored in appropriate containers. Regardless of size, oxygen tanks must be secured. After all, no one wants an oxygen tank torpedo going through a wall or tipping over.
Used in gas sterilization, ethylene oxide is a potent human carcinogen. Special instructions and precautions must be followed. Consider appointing a dedicated veterinary technician to oversee gas sterilization procedures to ensure safety for all.
Working alone
There are times when an employee may be in the hospital by themselves. Be sure the team understands protocols when working alone. Post emergency numbers next to phones. If an unsettling circumstance occurs (e.g. an owner demands to pick up his pet or you're being robbed of money or drugs), what is the protocol? Giving them what they want decreases potential injury to the employee. Be sure to stress the police should only be called when the staff member is out of harm's way. Also, making mental notes about the person, the color of their car, their clothes and speech, etc., is good information to give to the authorities.
Pregnancy
When an employee becomes pregnant, she is encouraged to tell her supervisor right away. For the safety of both mother and unborn child, review the safety measures that are in place to clarify whether changes in duties are needed regarding radiology, anesthesia, kennel duties, and lifting.
Worker's compensation claims
Despite everyone working together toward creating a safe environment, accidents still happen. That 20-lb. dog will jump out of the bathtub, causing you to twist your back trying to catch him, or the partially anesthetized dog will bite down, causing a puncture wound to a finger. You know the scenarios.
Supervisors and managers need to be notified as soon as possible (within three working days) to get the paperwork rolling. Even if the injury
doesn't seem severe at the time, report it anyway, as you don't know what may develop over time. It's important to follow protocols identified in your employee handbook.
In conclusion, safety is everyone's responsibility. Yes, OSHA regulates the law; however, it is in the best interest of the veterinary hospital to have established safety protocols and to follow them. Every employee needs to be aware of potential hazards. After all, there are plenty of them! Minimize accidents wherever possible. Not only that, leaders must set the example.
Provide proper training to minimize bites and scratches. When something is broken, fix it. When a piece of electrical equipment is faulty, repair it. When a new employee is hired, train him or her. Create a maintenance log and use it. Properly label secondary containers and make sure all PPE is in good shape. Understand what to do before a disaster occurs. When an employee requires medical attention, go to a human hospital. Working in veterinary medicine is a great career—staying safe makes it even better.
Rebecca Rose, CVT, certified career coach, founder, and president at CATALYST Veterinary Professional Coaches, has a diverse background in the veterinary community. She has worked in and managed clinics, collaborates with industry partners, and facilitates engaging team workshops. Rose's enthusiasm for professional development in veterinary medicine is contagious, as she encourages and supports veterinary teams in reaching their highest potential. She can be reached via getCATALYST@CATALYSTVetPC.com.
References
1 News Release Employer-Reported Workplace Injuries and Illnesses-2018. bit.ly/2TZmtiy
2 10 of the most common workplace accidents and injuries. bit.ly/337ODw6
3 OSHA, Occupational Safety and Health Administration, osha.gov
4 Fear Free, Taking the Pet out of Petrified, fearfreepets.com
5 Federal Emergency Management Agency
(FEMA), fema.gov
6 My Controlled Substances were Stolen, Oh no! Veterinary Practice News Jan Woods, October 2019 bit.ly/33cbQx3