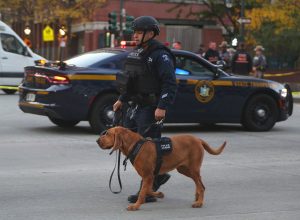 Today is National K9 Veterans Day, and Zoetis's K-9 Courage Program has partnered up with Mission K9 Rescue to celebrate four-legged veterans.
K-9 Courage supports approximately 650 dogs every year by providing the owner of each dog with a $300 debit card, which can be put toward veterinary expenses. The "Paws and Give Thanks" campaign focuses on retired military and police dogs that have had an impact on the safety of the public and continue to live happily with the help of the program.
"K9 Veterans Day is the perfect time to honor retired working dogs for their brave service, which too often gets overlooked or taken for granted," says Zoetis Petcare marketing executive director, J. Michael McFarland, DVM, DABVP. "Partnering with Mission K9 Rescue provides Zoetis Petcare with the opportunity to give back to even more retired military and police dogs, which have dedicated their lives to provide us with protection, happiness, and freedom, both at home and abroad."
Mission K9 Rescue is a nonprofit organization that works to rescue, reunite, re-home, and rehabilitate retired working dogs. Since 2014, the organization has saved and transported hundreds of retired war dogs from overseas. Mission K9 Rescue has also donated more than $500,000 to help pay veterinary bills for retired working dogs.
"We are grateful to partner with Zoetis Petcare and its K-9 Courage Program, which shares our goals, values, and respect for retired military and police dogs that have selflessly served our nation," says cofounder and president of Mission K9 Rescue, Kristen Maurer. "We believe these heroic dogs have earned and deserve lifelong care after their years of loyal service."