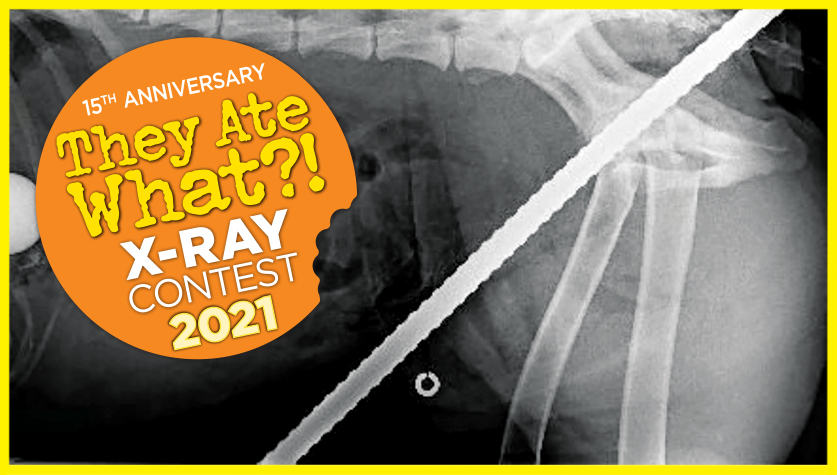 Sponsored by:

Our bull terrier Dexter likes to eat paper products. That looks downright normal next to the crazy things pets consumed as revealed in this year's They Ate What?! contest. Hair ties, toys, and gravel—oh, my! Looking through the images sparked a variety of reactions from the team, including disbelief, confusion, and, in some cases, something resembling begrudging respect for the "accomplishment."
Those radiographs give a clear picture of the "who" and the "what." Sometimes clients were present and can address the "how." But the biggest mystery remains—why, oh, why would any pet eat these things?! Many of them do not seem tasty in the slightest, and quite a few seem downright challenging to swallow. As you will see, most of the pets clearly did not even bother to chew. We are proud to showcase these pets (and one cow!), perhaps the ultimate gourmands, as selected by an esteemed panel of judges.
This year marks the 15-year anniversary of this contest, and the winner receives a $500 VISA gift card, along with one full month of real-time AI radiology test results for all their studies, from contest prize sponsor SignalPET.
Contest judges
Marty Becker, DVM, writes the Veterinary Practice News "In the Middle" column
Patty Khuly, VMD, MBA, writes the "Off Leash" column for Veterinary Practice News and "Unleashed" for VPNPlus+
John Lewis, VMD, FAVD, DAVDC, writes the Veterinary Practice News "Dental Pearls" column
Doug Mader, MS, DVM, DABVP), is a long-time Veterinary Practice News contributor
Michael Petty, DVM, DAAPM, CVPP, CCRT, is a member of the Veterinary Practice News editorial advisory board
Holly Sawyer, DVM, is a frequent Veterinary Practice News contributor
Neil Shaw, DVM, DACVIM, is the chief medical officer of SignalPET