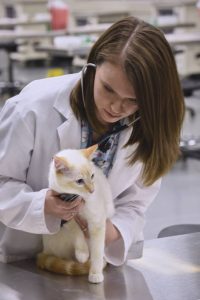 Lincoln Memorial University-College of Veterinary Medicine (LMU-CVM) has announced an award partnership with Southern Veterinary Partners (SVP) aimed at reducing student debt and hiring quality veterinary associates.
"Our company has skilled veterinarians who enjoy teaching and training students," said Jay Price, DVM, CEO of SVP. "We appreciate the opportunity to participate in this new education model. SVP gets to invest in veterinary students, help lower their student debt and hire veterinary students with real-world clinical and practical experience."
The SVP LMU-CVM Student Clinical Year Award will provide financial support to select LMU-CVM veterinary students to mitigate student debt, and create a path for employment with the company following graduation.
Each awarded student will receive $25,000 to be directly applied to their clinical year tuition and will complete a specified amount of their clinical training in approved SVP hospitals during their clinical year.
SVP will provide up to two awards annually.