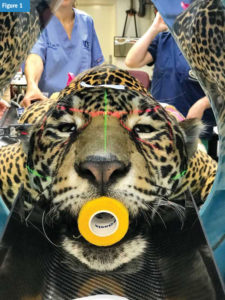 Computed tomography (CT) has revolutionized our ability to detect subtle hard and soft tissue abnormalities of the maxillofacial region. Cone-beam computed tomography (CBCT) is creating much buzz amongst veterinary dentists when it comes to dental/maxillofacial diagnostic tools.
What is the difference between CBCT and conventional CT? Rather than a collection of thin, closely spaced slices obtained with a fan-shaped beam of conventional CT, CBCT has both an X-ray generator and detector that rotates around the patient, capturing data with a cone-shaped beam. Both modalities can be used to create very helpful 3-D reconstructions of the areas of interest, although CBCT provides increased detail of dentoalveolar structures. One veterinary study compared CBCT's diagnostic image quality with that of 64-multidetector row CT sagittal slices. Four blinded evaluators compared CBCT and 64-multidetector row CT images. Trabecular bone, enamel, dentin, pulp cavity, periodontal ligament space, lamina dura and "overall impression" were scored. Images captured with CBCT were found to be significantly superior in image quality when compared to images acquired with 64-multidetector CT in all categories.1
Inka, the jaguar
My first experience with CBCT was with a patient from the Elmwood Park Zoo in Norristown, Pa. Inka is a five-year-old jaguar that fractured a tooth two years prior. Zoo veterinarian Michele Goodman, VMD, felt Inka's previously fractured right maxillary canine tooth should be reassessed. Two years earlier, the tooth was noted to be fractured and a vital pulp therapy was performed (see my column in the March 2019 of Veterinary Practice News for details on vital pulp therapy procedures). At that time, Inka had a cerebrovascular event perioperatively, which resulted in lasting neurologic issues. Understandably, the zoo's doctors and staff were concerned about placing Inka under anesthesia again. However, they suspected something might need to be done about that same tooth and possibly others.
With the help of board-certified anesthesiologist Andrea Caniglia, VMD, DACVAA, zoo staff developed a plan to minimize anesthetic complications. The most accessible diagnostic test to assess vitality of the teeth would be intraoral dental radiography. However, in an attempt to save time under anesthesia, I suggested we arrange to have a CBCT scanner on-site. Coupled with the dedication of a company representative equipped with a trailer designed to haul the CBCT, the scanner's size and mobility allowed for Inka to benefit from this new technology, cage-side.
Another advantage of using CBCT includes its ability to plug into any electrical outlet, along with rapid image generation. One limitation, however, is its decreased ability to assess contrast-enhanced soft tissue structures compared to conventional CT when using intravenous iodinated contrast agents.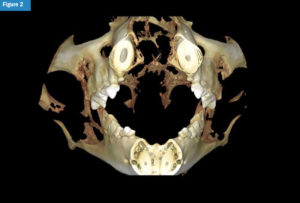 Once Inka was sedated, she was placed in the CBCT scanner (Figure 1), and within a few minutes, we were able to assess not only her entire dentition, but also the bones and joints of her head (Figure 2). This allowed for more rapid commencement of treatment and uneventful recovery.
What the studies say
Recent studies from University of California, Davis provide support of widely held assumptions that CBCT offers more detailed information than dental radiography. In small- to medium-sized brachycephalic dogs, when three CBCT software modules were used (i.e. serial CBCT slices and custom cross sections, tridimensional rendering, and reconstructed panoramic views), the diagnostic yield of CBCT was higher than that of dental radiography for assessment of nine of 10 categories, four of which were statistically significant (abnormal eruption, abnormally shaped roots, periodontitis, and tooth resorption). In only one category (loss of tooth integrity) was the diagnostic yield of CBCT lower than dental radiography.2
In a similar study with feline patients, the diagnostic yield of CBCT was higher than that of dental radiography for 13 of 14 categories, four of which were statistically significant (missing teeth, horizontal bone loss, loss of tooth integrity, tooth resorption).3 Both studies concluded CBCT should be considered better suited than dental radiography in diagnosing dentoalveolar lesions.2,3
Will CBCT replace dental radiography in the near future? That's not likely anytime soon at a general practitioner level, given it's an expensive piece of equipment. Dental radiography can still provide valuable clinical information in every practice for a reasonable cost. However, more and more specialists are taking the plunge into CBCT. It may not be a tool used on a daily basis, but it's nice to have available when needed.
John Lewis, VMD, FAVD, DAVDC, practices dentistry and oral surgery at Veterinary Dentistry Specialists and is the founder of Silo Academy Education Center, both located in Chadds Ford, Pa.
References
1 Soukup JW, Drees R, Koenig LJ, Snyder CJ, Hetzel S, Miles CR, Schwarz T. Comparison of the diagnostic image quality of the canine maxillary dentoalveolar structures obtained by cone beam computed tomography and 64-Multidetector Row Computed Tomography. J Vet Dent. 2015; 32(2): 80-86.
2 Döring S, Arzi B, Hatcher DC, Kass PH, Verstraete FJM. Evaluation of the diagnostic yield of dental radiography and cone-beam computed tomography for the identification of dental disorders in small to medium-sized brachycephalic dogs. Am J Vet Res. 2018; 79(1): 62-72.
3 Heney CM, Arzi B, Kass PH, Hatcher DC, Verstraete FJM. The Diagnostic Yield of Dental Radiography and Cone-Beam Computed Tomography for the Identification of Dentoalveolar Lesions in Cats. Front Vet Sci. 2019; 6: 42.