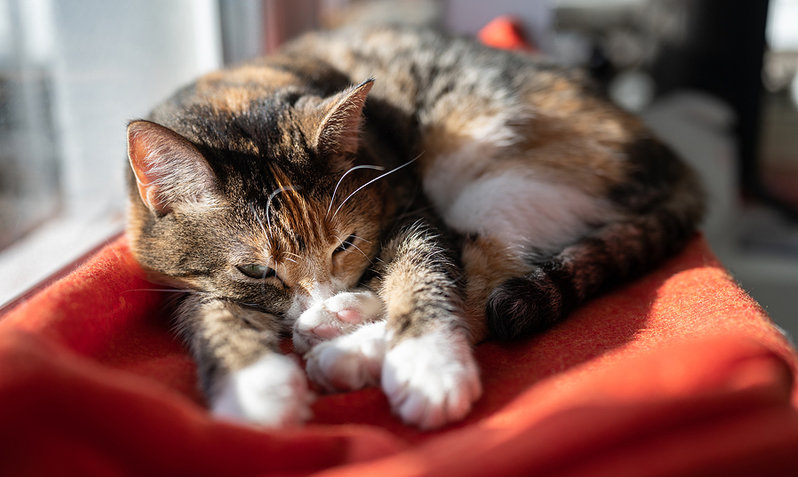 Cats diagnosed with diabetes mellitus now have an oral treatment option.
Bexacat has been approval by the U.S. Food and Drug Administration (FDA) for improved glycemic control in diabetic cats. Developed by Elanco Animal Health, the oral medication, which contains the active ingredient bexagliflozin, marks the first sodium-glucose cotransporter 2 (SGLT2) inhibitor (i.e. not insulin) approved by FDA in any animal species, the agency reports.
While cats with diabetes mellitus have traditionally been treated with a combination of diet and twice-daily insulin therapy, the newly approved tablet offers the alternative option of an oral medication administered once per day.
"It's really about the human-animal bond," says Michael Breer, DVM, senior director of U.S. pet health consulting veterinarians at Elanco. "When developing treatment options for pet owners, we need to consider the paradigm shift that has taken place over the past few years. More than ever, our pets are part of the family. People are apprehensive about using needles to inject their pets with medication."
As with people, the cells of a cat's body require sugar in the form of glucose for energy, FDA reports. Cats with diabetes mellitus cannot properly produce or respond to the hormone insulin, which helps cells use glucose as a source of energy for normal function.
"Without treatment, cats with diabetes mellitus will have high levels of glucose in their blood and urine," the agency says. "The first symptoms of diabetes mellitus are usually increased thirst and urine output, weight loss, and increased appetite."
Bexagliflozin (the active ingredient in Bexacat) prevents cats' kidneys from reabsorbing glucose into the blood, causing excess glucose to be passed out in the urine and resulting in lowered blood glucose.
Data from two six-month field studies, along with an extended-use field study, demonstrate the newly approved medication to be more than 80 percent effective in improving glycemic control in cats with diabetes, FDA reports, adding that potential patients must be selected carefully and screened to evaluate for kidney, liver, and pancreatic disease, as well as ketoacidosis.
Additionally, Bexacat should not be used in cats who have previously been treated with insulin, are receiving insulin treatment, or have insulin-dependent diabetes mellitus, nor be initiated in felines which are not eating well, dehydrated, or lethargic at the time of diagnosis.
The medication, which is sponsored by Boston-based Increvet, Inc., is supplied in 15-mg flavored tablets in 30- and 90-count bottles.
For more, click here.