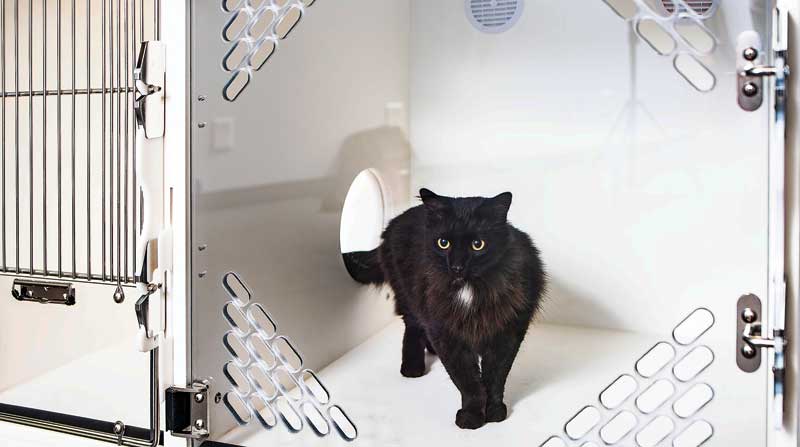 It is an exciting time to be a cat! Researchers worldwide have spent the better part of 15 years investigating the unique kennel and containment needs of our feline friends. What's more, they have recommended changes the animal health industry has spent the last five years weaving into practices, clinics, and hospitals.
Among the most significant takeaways from this research is the tendency of felines to get sick (often with upper respiratory infections) when stressed. When provided with more space and choice in their containment units, cats stayed healthier. This overarching finding is driving change in feline housing.
Stress and disease
In "Shelter Housing for Cats," Denae Wagner, DVM, MPVM, et al., discuss how facility housing design can impact animal health.1
"This is particularly true for cats, a species that is exquisitely sensitive to environmental changes," the study says. "The quality of housing can be literally a matter of life or death for a cat entering a shelter."
While shelter animals experience higher levels of stress than owned pets, there are certainly lessons companion animal veterinarians and practice owners can reap. Notably, the current housing recommendation is 11 square feet per feline. Indeed, as Dr. Wager's study details, when three Canadian shelters moved to providing additional space for felines in 2014-2015, they experienced universally positive results. Respiratory infection rates lowered, the percentage of cats euthanized dropped, and veterinary costs decreased.
Why utilize double-compartment housing?
Beyond additional space, several studies confirm separating the litter area from the sleeping area significantly reduces stress in cats. Researchers attribute this to natural animal behavior, which causes animals to instinctively not eliminate in their sleeping areas.
Applying this finding to veterinary housing, examine what the University of California, Davis (UC Davis) did when it expanded its feline housing and treatment facility in November 2020.2 The university renovated an old '70s-era space to offer improved efficiency and to better cater to the needs of feline patients.
UC Davis balanced using larger housing with the ability to expand and treat more feline patients. The facility opted for larger cages (30 in. wide), as well as stainless steel cat suites with a 30-in. wide main living area connected to a 12-in. wide litter area via sliding portals.
Likewise, when calculating the amount of livable space for felines, consider incorporating resting shelves or benches. The goal is to provide choice to allow cats to decide how and when they want to move around. This has been shown to reduce stress.
Retrofit solutions
Many veterinary facilities are equipped with standard stainless steel housing, measuring 24 to 30 in. Recent studies have found simply cutting a portal between the two cages can provide the desired amount of double-compartment housing.3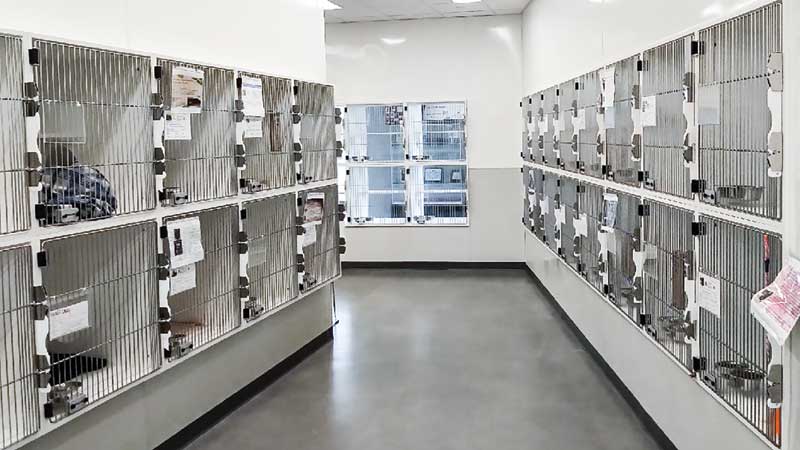 In addition to extra space, these portals offer housing flexibility. As treatment or space requires, staff can close off the portal to keep the cat in one cage; then, when desired, the portal can be opened to allow the cat to spend time in either cage.
In 2017, Kate Hurley, DVM, MPVM, PhD, received the Maddie's Hero Award in recognition of "Portal It Forward," a campaign aimed at encouraging facilities to install portals.4 While this is a shelter-led solution, it also serves as a great alternative for veterinary practices looking to provide additional space for feline patients. This is also environmentally responsible, as it repurposes older cages.
Material preference
Traditionally, there are two camps of thinking on feline housing materials: One group supports stainless steel for its superior sanitation, while the other prefers "softer" housing for cats, such as laminated MDF or similar panels.
Both materials offer benefits. Further, new innovations have provided even more options for material choices to help satisfy feline needs.
Stainless steel housing
Stainless steel has been the backbone of veterinary housing and kennels for decades—and with good reason. The material provides waterproof housing that is easy to keep clean and sanitized. High-quality cages are designed to keep curious feline paws contained and secure.
Many facilities will add enrichment items to feline housing for warmth, such as boxes for hiding and shelves for perching. These simple additions encourage natural feline stress control.
Recent feline stainless steel housing innovation has also seen the addition of polycarbonate or windowed cage doors to give cats a better view of their surroundings. These units have the same ability to be sanitized.
Standard size
Adhering the guidelines for incorporating additional space in feline kennels, many clinics are opting for "suite" units, complete with a litter space and main living area. In these cases, an 18-in. wide litter attached to a 30-in. wide cage is the desired arrangement. Again, research indicates cats prefer not to eliminate in their living area.
Regarding stainless steel housing, most manufacturers offer a standard size of 18 to 72 in. wide and 18 to 36 in. tall (cages typically have a standard depth of roughly 28 in.). Despite this range, 30 in. is the smallest recommended cage width.
Most cages are sold in banks, which sit on a stationary or mobile platform or are inset into a facility's wall. Configuring a bank is like a jigsaw puzzle; with a little effort, you find the sizes that fit efficiently on top of each other. Generally, larger, double-door cages work well on the bottom of a stack (possibly with added optional dividers). In a feline ward, double-door cages are typically used for housing a queen and her kittens or bonded family units.
Custom-size cages are generally available to order, but these units will be significantly more expensive. Manufacturers have dozens of standard options and these offer the best value.
The nitty gritty
Among the most widely used materials in veterinary kennel equipment is 304 stainless steel. This offers high corrosion resistance and handles temperature fluctuations well.
When purchasing cages, it is always best to minimize sharp edges. This caution makes the containment area safer for both staff members and pets. Premium cages will have trim plates and other features to round out edges.
Additionally, look for bonus built-in safety features. Anyone who has worked kennels is familiar with curious feline paws, scratching and batting at human hands as they try to drop off food or open the cage door. Extra bars and easy-to-open latches (that also close reliably) can help with this hazard.
Remember: the door is the most important feature of a kennel, as it ensures the patient stays safe and secure. A solid cage that will not trap or harm would-be escape artists is critical.
Composite housing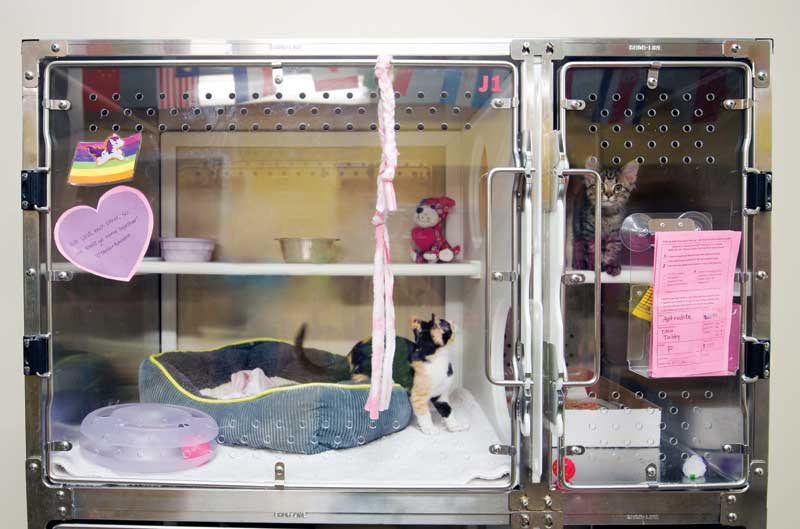 On the composite materials side, the go-to has been high-pressure laminated MDF or similar panels. While these units certainly look nice, they must be sealed on all sides to protect from moisture (think: urine and spilled water).
Should the laminate crack or break, the MDF can swell. When this happens, the board can absorb the contaminant. There is no easy way to remove the contaminant (or its smell!).
If composite materials are carefully maintained and not soaked with moisture, they provide good housing. Further, it can be crafted into different shapes and sizes, allowing for a variety of housing options.
A relative newcomer to the world of cat suites and condos is extruded polyvinyl chloride (PVC). This material delivers a housing unit that is strong and relatively lightweight. As a bonus, it's also waterproof, which greatly increases the product longevity.
Both extruded PVC and laminate kennels are available in condos (single-size units) and suites (two connected units). When building a bank of feline housing, it is best to determine a size and stack the units. Having the housing on a mobile bank makes cleaning easier and allows for increased options for remodeling.
Considerations
While the colorful, clean look of composite housing is attractive, when evaluating it for use in your practice, consider its function. Above all else, these units need to safely house feline patients and allow them to recover.
Consider:
How easy are the kennels to clean? Nooks and crannies can accumulate debris, which increases time spent cleaning and sanitizing. Likewise, narrow litter areas can send litter, urine stains, and feces into hard-to-reach spaces.
Are there sharp edges? Both veterinary team members and patients will constantly be rubbing against the units. Edging and rounded corners help reduce injury.
How flexible are the pass-throughs? The ability to easily open and close suites can help in the cleaning and caring for cats.
How much choice will the unit offer the patient? Particularly in veterinary housing, there is a balancing act of managing the cat's need to roam and the necessity for easy treatment. Flexibility is key.
Building housing banks
Whether planning cages or condos, it is usually easiest to think in terms of banks of housing. Indeed, it is a bit like putting a jigsaw puzzle together.
Here are some tips for smart, easy construction:
Determine width first. If a clinic has a 10-ft wall section, consider breaking it into two mobile banks. This will allow for easy movement while still offering larger cage options.
Go mobile! These units allow for easy cleaning and offer redesign flexibility.
When planning the finished height, consider your staff members. Stacking higher than two units might limit your team's ability to safely retrieve and place animals, as well as clean units in the back.
Build in flexibility whenever possible. Dividers and portals can close off when you need them, providing more options for treatment and cleaning, as well as housing.
More space means less stress. Larger units make it easier for team members to access patients and keep units free of debris. Additionally, the added wiggle room provides the pet with more options for adjusting and staying comfortable.
Door choices are available from most manufacturers. Polycarbonate or clear options are available, as well as variations on stainless steel or powder-coated steel doors. It is important the door latches securely and opens easily to ensure maximum safety and efficacy. (Remember: clear doors may look nice, but they can quickly collect nose prints and scratches.)
Consider incorporating resting benches to offer added freedom. There are many sturdy, removable options available, which can be easily hosed off and sanitized between patients.
Ventilation
Good ventilation is sometimes overlooked. Modern facilities often have dead spaces where stagnant air hangs, particularly along the walls where housing is located.
Many new cages and condos have built-in ventilation systems that can be attached to a fan system. This gently sucks the air out of the cage, allowing for better circulation.
Ventilation is a particularly important consideration for facilities with glass-cased kennels. Grill doors naturally allow more air circulation and do not heat up as much when exposed to windows.
Renovation takeaways
Whether building a new facility or redesigning a feline area at an existing practice, research shows it is beneficial to provide patients with sufficient kennel space and the freedom to move around. Indeed, these considerations can help to reduce stress, which can affect health outcomes for cats. There are dozens of new feline housing options available. Mixing and matching might be key to unlocking your ideal setup.
Holly Gibson is marketing and innovation manager for Shor-Line, which has been manufacturing stainless steel housing, surgery, and treatment equipment for 90 years.
References