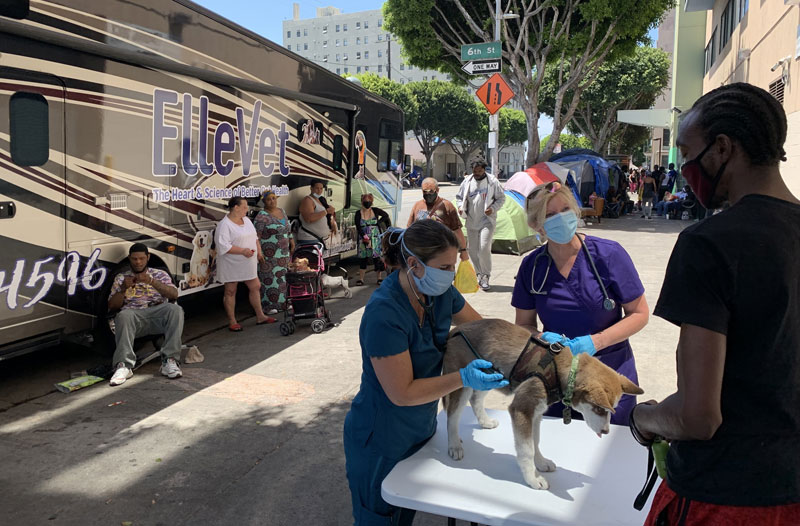 Homeless and street pets in America's most vulnerable communities will soon have increased access to care, food, and supplies, thanks to ElleVet Sciences.
The animal-focused CBD and CBDA company has launched the ElleVet Project, a national nonprofit group with the goal of providing veterinary care to pets across the U.S. The new 501(c)(3) organization is an expansion of the Pets in Need Project, a pilot program launched in California last year to help homeless pets amidst the COVID pandemic.
The initial pilot program, developed by Amanda Howland and Christian Kjaer, treated more than 1,200 pets, gave thousands of vaccines, and spent over $10,000 on emergency surgery cases.
"We learned so much last year," says Howland of ElleVet's initial two-month mobile veterinary relief mission. "We learned when you treat the pets, you treat the people as well."
"People told me that by giving medical care to their pets, it literally allowed them to put food on their own tables," Kjaer adds.
The pilot program attracted support from veterinarians across the country, ElleVet says, as well as celebrities, including Demi Moore, Jane Lynch, Sarah Paulson, Rumer Willis, Judy Greer, Georgia May Jagger, and Manolo Gonzalez Vergara.
The project will return to California in the second quarter of 2021 with the goal of treating more than 3,000 pets, ElleVet says. The project will expand to treat pets across the U.S. within the next three years.
For more, click here.
Check out the video below, courtesy ElleVet.