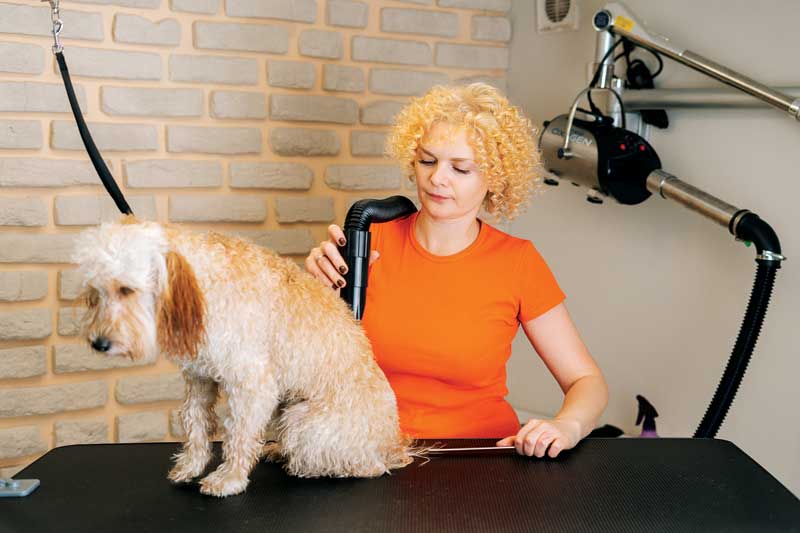 I always like to keep things as simple as possible when it comes to metrics. ACT and ADT are two of the key practice indicator (KPI) metrics that should be monitored at regular intervals. Many strongly believe these are the main revenue builders in a practice. The cool part: These metrics can be driven by the entire team!
ACT stands for average client transaction and is the total practice revenue divided by the total number of nondoctor transactions. This metric should include any transaction a doctor was not involved in. Specific examples would be if you offer boarding and grooming services, or maybe have a technician who performs massage or other types of therapies.
ADT stands for average doctor transaction and is the total practice revenue divided by the total number of transactions that include a doctor. This metric should include any transaction a doctor was involved in. You can break this down by individual doctor or evaluate for the doctor team as a whole.
I evaluate ACT and ADT separately because it provides a clearer picture of what needs improvement within the practice and who needs the training to make this happen. If both metrics need work, it is okay! Nothing a little prioritizing cannot conquer.
Looking for the clues
While both of these metrics drive practice revenue, they can also provide clues into how the practice is functioning. Evaluating your ADT report gives you a glimpse into the level of compliance the team is achieving, the level of medicine being offered/provided (calling out the doctors who make the financial decisions for the clients without even presenting them with the gold standard options), team training, and buy-in. In fewer words, the overall performance of the entire team.
Similarly, the ACT can really uncover if the team is having conversations with the clients to not only educate them on the needs of their pets, but also if the team is proficient in educating them to achieve compliance. Run the reports daily until you get momentum. Once the team is firing on all cylinders, you can monitor on a biweekly or monthly basis. With your new level of awareness, you can start making a plan of action for each area that needs to be cultivated.
Wellness visits are typically the lowest hanging fruit. It is not too much of a stretch to get the doctors to agree on what prevention and wellness diagnostics to recommend and the core vaccines. This makes delivering a consistent message across the entire team possible.
I monitor every wellness appointment for at least a month. This allows me to identify trends. Is there a certain technician who is consistently not achieving leptospirosis vaccine compliance? What percentage of heartworm compliance are we achieving? Do we perform more in-house heartworm tests than complete wellness panels? Once you have the data collected, you can take action.
To help with specific product/vaccine team education, lean into your vendor representative. Do some role playing with the team to walk them through how to have these conversations with the clients, as well as type up some scripts for each area of the hospital.
The entire team drives these metrics
Doctors pride themselves on their ADTs and take full ownership in some cases. I realize the middle letter stands for doctor, but I am a firm believer the entire team drives the ADT. If you put this into perspective, the CSRs have two to three touchpoints with the client—on the phone to schedule, upon arrival, and discharging the pet.
The technicians have two to four touchpoints—taking history, presenting financial treatment plans, reviewing medications and go home instructions, and discharging. The doctor, in some scenarios, has one touchpoint with the clients!
If we are not leveraging our teams to start the education with these clients far before the doctor goes into the room and long after they leave, we are missing our chance to provide the care the pet needs, which translates to compliance and an increase in revenue.
Research shows an average person has to hear something seven times before they remember it or take action. I am not discounting the doctor should be making the medical recommendations, but coaching teams to set expectations for clients and educate them at every touchpoint will be a game changer.
Imagine a world where the client is not blindsided when you present them with a treatment plan for diagnostics or you get a "no thanks" when you ask if they want to purchase heartworm prevention. Not all clients will behave as predicted, but those not-so-positive interactions will become fewer and far between.
United we rise
Everyone on the team has to be speaking the same language and be a united front delivering a consistent message. In four steps, wellness visits can be nailed down and offer pretty immediate results.
Step 1: Create the foundation
Meet with your doctor(s) to create a protocol for the wellness visit.
Determine what the core vaccines will be.
Come to an agreement on what annual diagnostics will be performed—heartworm test, fecal, full panel sent to your reference lab, etc.
Consolidate the preventions you carry and recommend.
Step 2: Training
Create written protocols, cheat sheets, scripts, and training sessions centered around your wellness visits.
Role play (I know, I know, "my team hates it"). If you make roleplaying a part of your culture, it will do wonders on how a message is delivered to a client and increase compliance.
Engage your vendor reps for services such as vaccines and reference lab panels. They are always more than willing to support the team with training.
Step 3: Accountability
Audit medical records from past appointments to ensure all client education was provided, and clearly noted if the client accepted or declined a service or product.
Listen in on phone calls and greetings in the lobby. Provide immediate constructive coaching if needed.
Identify if a team member is missing the mark and may be struggling to achieve compliance in an area. This may indicate they would benefit from further coaching or training.
Check in regular intervals individually and with the team, especially in the first 30 days.
Please note, in this step, hearing it seven times before it sticks really comes into play. Be patient! Do not get angry with your team for making a mistake or forgetting something in your first few weeks of this process. Provide repetitive, consistent, constructive coaching. They will get it, but the amount of buy-in you achieve depends on how you bring them along during this transition process.
Step 4: Create goals and a fun challenge 
Share the current ACT and ADT.
Create measurable, attainable goals and share them with the entire team.
Create a fun challenge you can visibly track. Do not forget a great prize (another place you can ask your vendor representatives for help)!
Once your team is a pro with wellness visits, you will see both metrics on the rise. Great job! Don't stop there—you can also follow the same steps with some of the most common sick appointments that land on your schedule every day. A couple of good ones I have had success with are ear appointments, possible urinary tract issues, and maybe even vomiting and diarrhea. It is not unheard of to see an increase of $50 to $100 per transaction in a very short amount of time. No "up-selling" needed to see these results happen right before your eyes!
Emily Shiver, CVPM, CCFP, CVBL, is a certified veterinary practice manager serving as the Florida regional director of operations for Family Vet Group. Her passion is creating and maintaining positive, successful workplace cultures, as well as helping practices increase revenue and the client experience. Shiver enjoys every aspect of inventory and strives to help practices meet and exceed their inventory goals. She and her husband reside in Lakeland, Fla., with their two Patterdale terriers and a few other furry family members.