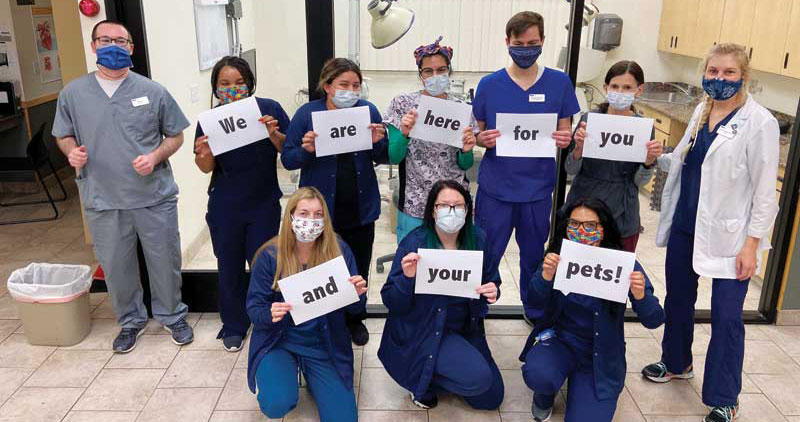 Even the sweetest, nicest clients have gone COVID crazy. Many people are fed up with stay-at-home orders, indoor dining disappearing, and freedoms lost during the pandemic. Clients may feel like grounded teenagers and act out with bad behavior. Unfortunately, pet owners' frustrations may get released on your veterinary team.
In my course on "Calm Fractious Clients with These 10 Perfect Phrases," I teach tools to help you guide clients back to mutually respectful relationships. You share a strong value with clients: You both want pets to get the medical care they need. Focusing on this goal will help you resolve conflicts. Here's how to fix two common conflicts:
1) When clients won't answer their phones during curbside care
During a virtual consult with a Detroit team, they expressed frustration when clients leave during curbside appointments to shop at the adjacent grocery store and don't answer calls from the medical team. I advised setting expectations before the curbside visit begins.
Give instructions on parking signs. Let clients know how you will interact with them during curbside care. Signage could reinforce: "Please stay parked here during your pet's curbside care visit so our medical team may quickly reach you." At Russell Ridge Animal Hospital in Lawrenceville, Ga., signs tell clients to download an app, message their parking spot number, and a technician will initiate video chat to take the pet's history followed by the doctor's exam.
Have clients text rather than call you upon arrival. A veterinarian sees about 30 patients per day. Call volumes have more than doubled at practices nationwide, and you don't need another 30 calls!1 Use a texting service and set up templates for common responses such as curbside arrivals, medication pickup, links to pay at checkout, and more. Here's a text template to respond to clients who are checking in for curbside appointments:
Text this: "Welcome to our hospital's curbside check-in. To prepare for your appointment, please connect to our Wi-Fi. The network name is <name>, and password is <password>. A nurse will video chat/call you to get your pet's history, and then come to your car to bring your pet inside the hospital. The doctor will video chat/call you during the exam and to discuss findings. Please stay in this parking spot during curbside care so our medical team may promptly reach you."
If clients don't answer video chats or calls during curbside care, text them. Texts have a 99 percent open rate and 95 percent of messages get read within three minutes of being sent.2 Clients are more likely to see and respond to a text compared to listening to a voicemail and returning your call (19 percent of millennials never check their voicemails).3
Text this: "Our medical team needs to speak with you now about your pet's care. Please text/call us at <number> so we may update you."
2) When clients challenge your curbside protocols
Another team shared an explosive outburst from a client who questioned, "Why can't I come inside with my pet?" During curbside care, clients may become anxious when you take their pets into your hospital while they wait in their cars. Before COVID, they were present for exams and enjoyed interacting with your team.
Set expectations before the day of appointments. Include curbside instructions on your website and in appointment confirmation texts and emails to help clients understand the process.
Ease clients' anxiety and save time with video chats. By doing and explaining the exam using video chat, the veterinarian can eliminate the duplicate phone call to share the same information, saving up to 10 to 15 minutes per appointment. Clients can watch Dr. Brad Miller at Russell Ridge Animal Hospital perform exams, explain findings, and discuss necessary treatments. Video chat improves clients' understanding because body language is 55 percent of communication.4
Get an app with video chat and/or telemedicine capabilities. The American Veterinary Medical Association offers a list of telemedicine vendors (https://ebusiness.avma.org/files/coronavirus/AVMA-Connected-Care-Providers-List.pdf).
Reassure anxious clients. When clients challenge why they can't come inside your hospital, explain your safety reasons and that you will communicate findings and involve them in decisions.
Say this: "I understand that you want to be with your pet while we provide care. We miss having clients inside our facility, too [shows empathy]. Our medical team is following COVID safety guidelines as advised by [organization names] and takes employees' temperatures, wears masks, and washes hands between each patient. To keep you and our team safe, we're doing curbside care. Our medical team will video chat/call you with exam findings and involve you in decisions. We appreciate your understanding as we keep you and our team safe."
Provide exam report cards. Summarize services provided, treatments needed, such as dentistry, and when the next visit will be due. Clients can share report cards with other family members who also are caregivers.
Take proactive actions to reduce your frustrations and stress over shocking client behavior. Setting expectations will help your team prevent conflicts and maintain mutually respectful client relationships.
Wendy S. Myers, CVJ, has been training veterinary teams for more than 20 years as owner of Communication Solutions for Veterinarians. She teaches teams to become confident communicators, so more pet owners say yes to medical care. Wendy shares her expertise through conferences, online courses, and monthly live CE credit webinars. She is a certified veterinary journalist and author of five books. Her passion is to help practices like yours thrive and grow through effective communication skills. You may reach her at wmyers@csvets.com or www.csvets.com.
References
1 GeniusVets to Host "Defeating the Phone Frenzy" Webinar to Help Practices Improve Communication During COVID. PRWeb. Available at: https://www.prweb.com/
releases/geniusvets_to_host_defeating_the_
phone_frenzy_webinar_to_help_practices_improve_communication_during_covid/prweb17351746.htm. Accessed Dec. 1, 2020.
2 Burke K. 107 texting statistics that answer all your questions. Text Request. Updated Jan. 24, 2019. Available at: www.textrequest.com/blog/texting-statistics-answer-questions/. Accessed Dec. 1, 2020.
3 Svyrydenko A. Why Millennials Love Texting. TextMagic. Published May 9, 2019. Available at: https://www.textmagic.com/blog/why-
millenials-love-texting-infographic/. Accessed Dec. 16, 2020.
4 Smith D. Nonverbal Communication: How Body Language & Nonverbal Cues Are Key. lifesize.com. Accessed Jan. 12, 2021.