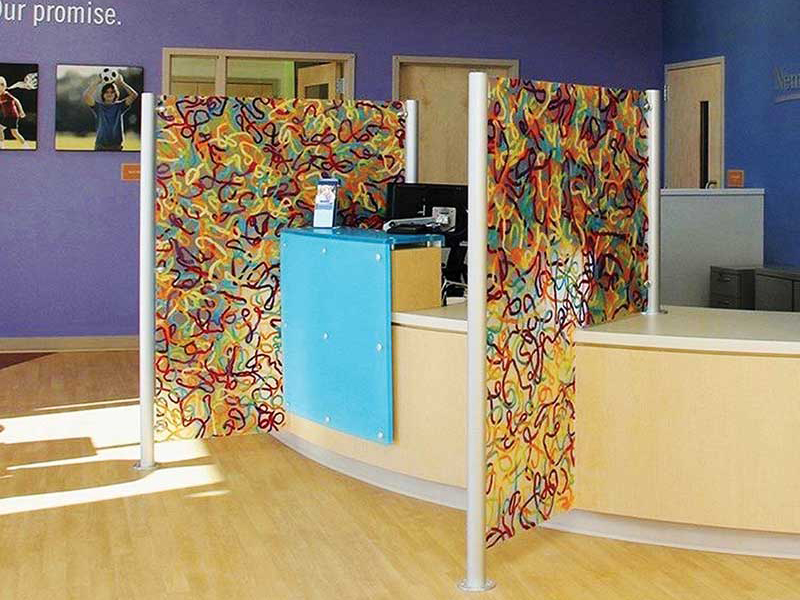 As many states and counties start to reopen, it has become critical for all businesses, including animal care facilities, to take proper precautions to help prevent COVID from spreading.
Veterinary hospitals/clinics, animal shelters, and groomers are constantly looking for measures to adopt to continue caring for pets without jeopardizing the health and morale of clients and staff. The following are design and building controls to help accommodate patient surge and allow employees to be back at work.
Scheduling for lower occupancy
To be best prepared for allowing critical care, we recommend practice owners/managers consider an action plan for prioritizing services. Measures to ensure safety and financial sustainability will be different for each facility. The "COVID-19 Spay/Neuter and Wellness Clinic Preparedness Guide" suggests allowing for a minimum of 60 sf per person, which is equivalent to a half-circle in front of an individual with a 6-ft radius (see bit.ly/2XfjHIv). A full circle around a person with a 6-ft radius requires 113 sf. Not all facilities will be able to achieve this. As such, they will need to consider other risk-mitigation strategies outlined in this article.
Review your facility layout with a design professional to facilitate occupant separation in reception and waiting areas, offices, meeting/breakrooms, common treatment rooms, and other close spaces.
To help provide an effective space plan, we have divided the primary animal care operation areas into two main categories:
1) Front of house, which includes reception, waiting areas, exam rooms, consultation/visitation areas, spay/neuter clinic.
2) Back of house, comprising grooming, boarding, treatment rooms, surgery/critical care, food prep, laundry, staff and doctors' offices, break room.
Front of house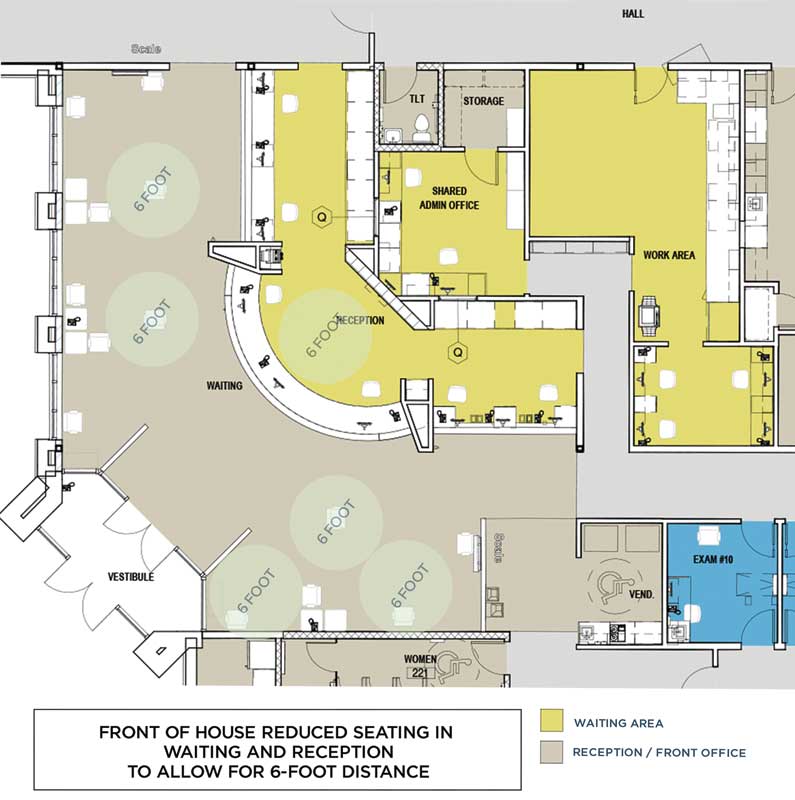 Currently, many hospitals and shelters offer curbside patient pickup/drop-off and telemedicine, adjustments that have proven very effective. If your facility allows clients inside, creating staggered patient appointments and employee schedules to maintain lower occupancy and social distancing will be helpful. The following should also be implemented:
Signage, signage, and more signage regarding the need for social distancing, wearing masks, handwashing, and other messaging.
Provide trash cans, tissues, and hand sanitizer to ensure effective disinfection.
Place occupant/vacant signage in restrooms to prevent them from populating to the point social distancing cannot be maintained.
If possible, have clients call when they arrive at your facility and instruct them to wait in a designated parking area until another pet owner has left.
Waiting areas should accommodate only one client at a time.
If possible, reposition exam tables to create a barrier between the client and veterinarian.
Allow only one owner per visit as recommended by the American Animal Hospital Association (AAHA) and provide ample spacing between appointments to disinfect and prepare exam rooms.
Take additional measures for elderly/immunocompromised customers. Consider providing a separate consultancy area for exams (e.g. an outdoor run) or a designated parking area to help reduce risk and exposure during the appointment.
Consider doing electronic checkout inside the exam room after an appointment to avoid traffic in the reception or waiting area.
Install safety partitions/Plexiglas in reception areas to protect front-office staff.
If you have multiple entrances or doors connecting to front-of-house areas, consider creating a one-way path to travel with a separate entrance and exit for customers to minimize them passing each other in hallways and congregating around the reception desk.
Regarding animal shelters, develop an appointment system for potential adopters to come into the facility, so there are not more than two or three families present inside the shelter. This can help maintain six feet of social distancing.
If the shelter has different holding areas, consider implementing a limit of one family in each area, and coordinate with staff when families can move into the next area to minimize visitor overlap.
Conduct adoption interviews outdoors when weather permits. If outdoor accommodations are not available, consider setting up temporary interview spaces in large rooms where staff can practice social distancing.
If it is possible to offer curbside waiting, consider repurposing your lobby for adoption interviews.
Back of house
Consider implementing a staggered staff schedule.
Review the physical capacity of your facility for social distancing with a design professional. This helps to determine the staffing plan and number of patients you can serve safely per day.
Coordinate client appointments to have corresponding technical staff always present during the treatment/consultation/visitation period.
If you can offer curbside waiting or pickup/drop-off, consider using parts of your lobby for additional separated workspace.
Move cramped workstations to a larger area or utilize common spaces as needed.
For both veterinary hospitals and animal shelters, create a reduced occupancy schedule for all essential services such as food prep, cleaning, grooming, feeding, treatment, etc.
If possible, assign one primary staff for each function to avoid sharing of workspaces or equipment.
Where operations require staff to work in proximity, additional measures such as personal protective equipment (PPE) should be required.
Install Plexiglas/washable curtains between workstations to provide safety barriers between staff.
Have backup staff on call for sick employees so clinics can continue to operate while employees who are feeling ill can stay at home. Alternatively, develop an action and communication plan in the event you need to close the clinic abruptly.
Mark out one-way traffic patterns to prevent staff from crossing paths in close proximity.
Provide signage throughout the facility to facilitate social distancing. Mark out 6-ft distances on the floor in large treatment areas and corridors.
Avoid using conference rooms for large groups. Instead, repurpose the space for creating additional work areas where possible.
Regular engineering checks and controls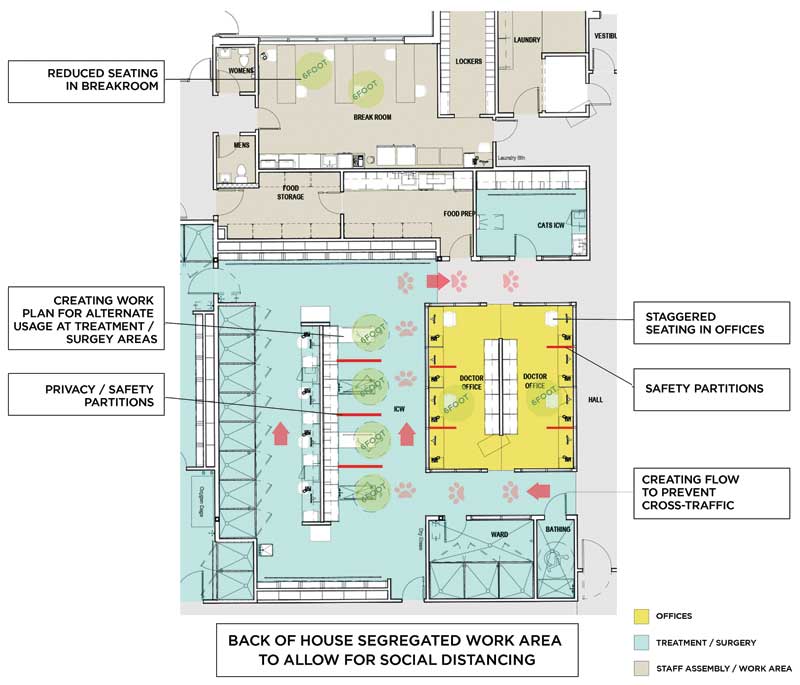 Test, clean, and inspect your mechanical systems. Understanding and evaluating your systems will help you to take preventive measures that are suitable for your facility. This will also assist with preparing your facility for any future community demands during an emergency.
If you have not been up-to-date on your heating, ventilation, and air conditioning (HVAC) maintenance program, now is a good time to get your equipment checked. Replace your air handling unit filters on a regular basis. Check with your HVAC unit manufacturer for proper cleaning of the air handling unit. If your HVAC unit has an ultraviolet (UV) lamp, make sure it is operational and turned on. Germicidal UV lights have been effective to inactivate airborne microbes that could transmit measles, tuberculosis, and SARS-CoV-1. Given this virus's similarity to the one that causes COVID, experts believe UV lights can help cause it to become inactive.
Consider engaging a building or mechanical professional to investigate the following control measures:
Perform a building assessment to determine the baseline of the existing system performance and judge potential opportunities to enhance your current system.
Evaluate your facility's current mechanical, plumbing, and electrical efficiency to determine your capacity for any potential upgrades.
If suitable, install higher minimum efficiency rating value- (MERV-) rated filters in your system. The higher the rating, the more airborne particulates you can capture. This helps prevent bacteria and viruses from being pulled into your HVAC units and blown back into the space.
American Society of Heating, Refrigerating and Air-conditioning Engineers (ASHRAE) recommends at least MERV 13 and preferably MERV 14 or better to help mitigate the transmission of infectious aerosols. When increasing the filter efficiency, it is critical to verify the installed HVAC system has the capacity to accommodate the better filters without any adverse effects.
If your HVAC system is based on a demand control setup, consider asking your HVAC vendor or engineering consultant to stop the demand control ventilation for the time being so that all spaces have adequate incoming outside air.
Designing and installing a new outside air unit might be a costly affair. However, if your facility is not a 24-hour operation, consider performing a "purge" throughout the building during unoccupied hours by bringing in more outside airflow than required. Please note your HVAC system might not be designed to maintain temperature and humidity levels for larger amounts of outside air for a prolonged period. Make sure you speak with your engineer consultant before acting. Too much exposure to unconditioned air can damage woodwork or equipment.
Technology and sanitation
With social distancing and the nature of pet and veterinary relationships top of our minds, animal hospitals, clinics, and shelters should adjust their spaces to accommodate necessary precautionary measures for public and animal health safety.

Incorporate flexible, touchless technology for clients and staff to create a sense of safety and reduce the potential for infectious transmission from person to person.

A touchless faucet or toilet fixture limits exposure to viruses and bacteria. A study published by the American Society for Microbiology (ASM) noted there were more than 77,000 distinct microbes found on different surfaces in restrooms. Hands-free fixtures help minimize contact with germs.
The Centers for Disease Control and Prevention (CDC) recommends utilizing touchless payment, such as paying over phone, wherever possible.
Install occupancy sensors or phone app/voice control touchless lighting and HVAC controls throughout the facility in lieu of manual switches.
Consider utilizing a cleaning crew during nonworking hours or creating a sanitation certification standard that can be displayed as a sign of confidence.
Review disinfection protocols with your staff to ensure adequate diligence is practiced by each
staff member.
Practice telemedicine and curbside assistance where possible. Make sure to consult your local veterinary medical association (VMA) for practicing proper telemedicine protocols and any additional industry-specific COVID measures.
Conduct meetings remotely rather than in person where possible.
Provide information on your website regarding your new action plan and facility changes.
Invest in online training sessions for staff and volunteers to help keep them abreast on the latest facility and industry changes.
Now is the time to act
Veterinary hospitals and animal shelters are essential for current and future pet families. Animal caregivers and families that run these centers have been resilient and innovative in their continued support to the community during the COVID pandemic.
To help lower case counts in your area, ensure your building systems and space modifications address the current reality and meet the health and safety standards for the occupants and visitors to your facility.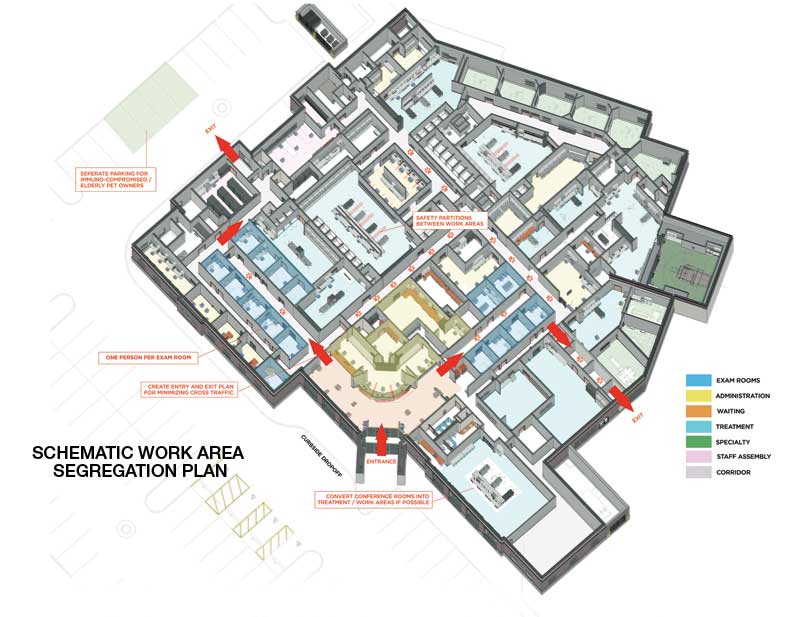 Richard Renschen, AIA, LEED AP, is founder and president of MD Architects. He focuses on business and project management as well as project feasibility and schematics.
Anuya Sant, IA. AIA, LEED AP BD+C, is part of the MD Architects team and helps with projects requiring technical expertise and higher level of coordination between different trades and stakeholders.
Resources