If you've ever thought that spending all day around animals is the best job imaginable, chances are you've considered pursuing a career in your veterinarian's office as a veterinary assistant. Although the ability to whisper to horses or cuddle cats are can certainly help you in that role, it won't be the only skill that you need.
What a Veterinary Assistant's Job is
First of all, it's important to understand the differences between the various roles in a typical veterinary office. Larger practices have veterinary technicians, veterinary technologists and veterinary assistants. Technologists must pass a four-year program to acquire a bachelor's degree, while technicians go through at least a two-year program. Both are licensed by the state in which they work, and both may undergo take additional classes or complete continuing education events to gain or maintain a specialty certification.
Technicians and technologists play central roles in a patient's care, from running anesthesia to shooting X-rays, to communicating with clients on the next steps for their pets' treatment plan. They also tend to take on a leadership role within the medical team in the absence of the veterinarian.
Veterinary assistants, by contrast, often fill several roles in the office. They may:
Help administer medication to animals
Clean animals or their cages
Draw blood
Sterilize equipment
Clean an animal's teeth
Do clerical work
There are a lot of options for people who like some variation to their workday.
National Association of Veterinary Technicians in America (NAVTA) in America have this to say about veterinary assistants:
"While every position within the veterinary practice team is important, veterinary assistants play a pivotal role, literally … In the course of a single day, an assistant provides help to veterinarians and veterinary technicians, which in turn allows those team members to perform the tasks and responsibilities of their positions. The next minute, the assistant may be helping a client understand why having their pet's teeth cleaned is so important or providing a receptionist with a second set of hands at the front desk. Helping to fill scripts, keeping exams rooms cleaned and prepped, setting up lab work, helping with inventory, updating medical records, assisting with nursing care — there are more things that veterinary assistants do in a day than most people realize."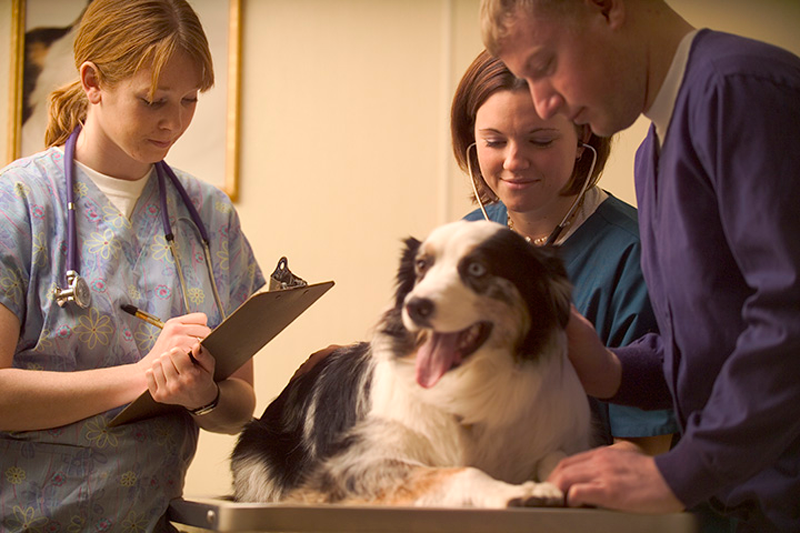 Wikipedia
Your day-to-day duties may vary everyday as a veterinary assistant.
Vet Assistant Training & Online Certifications
There is no formal educational requirement to become a veterinary assistant, although most practices will give preference to people with a high school diploma.
There are a number of remote or hands-on programs across the country that provide training for those interested in becoming veterinary assistants, however, and the skills taught in those programs make participants more marketable when they finish.
The National Association of Veterinary Technicians in America recognizes three online programs for veterinary assistants, including Penn Foster, Animal Behavior College and VetMedTeam. As with veterinary technician programs, online training courses can be more convenient and less expensive than brick and mortar facilities, but you may be limited in the amount of time you can spend practicing you skills hands-on, depending upon your location. Online programs generally take less than one year to complete. One of the approved online providers, VetMedTeam, offers veterinary assistant training programs to people already working as veterinary assistants as a way to enhance on-the-job training or to sharpen their skills.
Several community colleges and a handful of high schools have begun working veterinary assistant options into their vocational programs. One such on-site program is housed at Locust Trace Agriscience Farm Technical High School in Lexington, Ky., where students take veterinary assistant classes alongside their high school coursework for two years through four levels. At the end of all four levels of classes, they are given the chance to take the NAVTA certification exam (which is not required to become a veterinary assistant), better qualifying them for jobs upon graduation.
The course work at Locust Trace encompasses anatomy, physiology, and radiology, with units on surgical assistance, animal behavior and grooming, and legal and ethical issues related to the profession. Students also must demonstrate hands-on skills such as:
Restraint
Medical record-keeping
Pharmacology
Patient care
Hematology
Parasitology
The animal anatomy and physiology course is also a dual enrollment as a three credit hour course at Morehead State University nearby.
Although the courses are based heavily in science, instructors say there's more to doing well in the program than just excelling in biology or chemistry.
"The biggest struggle for Veterinary Assistant students is understanding the need for superior customer service skills as well as animal handling skills," said Kathleen Magsam, LVT, instructor in the Locust Trace veterinary assistant program. "Many students today suffer from technology overload and struggle to communicate with clients."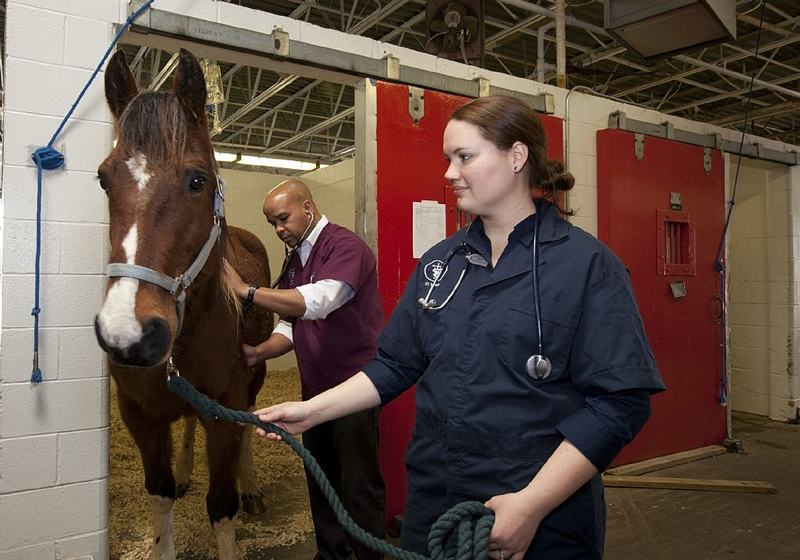 You may work with a variety of animals as a veterinary assistant.
Consider a Veterinary Assistant Specialization
Just like veterinarians and veterinary technicians, veterinary assistants are starting to narrow their focus depending upon their desired role in a practice.
Veterinary assistants are moving toward specialization just as the rest of the veterinary team," Magsam said. "Many vet assistants are choosing to work specifically in large animal, small animal or exotics to build their core skills in those areas. This does limit their job prospects, however, if they choose to change their focus."
NAVTA-approved training programs require the college or technical school to instruct students on a range of species, including small animals, large animals and exotics, though some of the skillsets are optional for large animals or exotics and may vary with access to different species. Basic handling of all species is required though, so prospective veterinary assistants can't be too intimidated by horses or cows, or too squeamish about handling reptiles.
NAVTA's essential skills list for veterinary assistant programs also includes issues many prospective assistants may not think about, like legal issues relating to the:
Controlled substances they may dispense to animals;
Proper disposal of hazardous waste;
Handling dead animals to assist with necropsies;
And maintenance of equipment like autoclaves.
Veterinary Assistant Salary & How to Use Your Career as a Stepping Stone
Magsam said that many veterinary assistants use the position as a stepping stone to ultimately become technicians or even veterinarians. Historically, pay is relatively low for veterinary assistants — an average of between $23,000 and $28,000, depending upon your location.
Fortunately, since there is some crossover of skills, some certification programs like the one at Locust Trace will transfer credits to a technician school. If you are going to try working as an assistant before going to school to become a technician though, experts say you should do your research when picking a veterinary assistant certification program.
"Many vet assistant programs are offered in community colleges, and even their general education credits — if any are required — may not transfer to another college," Magsam said. "I would recommend researching the accrediting source for a Vet Assistant Program to be sure the college is accredited to offer transferable classes."