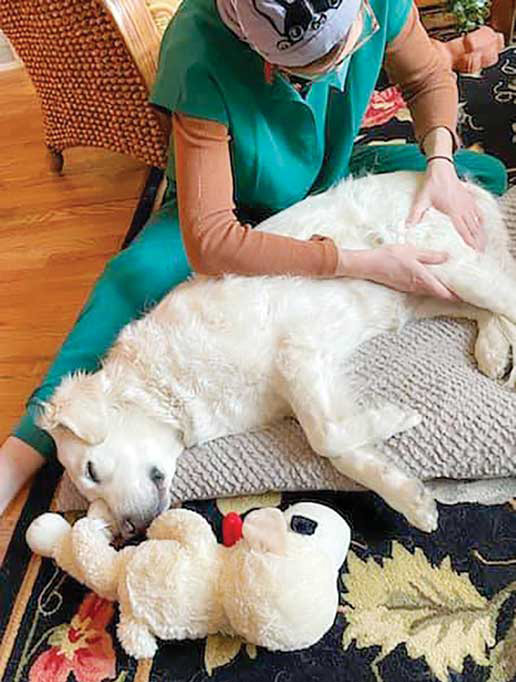 More pet owners are opting to incorporate holistic modalities into their pets' treatment plans, including therapeutic bodywork, such as massage therapy, laser therapy, and acupuncture. As interest in holistic modalities continues to grow among pet owners, it is important for veterinarians to evolve and expand services provided within their practice, in order to both accommodate and support this growing sector within the field.1
One study indicates pet owners are using complementary and alternative veterinary medicine despite a lack of professional guidance, indicating further resources from veterinary staff is needed to support both clients and patients.1Many holistic or integrative veterinarians claim to see better results and increased healing time when utilizing traditional and alternative approaches in their patients' treatment plans.
Implementing manual therapies and bodywork into a veterinary practice will not only diversify services, but will also support client interest, promote client compliance, enhance patient treatment plans, and maximize new client inquiries.
There are three alternative therapies a veterinarian may want to consider adding into a practice. 
Massage therapy
Massage therapy for humans is known to increase blood flow and lymphatic circulation, promote healing and flexibility, strengthen immune function, and aid in chronic pain and orthopedic rehabilitation. Anecdotal evidence indicates companion animals benefit from massage therapy in many of the ways humans do, and further formal studies should be done to maximize positive responses seen as a result of this modality.2
Legislative scope of practice regarding which individuals can legally practice massage therapy on animals are state dependent, and full regulations are found through the International Association of Animal Massage & Bodywork/Association of Canine Water Therapy (IAAMB/ACWT). As an example, practitioners in Colorado must be certified through an accredited animal massage school; however, there are no guidelines overseeing who can offer animal massage within the state of Hawaii.
Generally speaking, animal massage therapy sessions range from 45 to 60 minutes in length, and appointments can be scheduled in conjunction with other therapeutic services, such as laser or acupuncture, or independently. Swedish massage is the most common type of massage used on animals, using less than two pounds of pressure on the body at any given time. It can be incorporated into the treatment plan of senior animals or hospice care patients, cancer patients, animals with orthopedic or soft tissue injuries, post-operative care and orthopedic rehabilitation, or as a maintenance therapy for active pets. Cats particularly benefit from massage therapy and other therapeutic bodywork, and it can act as an excellent addition to their pain management protocol (Figure 1).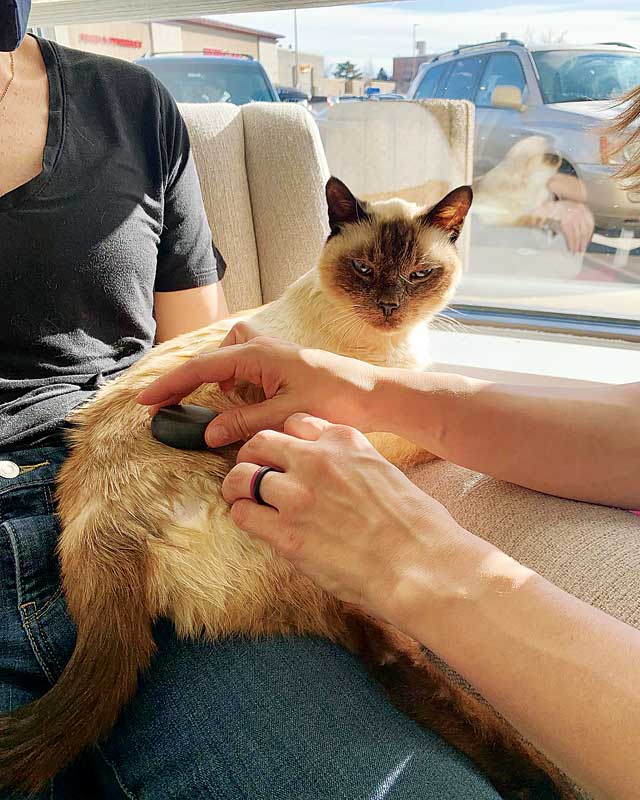 Implementing massage therapy into a typical physical examination or prior to orthopedic examination can also increase patient relaxation, often allowing for a more thorough examination to take place. Additionally, teaching clients basic massage techniques to utilize between appointments can help empower clients, allowing them to become a hands-on part of their pet's team.
Hot stone animal massage
Hot stone massage applies the use of smooth heated stones into any massage sequence. This is a new and very exciting therapy that has been used on humans for centuries, but is just emerging for companion animals. While there are no formal studies on hot stone massage in pets, this massage technique has been shown to promote vasodilation in people, allowing for increased muscle oxygenation and increased detoxification. It also releases tension and promotes relaxation.3
Danyel Wynn, DVM, of Walking Paws Rehab, introduced hot stone massage into her rehabilitation practice, in Boulder, Colo., because she envisioned her facility to be a space of both relaxation and healing for her patients. She observes cats likely receive the most benefit from hot stone massages, as they are already attracted to heat therapy. She implements stones into massage sessions for both dogs and cats to warm up muscle tissue prior to manual and rehabilitation work. Hot stones can be used alone, or in addition to other bodywork like Swedish, deep tissue or sports massage, acupuncture, or laser therapy (Figure 2).
Proper temperature for hot stones is an important consideration, as avoiding discomfort and skin burns is paramount. While Dr. Wynn uses a hot plate to keep stones at 120 F, she says means of controlling heat could require a lower temperature. It is important for practitioners to gauge stone heat by placing it against their wrist for assessment prior to use. Stones can be incorporated into a patient's massage sequence using standard massage strokes. Placing or holding stones on a specific portion of an animal's body for an undetermined amount of time should be avoided.
While there are no strict guidelines enforcing who can and cannot practice hot stone massage on animals, some basic certifications do exist. Wynn limits those who perform hot stone massages within her practice to veterinarians, as well as certified animal massage therapists on staff.
Because Wynn oversees many veterinary interns through her rehabilitation center, she anticipates this service will become increasingly popular, as both general and rehabilitation clinics adopt the therapy into practice.
Chiropractic care for animals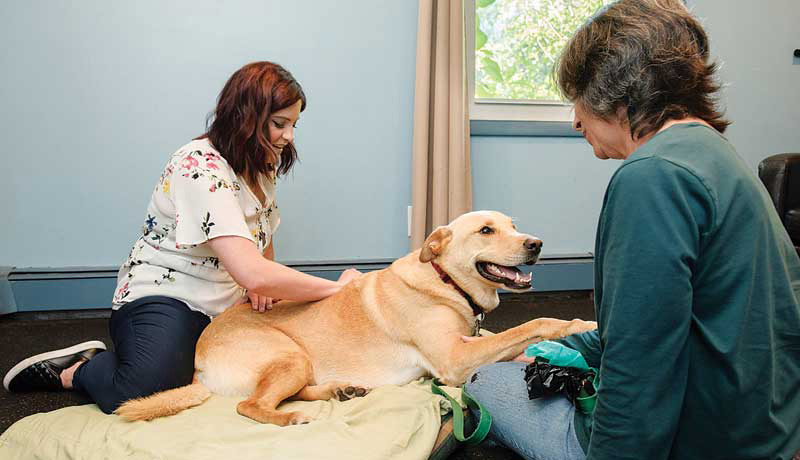 Chiropractic care is becoming increasingly mainstream and accepted among people,4 and it is thought that the same individuals receiving this alternative treatment are considering it for their pets as well. This, along with potential benefits, is a great reason for veterinary practice owners to at least consider adding chiropractic care into their practice's list of services.
Chiropractic adjustments, defined as manual adjustment or manipulation of the spine and joints,5 has historically been a controversial topic among both veterinary professionals and the general population alike. This controversy likely stems from genuine concern for their patients' care, and worry a chiropractic adjustment may further injure a person or animal. However, when approached correctly and carefully, chiropractic care has the ability to complement traditional veterinary medicine's standard treatment protocols.
Principles and approaches to chiropractic care for animals mirror those used in humans, and potential benefits include reducing pain, increasing range of motion and flexibility, and decreasing inflammation. In the state of Colorado, only individuals who hold a Doctor of Chiropractic or Doctor of Veterinary Medicine degree, pass a rigorous program and written exam, as well as complete regular continuing education and re-certification through the American Veterinary Chiropractic Association, are legally allowed to practice chiropractic care on animals. Anyone practicing animal chiropractic without these certifications are not considered trained or qualified, and doing so is both dangerous and illegal.
Alisha Barnes, PhD, at Tails Animal Chiropractic in Colorado, has been a practicing animal chiropractor for 10 years, utilizing very gentle manual manipulation and adjustments, as well as incorporating soft tissue work prior to adjustments. She works closely alongside her patients' veterinarians, as well as offering appointments within local general veterinary practices and veterinary rehabilitation centers (Figure 3).
If a clinic does not have a veterinarian certified in animal chiropractic on staff, bringing a trusted chiropractor or certified veterinarian into the clinic for scheduled adjustments is a great way to continue overseeing patient care, while also providing this service in-house.
Therapeutic bodywork has great potential to complement traditional veterinary medicine when pharmaceutical and traditional approaches are limited, have been exhausted, or when a client is looking for a more natural and holistic approach. While more formal research for body work on companion animals is needed, anecdotal evidence shows us time and time again that animals have similar positive responses to humans when incorporating these alternative bodywork modalities into their treatment plan.
Providing in-clinic resources for these services will also reduce the amount of pet owners seeking outside care for their pets from non-veterinary professionals, keeping patients safer and boosting clinic revenue. In addition, these modalities broaden the offered services within clinics, bringing in new clients looking for a diverse approach to their pet's care, and broadening career skill sets available within the veterinary industry.
Claire Primo is a veterinary nurse and certified animal massage therapist residing in Lyons, Colo. She offers animal massage therapy, laser therapy, hospice and palliative care and veterinary nurse needs through her practice, Peak Animal Wellness & Massage, while also managing a holistic veterinary house call practice, Boulder Holistic Vet. She specializes in senior pet care, holistic veterinary nurse care, and empowering guardians with all the appropriate tools and guidance needed for a healthy and nurturing relationship with their pets. In her spare time, she can be found in her small mountain town playing and connecting with her husband, two-year old son, two dogs, and a cat.
References
1 Memon MA, Shmalberg J, Adair HS 3rd, et al. Integrative veterinary medical education and consensus guidelines for an integrative veterinary medicine curriculum within veterinary colleges. Open Vet J. 2016;6(1):44-56. doi:10.4314/ovj.v6i1.7
2 Formenton MR, Pereira MAA, Fantoni DT. Small Animal Massage Therapy: A Brief Review and Relevant Observations. Top Companion Anim Med. 2017 Dec;32(4):139-145. doi: 10.1053/j.tcam.2017.10.001. Epub 2017 Nov 8. PMID: 29525233.
3 Pma. (2020, February 14). Hot stone massage: The professional massage academy blog. Retrieved March 03, 2021, from https://theprofessionalmassageacademy.com/2020/02/10/31848/
4 Pma. (2020, February 14). Hot stone massage: The professional massage academy blog. Retrieved March 03, 2021, from https://theprofessionalmassageacademy.com/2020/02/10/31848/
5 Shekelle, P., Adams, A., Chassin, M., Hurwitz, E., Brook, R., Aker, P., . . . Mior, S. (2001, January 01). Changing views of chiropractic. Retrieved March 03, 2021, from https://www.rand.org/pubs/research_briefs/RB4539.html