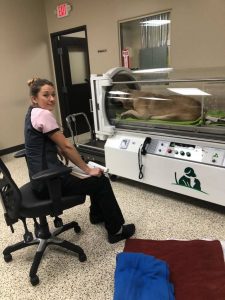 Sechrist Veterinary Health has installed the first veterinary hyperbaric oxygen chamber at Woodhaven Animal Hospital in Woodhaven, Mich.
The veterinary-specific hyperbaric oxygen chamber allows Woodhaven to offer free hyperbaric oxygen therapy (HBOT) sessions to animals suffering from smoke inhalation as a result of house fires.
HBOT promotes new blood vessel formation, heal burns, and increases the amount of oxygen delivered to the body, allowing for a quicker recovery. Although veterinary hyperbaric technology is still in its infancy, multiple case studies have led to an increase in the use of this therapy.
Some of the many benefits of HBOT include:
Reduction in swelling from infections
Elimination and reduced effects of toxic substances, such as snake bites
Promotion of healing of tissues as a result of crush injuries
"We are extremely proud to offer our veterinary specific hyperbaric oxygen chamber to Woodhaven Animal Hospital," said John Razzano, president of Sechrist Veterinary Health. "Everything we do is grounded in improving outcomes for patients. By aligning with industry pioneers, such as Woodhaven, we look forward to seeing the utilization of HBOT grow over the coming years."