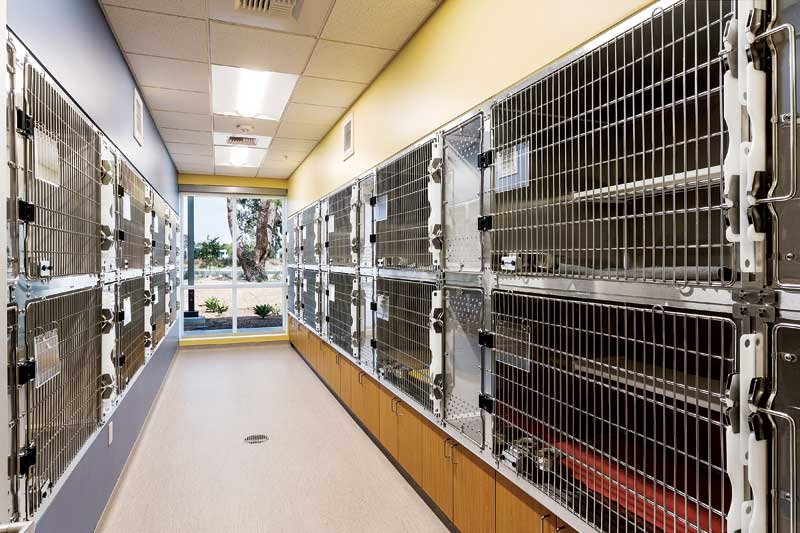 Cage and kennel housing have been keeping dogs and cats safe and secure for more than 100 years, but continuous improvement makes today's units much more pet-friendly. In part, the changes are based on university research findings about what reduces stress for boarding pets, particularly cats.
In a study by C.L. Karstena et al. (bit.ly/3jHZWSX), researchers focused on the link between stress and illness in felines. Specifically, they looked at what increasing the amount of living and litter areas would do to improve outcomes for felines in shelters. In these environments, cats are particularly susceptible to stress-related upper respiratory illnesses (URIs), which can be life-threatening. In veterinary settings, cats are usually short-term boarders or patients receiving treatment. And even though you are providing great care, they remain stressed due to an unfamiliar environment that may seem terrifying to them. Improved health for cats attributed to increased space was among the findings.
How research can help you choose kennels
In "Shelter housing for cats: Practical aspects of design and construction, and adaptation of existing accommodation" (bit.ly/3bjWWJn), the authors looked at best practices for kennel/cage housing.
The following are some of the study's recommendations:
Stainless steel is preferred for housing due to its ability to handle appropriate cleaners and disinfecting practices. Galvanized steel and chromed steel have low durability in animal shelter environments.
Look for a kennel that can be cleaned easily, decreasing the potential for contamination and reducing pet stress. Research shows cleaning is disruptive to pets, so double-compartment housing is a best practice, as you can transfer the pet within its own cage suite. In addition, units with rounded corners make cleaning easier and faster.
Latches must be secure. Stainless steel is the most popular option, although there has been a recent trend toward polyethylene (PE) latches to avoid the metal-on-metal sound that can startle some pets, especially felines.
Hinges must be durable, as they are the most frequently used part of the cage. That said, hinges don't last forever and need to be replaced when worn out.
Removing the cage door should be easy. Anyone who has ever experienced projectile liquids can attest to the benefit of being able to lift off the door to spray it down.
Little paws get caught in the strangest places, so look for tight spacing near the latch and at the bottom of the door. Also, check for weld quality. You don't want a scared animal busting through a poorly welded opening.
Larger cages and bonded pairs
Double-door cages provide a great option for housing larger dogs. In a treatment setting, a double-door cage with a removable middle bar makes sliding the pet in easy.
In a boarding scenario, a double-door cage can work well for bonded pairs, as it provides additional space. If you add a cage divider, you can allow interaction when supervised and slide in the divider at night.
Active dogs without medical limitations do best with the front-to-back kennel run the double-compartment housing provides. Further, since dogs prefer not to defecate where they sleep or eat, front-to-back kennels give them elimination privacy and safety, which lowers their stress.
Feline kennels
The increased living space researchers recommend for feline housing can be a dilemma to achieve in a clinic setting. Fortunately, there are some solutions.
Newer units use clear doors, offering cats an unobstructed view outside their cage. Adding shelves or perches allows cats the ability to lounge "above," which helps with their natural desires. Adding a place to hide also helps decrease stress in cats. Some hospitals hang towels over the cage, but lightweight cage covers are also available.
Lastly, research suggests adding a portal to allow cats to move between adjoining cages is beneficial to feline health, as double-compartment housing provides living and toileting areas.
New kennel housing materials
Newer housing materials for cat condos are available that allow effective disinfecting without worrying about the degradation that can happen to moisture-resistant board (MRB). These materials are part of the evolution in polyvinyl chloride (PVC) technology.
Make sure to ask your supplier about quality regarding hinges, latches, and doors on units you are considering. Given the countless times staff open and close housing doors, movable parts need to work well.
Many units come in a variety of configurations and the options to add color. In keeping with current design trends, most hospitals are showing a preference for white, which can be accented with a pop of color. In addition, experts in the area of stress recommend pastels to create a calming effect on staff, clients, and pets.
Special needs
From isolation units to O2 cages, investing in purchasing or retrofitting to exactly what you need can save time and money. The following cage designs address special needs in your practice:
Transfer cages: These stainless steel units have become popular due to concerns arising from the COVID pandemic. They can comprise something as simple as a mobile cage bank in the lobby to pass-through cages that open front and back.
O2 cages: Stainless steel housing in treatment areas can be converted to O2 cages. Simply purchase an O2 door that attaches to an oxygen supply system or O2 tank and regulator.
Isolation units: These are recommended for managing canine parvovirus.
Retrofitting ideas
There are many ways to improve the performance of your existing cages. Consult your equipment manufacturer for available options; however, here are two ideas to consider:
Replace worn out hinges or latches, as moving parts falter over time. Treat cages to new hardware and be sure to get technical support information to align the door for smooth opening and closing.
To decrease stress in felines, add a perch or hiding area you can easily disinfect from cage to cage.
Maximizing your investment
Good cage and kennel housing is part of your practice's value. Choose wisely when you purchase, and look for the small upgrades you can add as your manufacturer continues to innovate.  
Holly Gibson is marketing and innovation manager for Shor-Line, which has been manufacturing stainless steel housing, surgery, and treatment equipment for 90 years. She works with industry thought leaders on educational materials for Shor-Line's two websites and has spent more than 30 years writing about veterinary innovation. In her spare time, Gibson is a medical and behavioral foster parent for a Kansas City-area shelter. Koala, an Aussiedoodle rescue and her most recent foster success, approved this article.