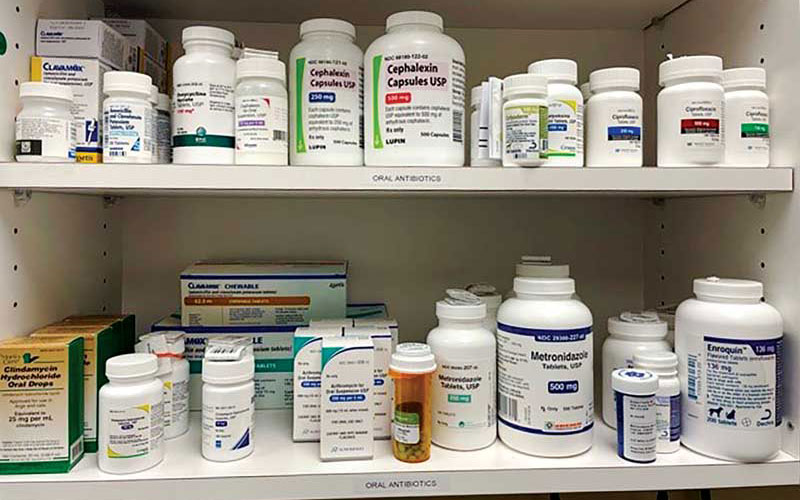 We live in an era of convenience. Clients want instant gratification and products delivered to their doorsteps. As an industry, we have made moves to make this happen and have those options available. However, even with "The Great Pharmacy Shift," there is still value in maintaining a smartly stocked pharmacy.
Sometimes you need it now
In everyday practice, it is inevitable there will be sick pets needing to start medication right away. If you moved every product out of your pharmacy, what would the doctors reach for to treat patients? Medications ordered through your online store take a few days to arrive, and sometimes patients cannot wait.
If you send the client with a script to a human pharmacy, I do not have to tell you how frustrating the experience can be. They may not have the medication, make you wait for hours, or worse, give you the wrong form of the medication. Our clients are not always up for cutting tablets into ⅛ crumbling slivers. These experiences certainly do not bond a client to your practice, and the bigger issue is the patient needs to start their medication! The solution: a well-managed pharmacy stocked according to the practice needs.
Smartly stocked, not overstocked
When considering what to stock in your pharmacies, I break it down into categories. If you have multiple doctors on the team, this will call for a meeting to come to a consensus on what to carry. The goal is a smartly stocked pharmacy, not an overstocked pharmacy.
Injectables. Start with evaluating which injectables you have or do not have for a couple of reasons—it keeps your pharmacy revenue in-house and the compliance rate is 100 percent. With so many amazing injectables on the market today, keeping your pharmacy revenue in-house becomes easy. It is no secret compliance rates for oral medications are exceptionally low. You have clients who stop giving the medication if they see the slightest bit of improvement.
Also, consider the clients who chase the cat around the house and drag him out from under the bed just to administer liquid medication, which ends up all over the walls and couches from the excessive head shaking and drooling. Do you really think they will repeat this for 10 to 14 days? I think not! This is a bad experience for anyone, let alone the patient is not getting the medication he needs!
Antibiotics. Without a doubt, your practice should stock antibiotics. When selecting which antibiotics to have on hand, keep in mind a lot of the antibiotics we order from vendors double as human medications. If the client can pick up it up at a human pharmacy within an hour and in some cases for free, it may be worth evaluating if stocking the "species-specific" medications and moving some generics out would work for your practice.
Pain control. A painful patient should not be made to wait a couple of days to have medication delivered to the client's home. Stocking species-specific pain medication and dispensing it on the spot is a strong recommendation.
Eyes, ears, and skin oh my! Trigger alert! It seems commonplace for a practice to stock two to six ear flushes, at least six ear meds, and about the same amount of eye meds. Now for real talk: Once the clients leave the building, they may flush the ears once. Much like a cat covering the walls with saliva-mixed antibiotics, envision a big ol' goofy Lab shaking the brown gunk all over a house as soon as the cold liquid is poured in his ear. Most clients are not about to accept this, so they just do not continue the ear flushing.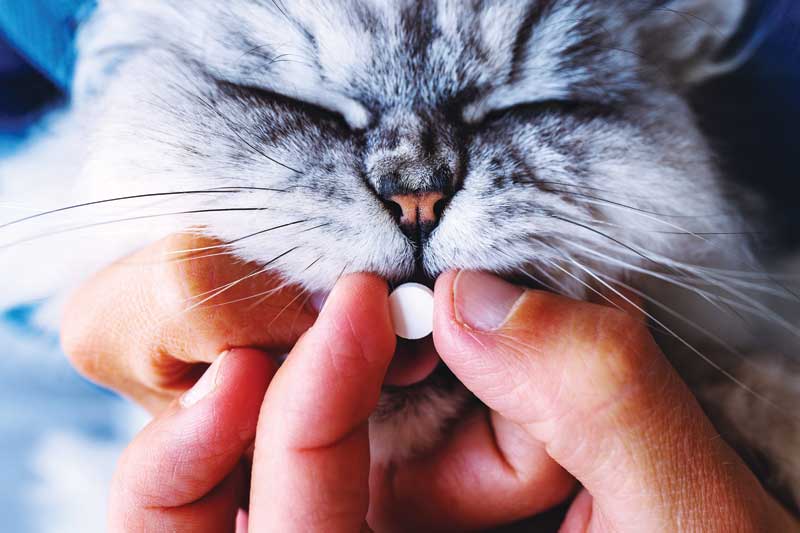 As for the dozen or more ear and eye medications, round up your doctors and narrow down the list to about half.
Skin. We can all agree this can be a frustrating topic. This issue is definitely not a one-size-fits-all treatment. My best advice here: Do not judge a client's bank account. Offer gold standard treatment out of the gate and stock the appropriate medications. The beauty is we have medications available to really change the game when it comes to skin nowadays.
Preventives. Preventives are arguably one of the easiest products to move to your online store. It can be pricey to stock cartons of 10 six packs, which sit on the shelf. I am not 100 percent against stocking these products if your practice sells enough to move it within 30 to 45 days, but do it smartly. Only stock two to three different options and sell it only in six-month supplies. Send your single-dose users to your practice's online store. This saves time and increases compliance by autoshipping every month.
Chronic medications. The patients on chronic medications would greatly benefit from utilizing autoship via your online store, plus or minus buying in larger quantities (based on doctor approval). When starting a patient on a chronic medication, dispensing seven to 10 days is the perfect quantity to get them through until they receive their shipment. This allows the practice to keep only a small amount on hand.
Diets. Stocking diets in-house greatly depends on your clientele. If you are in a location where the demographic is such they love visiting the practice to pick up their bags of food, then it may be beneficial to stock the most popular diets. Diets seem to turn over much more slowly with a smaller profit margin. To combat this, you could train your clients to preorder their diets and be ready to pick up when it arrives. Otherwise, removing most of your diets from your shelves and onto your online store makes the most sense.
OTC supplements. Certainly, OTC supplements may be one of the first things you want to kick to the curb. Wait! If we take it back to basics—the clients are coming to see us because they are looking for a recommendation.
Clients like convenience, right? So let's keep it this way. If the doctor recommends starting the patient on a glucosamine supplement, for example, and is able to place it in their hands, bam! Send home the first "bag" and then set them up on autoship through your online store. If you send the client out to the pet store or online to purchase a specific supplement, there is a great chance they will end up with something other than what was recommended in their proverbial cart. There is some great marketing out there that can easily sway a client's purchasing decision.
Controlled drugs. Controlled drugs are an exception when it comes to keeping a well-stocked pharmacy. I have every practice I work with audit the controlled drugs they have on hand and evaluate usage. It is not unusual to be able to phase out 30 to 50 percent of the controlled drugs kept in the practice. Many human pharmacies carry these drugs, or they can ship directly to the client's house. Much less headache for everyone involved in the reconciliation, dispensing, and counting process.
Steps to make it easier
Even in this day and age, you can keep a well-stocked pharmacy to enhance not only convenience, but also profit. Using both the guide above and the steps below for managing inventory can set your practice up for pharmacy management bliss.
Step 1: Appoint an inventory manager who will oversee the 'pharmacy' in its entirety
Every practice should appoint a dedicated inventory manager. Ordering, receiving, and overall managing pharmacy COGS are the foundation of this position, but let's not forget about caring for the clients.
This team member should also care for all client communication related to their pets' medications, including but not limited to, prescription refills, special orders, etc. This team member should be instrumental in creating reminders for chronic medications and reach out via phone or text when necessary. It is important to note this position requires dedicated time to perform these tasks and provide stellar client service.
Step 2: Audit your current pharmacy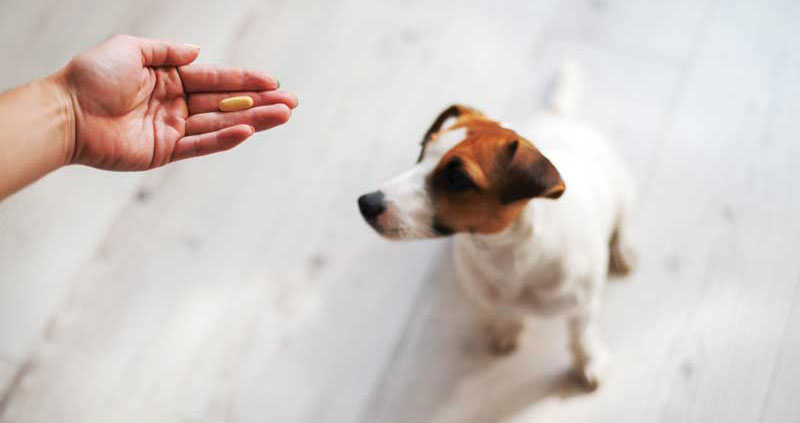 Time to run some reports and audit what you have on the shelf! Be smart about what is stocked. The easiest way to perform an audit is to start by creating an ABC analysis. Your "A" products should stay without a doubt; your "B" products keep an eye on and determine what stays based on turnover rate; your "C" products consider moving out to your online store. Having said this, you may still need to stock those one-off emergency drugs used four times a year, but you must have them on hand in the event you need to save a life.
Step 3: Create stability
Once you have nailed down steps 1 and 2, it is time to create the stability every practice needs when it comes to inventory. Reassess your reorder points and quantities, and audit them quarterly. Keep the team in the loop of what will be available in-house, as well as expectations for things like single-dose preventives and chronic medications.
Create an accessible backorder list accessible to the entire team. Nurture a strong line of consistent communication with the doctors to keep them updated, not only on backorders but products potentially not turning over. Lastly, but most important, train your clients!
Stocking a pharmacy is so much more than dollars sitting on the shelf and a big huge headache. Having what you need when you need it not only bonds the clients to your practice, but also provides a healthy revenue stream. By implementing inventory management strategies and smartly stocking your pharmacy, everyone can reap the benefits.
Emily Shiver, CVPM, CCFP, CVBL, is a certified veterinary practice manager serving as the Florida regional director of operations for Family Vet Group. Her passion is creating and maintaining positive, successful workplace cultures, as well as helping practices increase revenue and the client experience. Shiver enjoys every aspect of inventory and strives to help practices meet and exceed their inventory goals.