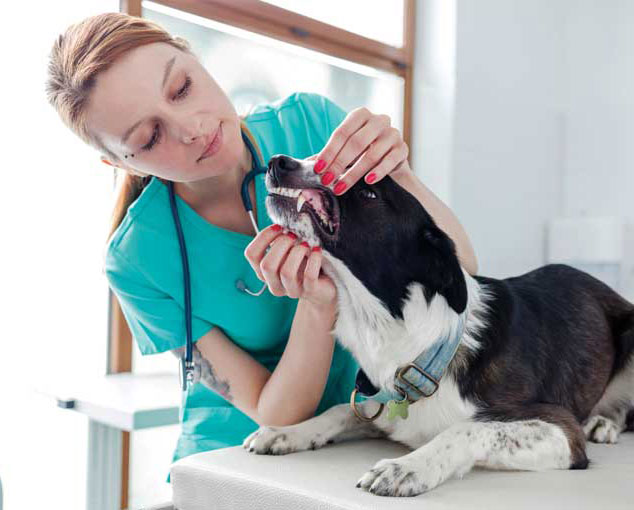 It is imperative to teach our clients the importance of routine dental care and that preventive measures are far less expensive than having to treat oral health problems. That being said, any analysis should consider the good done for the pet population by their owners responding to national marketing efforts and for resolving these untreated conditions for pets.
In light of National Pet Dental Health Month, it is appropriate to provide a cost-benefit analysis on the effectiveness of offering a promotional discount. Dental care for companion animals is a seriously underserved need. It is estimated that 60 to 80 percent of dogs and cats suffer from some form of periodontal disease by age three. While no articles suggest this is not a medically needed initiative, there have been a number of articles questioning the merits of a dental month discount as a means to promote dental wellness.
Much of the discussion as to why dental month discounts may be harmful involves clients' perception of value, as well as the possibility of worsening oral health conditions by those awaiting a discount period before seeking treatment for their pet. The former suggests that by discounting a medical procedure, clients somehow undervalue the service provided (Myers 2018). However, when a client receives exceptional care and feels value, they are more willing to pay higher amounts than a neutral or dissatisfied client (Homberg 2005). Therefore, if a client undervalues services, it more likely comes from being dissatisfied. The argument that no other health profession offers discounts so why should veterinarians ignore the fact human dentists and optometrists routinely do offer discounts (Arulrajah 2017). Those professionals also have the benefit that their clients can use insurance to defray some or all of the cost of routine checkups and cleanings. The opposite is true in veterinary medicine. Pet insurance is underused (Brown 2017) and most plans do not include dental cleanings at all, or if so, only as part of a premium wellness plan.
Therefore, to get a foot in the door with clients, we need to be honest that dental care is indeed expensive and acknowledge the fact clients forgo it because of cost (Said 2019). As such, clients asked to pay anywhere from $500 to $1000, depending on the severity of the dental diagnosis, will be motivated to opt for the procedure when they can save money through a discount. The dental discount we offered represents 10 percent off any dental services, medications were excluded.
As far as putting off medical procedures, the usual canard of, "You wouldn't wait for a discount to set a broken bone, so why would you wait for a discount to clean your teeth?" compounds on the above. Clients already have to be educated that malodor is not normal, and that pets can be very silent about oral pain. Simply put, pet owners do delay oral health care, either out of cost concerns or of unawareness. If clients were as compliant on preventive measures such as dental cleanings and parasiticides as they were about a pet hit by a car, we would not need awareness campaigns regarding these aspects of care at all. It is estimated only 10 percent of clients are compliant with American Veterinary Medical Association's (AVMA's) dental recommendations at all (Schultz and Heberle 2020), and that in a small study of 51 owners instructed on daily tooth brushing, only 53 percent retained that habit multiple times per week (Miller and Harvey 1994). The reality is that many pets are in need of oral care, but with the average dental procedure costing around $500 many owners do indeed need to wait for dental discounts.
In this article, we will show the positive reward dental discounts had on the lives of patients at three clinics we studied. The data is clear, each hospital has built awareness on the issue of periodontal disease in companion pets and their marketing efforts have been successful. This success is most easily measured in dollars earned by dental procedures.
A more nuanced argument against dental month discounts is that clients may delay needed care to get the discount, meaning that more easily treatable Grade 2 dentals may progress to a Grade 3 or 4 by the time February rolls around (Adobevetcenter 2020). This can be addressed in a number of ways, such as offering a discount to those clients if they come back within a certain window of time depending on the grading of the diagnosis. However, this can create a bit of an unpredictable appointment flow for a hospital, and ignores the seasonality of business for the veterinary industry. The reason National Pet Dental Health Month falls in February may be comparable to Valentine's Day helping to offset what would otherwise be a slow month in retail sales. Still, care should be taken to not penalize patient care by forcing the pet to suffer until February. Our analysis will show clients did not hold off Grade 3 and 4 dentals until a discount month. Further, we addressed the window of opportunity issue by holding at least four dental-awareness months, typically two months at a time. Each of the three hospitals held dental months as it made sense to their workflow and technician availability no more than six months apart.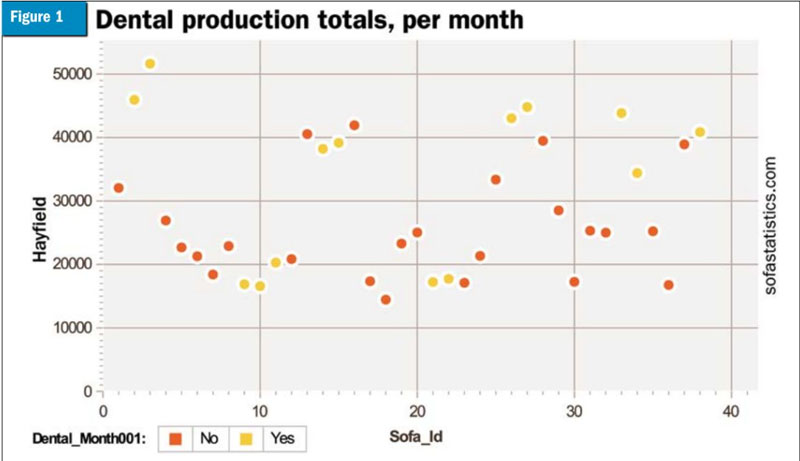 Methodology
Each of the three hospitals in our study provided monthly dental totals in dollars, as well as the historical record search of whether or not it was a dental month (i.e. a month during which a discount was offered). This was done by pulling reports from our practice management software (PMS). Data collection began January 2017 and ended February 2020. This period includes 38 months of time. The decision to suspend data collection during March 2020 was to remove the impact of the coronavirus pandemic. Each of the hospital managers examined the collated data from the study period and matched it to their records by way of error-checking. (See the scatterplot matrix in Figure 1 to observe trends in the data.)
Because each of the hospitals varied so widely on dollars earned (owing to facility size, number of doctors, number of LVTs, and dental machine capacity, which limited the Fort Hunt location considerably), a direct dollar-to-dollar comparison would not have been meaningful. As such, the data from each hospital was normalized to a percentile to see the impact of dental months in comparison to the total for that hospital. This was done by creating a percentage of how much each hospital's monthly total was compared to the 38-month total. On average, dividing 100 by 38 should get 2.63 percent per month, which provides a standard for a particular month being above or below the average. This also allowed the data to be pooled. Not all the hospitals held a dental month during the same calendar month, so a temporal analysis across three replicates was not viable. However, by normalizing the data, a population of normalized dental month percentages and non-dental month percentages could be compared to one another using analysis of variance (ANOVA). A total of 45 dental months and 69 non-dental months were collected across all three hospitals (Figure 2).

Bias testing for periodontal disease procedures during dental discounts
In order to address the concern clients would delay Grade 3 and 4 dentals until a dental month, hypothesis-testing on whether or not those dental procedures predominated dental months was needed. This was limited to a single hospital (Fort Hunt), as the other facilities recorded the type of diagnosis in SOAP notes but not in a database search-friendly format such as an invoice code. Weinstein (2019) recommends the creation of Grade 1 through Grade 4 codes in PMS for easy tracking of the type of procedure; Fort Hunt had done this serendipitously for 284 of 325 cases during the period of January 2017 to May 2018.
The results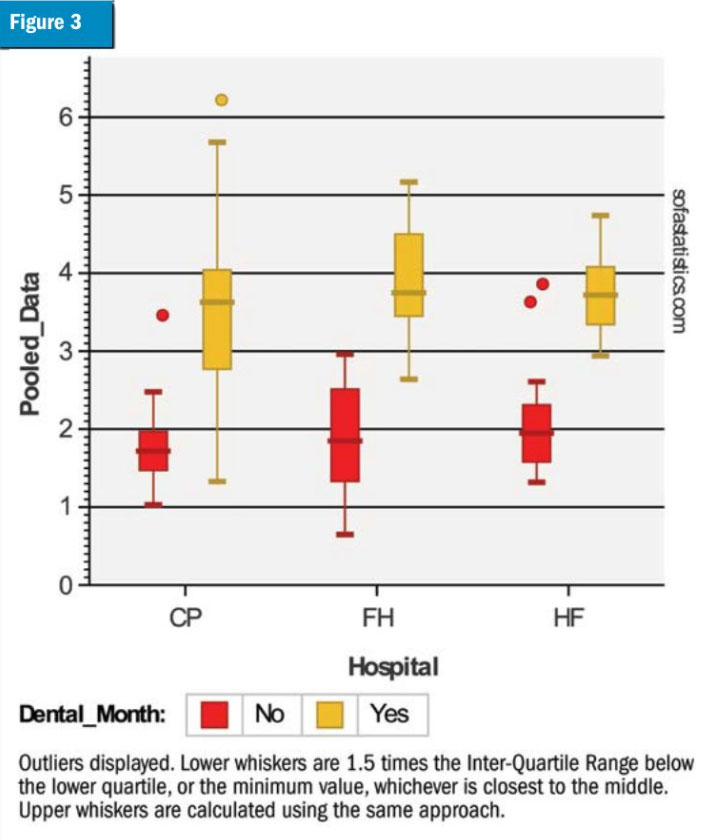 The pattern of a clear separation between dental month and non-dental months from the scatterplot continued to hold true when the data was normalized (Figure 3).
There were a few outliers, often associated with "dental month bleed." Multiple hospitals ran into flow issues due to heavy bookings, either with the number of LVTs available for dental procedures or functional dental machines. As a courtesy, hospitals allowed clients who attempted to book during the dental month to receive a discount when cleaning occurred. These were still coded as a non-dental month, but does explain why a few non-dental months were particularly high. This put a lot of fatigue on the staff to have dental months stretch interminably and the leniency policy was halted in 2020 (Figures 4 and 5).
Perhaps dollar values are more generally useful than statistics is describing the overall trend.  Over the course of the 38-month study period, a combined $1,929,611.65 was invoiced as dental charges. Of those, $1,036,643.68 (53.72 percent) was earned during dental months. While this seems about half, keep in mind there were less dental months (39.47 percent) than non-dental months, meaning that dental months were considerably more productive per month. Taken on a per-month comparison, a dental month averaged $23,036.53 (64.03 percent) whereas a non-dental month averaged $12,941.57 (35.97 percent).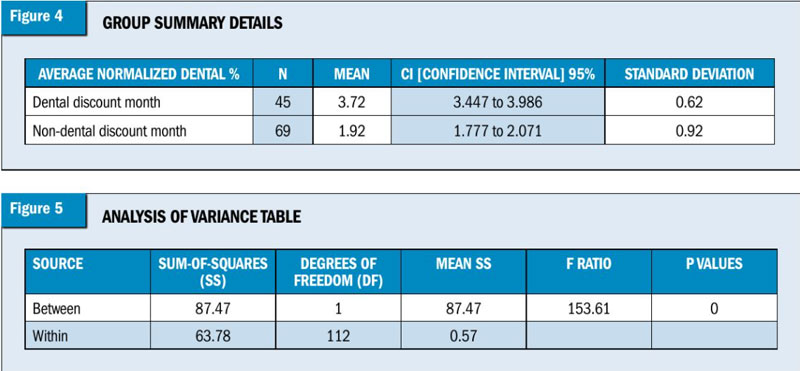 Bias testing for periodontal disease procedures during dental discounts
The chart to the left (Figure 6) from Fort Hunt reflects 284 condition-coded invoices pulled from its PMS. As can be seen, the data are particularly close, and any variance was insignificant.  Because this is data from a single hospital, it is anecdotal, but it does not appear that clients were "saving up" for higher graded, and therefore costlier dental procedures for discounted months.  It would be prudent, however, to rerun this analysis in various client populations to ensure pets with serious dental issues are not left waiting.

Discussion
Electing to participate in National Pet Dental Health Month represented an opportunity to serve our clients in a responsive way to their needs. The results clearly indicate clients respond to dental discounts. The fact that four months of the year out-earned the other eight for three years across three hospitals speaks to the need. Clearly, client response to a 10 percent discount shows pent-up demand. It is understandable that hospitals already pinched for normal operation staff may not be able to justify the stress level on the treatment team by having LVTs and DVMs scheduled heavily for an entire month (Berg 2020). Occasionally it may be necessary to allow the dental discount to carry over to the following month. Indeed, this helped spread the workload out for our DVMs and LVTs so it wasn't an overwhelming crush of appointments.
The other advantage of offering biannual dental discount windows is it allows clients more opportunity to get their animals cared for. If dental care is as woefully underserved as it seems, giving clients an additional incentive to book cleanings and procedures helps address the very real concern they will wait to treat their pets until there is a discount.
Although our data does not suggest a treatment bias of advanced periodontal disease waiting for a dental month, the analysis was necessarily limited to a single hospital because of the availability of data. Only one hospital in the study used condition-coded invoicing which showed the graded level of periodontal disease. We do share the concern that treatment costs for unprevented dental disease might be a hidden factor in why clients like dental months as much as they do. Instead of rejecting the very real advantages of offering a dental month incentive, as some argue, we took the approach that by offering discounts at two intervals per year, we would motivate clients who were mutually concerned about oral health and wallet health. Our conclusion is we could lure new clients with the discount appeal and create the possibility of a lifetime bond, all while training our loyal clients to utilize the dental discount months for annual preventive care for their pet. The results suggest strongly this was the correct assumption for our clientele.
Offering dental month discounts in less busy months can serve practices as well. The start of the year is a laggard time for clinics, as is the late fall; other months are too hectic with new pet examinations, summer and holiday boarding, and other seasonal booms to justify the time on the schedule. By encouraging clients to schedule routine dentals away from our busy seasons, it helps staff focus on pressing needs. The biannual approach also keeps skills sharp; it allows our LVTs and veterinarians more opportunities to refine their dental skills while avoiding being overloaded and burned out.
Lastly, we want to posit an additional benefit to building dental compliance. Preoperative blood work prior to a dental cleaning under anesthesia allows a diagnostic window into the lives of our patients that can lead to other interventions. By having clients schedule their pet's dental at least annually, we are given the opportunity to address needed services for pets in a low-stress, fear-free environment. Vaccinations, microchipping, nail trims, and ear swabs are also easily performed while under anesthesia, which both builds compliance and has a positive impact on the patient's health and well-being. Note that additional services performed are not discounted. It would require a much larger analysis to determine what percentage of clients who took advantage of dental month discounts also elected for these services to be performed. However, given the magnitude of treatment dollars spent during dental months already shown by this analysis, it stands to reason clients were already coming in motivated to provide one necessary treatment for their pets, so they may end up electing more of them simultaneously.
We hope we have shown a strong methodology in this article, supported by evidence. Given the well-intended and strong awareness of dental procedures generated by dental month promotional materials nationwide, we are in a position to better serve our clients and our patients by embracing these trends.
Jerry C. Hinn, MS Zoology, is the chief operations officer for the three animal hospitals represented in the study. Prior to assuming his role at the clinics, he served as a department chair for the biology department at a private nursing college, as well as an ecological researcher, studying ecology and evolution.
Jennifer Pawielski, CVPM, is the practice manager at Hayfield Animal Hospital with more than 18 years in the veterinary industry.  She is currently an active member of the VHMA, AAHA, and Level 2 Fear Free Certified. She has played an integral role in leading the hospital toward greater efficiency and technological advancements.
Acknowledgements
The authors would like to thank the supportive and tireless efforts of Annie Moore, CVPM, Jessica Del Toro, LVT, Rachel Lamoree, CVPM, Niza Melgarejo, and Brandi Size, for their assistance in coordinating dental months at their hospitals, collecting data, and their feedback throughout the process.
References
Arulrajah, Naren. Dental office discounts and deals: Are they really profitable? DentistryIQ. Dec 20, 2017. https://www.dentistryiq.com/practice-management/marketing/article/16366130/dental-office-discounts-and-deals-are-they-really-profitable
Berg, Mary. "Dental Health Awareness Month Not Dental Discount Month!!" Beyond The Crown. Accessed June 2, 2020. https://www.btcveted.com/dental-health-awareness-month-not-dental-discount-month/
Brown, Jackie. Why pet insurance is a win for vets and pets. Veterinary Practice News. March 2017. https://www.veterinarypracticenews.com/why-pet-insurance-is-a-win-for-vets-and-pets/
Homburg C, et al., Do Satisfied Customers Really Pay More? A Study of the Relationship Between Customer Satisfaction and Willingness to Pay. Journal of Marketing 2005;69:84-96.
Miller BR, Harvey CE. Compliance with oral hygiene recommendations following periodontal treatment in client-owned dogs. Journal of Veterinary Dentistry 1994; 11(1): 18-19.
Myers, Wendy S. You should stop dental month discounts. Veterinary Practice News. February 2018.
Said, Sarah. How to improve client compliance for dental procedures. Veterinary Practice News. February 2019. https://www.veterinarypracticenews.com/how-to-improve-client-compliance-for-dental-procedures/
Schultz, Andrew W. and Heberle, Danielle. Put the bite back into your dental. Veterinary Practice News. January 2020.
https://www.veterinarypracticenews.com/put-the-bite-back-into-your-dental/
Weinstein Peter. You can't handle the tooth! Today's Veterinary Business. in February 2019. https://todaysveterinarybusiness.com/you-cant-handle-the-tooth/
"Why We Are Saying Goodbye to the Dental Discount This Month: Tucson, AZ." Adobe Veterinary Center. Accessed June 2, 2020. https://adobevetcenter.com/our_blog/why-we-are-saying-goodbye-to-the-dental-discount-this-month/