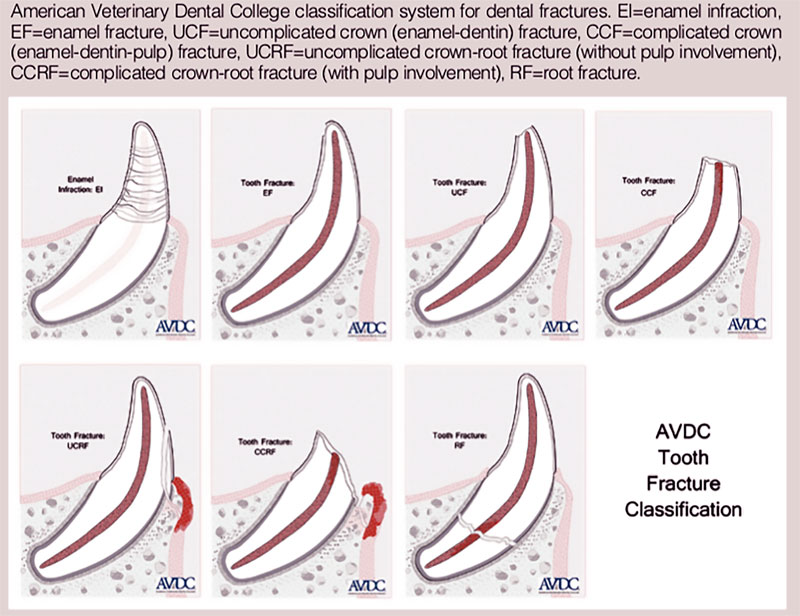 Last month, we addressed types of carnassial fractures in dogs and some of the common chew items causing these tooth fractures. This month's column will continue the discussion, highlighting some recent literature on the subject.
First, let's discuss the physiologic response of a tooth undergoing trauma. As mentioned in last month's column, pulp exposure is not required for endodontic disease to occur, as evidenced by teeth with concussive trauma that become discolored and nonvital with no loss of enamel or dentin.1
Generally, if a tooth undergoes trauma not resulting in pulp exposure, the tooth is more likely to retain its vitality than if there were pulp exposure. If enamel or dentin is lost without causing pulp exposure, there may be initial sensitivity of the tooth due to exposure of dentinal tubules.
Over time, if the tooth remains vital, these dentinal tubules will be filled with reparative (tertiary) dentin. Within each dentinal tubule, there is an odontoblastic process, which is connected to an odontoblast.
Odontoblasts are the cells at the periphery of the pulp and are responsible for production of dentin throughout the life of the tooth. The odontoblastic process extends from within the pulp all the way to beneath the outer covering of enamel. When tooth structure is lost, the odontoblastic processes in the area retract deeper into the tooth and start to produce tertiary dentin to fill the exposed dentinal tubules.
Discomfort
How much discomfort does exposure of dentinal tubules cause? I am sure every patient is different, but when I had odontoplasty (shaping of a tooth with a white stone on a water-cooled dental handpiece) of a lower incisor to create occlusal space for a maloccluding dental implant, there was mild sensitivity for approximately four weeks. Since then, the tooth has continued to be pain-free for years.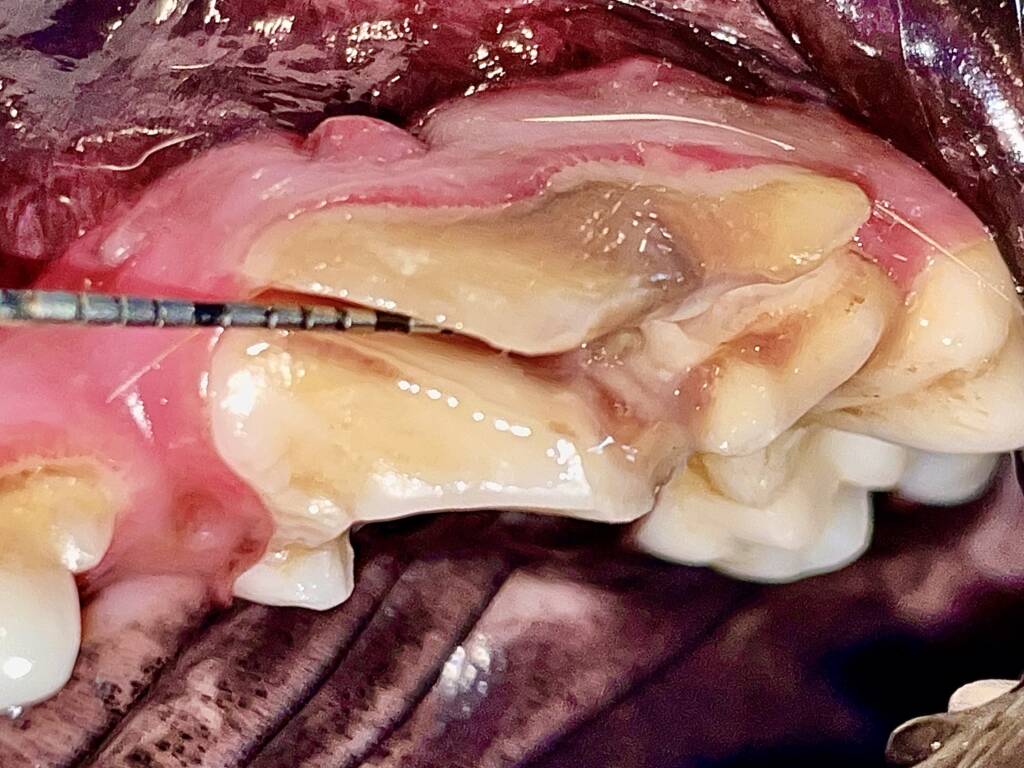 I mention this to highlight the reparative abilities of a tooth that does not have pulp exposure. Once the dentinal tubules were filled with tertiary dentin, the tooth was no longer sensitive. Sometimes, you will hear of dentists placing an unfilled resin (bonding agent or sealant) over a chipped tooth without pulp exposure. This procedure is likely only beneficial with sensitivity of recently fractured teeth, since older fractures may no longer be sensitive.
When pulp exposure occurs, the tooth's reparative capacities are compromised, since oral bacteria can invade the pulp, resulting in infection/inflammation that kills odontoblasts and other cells.
Odontoblasts not only produce tertiary dentin in response to trauma, but they also produce primary and secondary dentin. Primary dentin is laid down during tooth development, and secondary dentin is laid down throughout the life of the erupted tooth. Laydown of secondary dentin provides a useful diagnostic tool when viewing dental radiographs. If a tooth is alive and well, its root canal will narrow as time passes due to laydown of secondary dentin. This is why a tooth that has been nonvital for a while will have a wider canal than its contralateral counterpart.
Fractures
A retrospective study evaluated 959 traumatic tooth injuries in 660 dogs and cats.2 The most common tooth trauma noted in the study was the complicated crown fracture (involving enamel, dentin and pulp). Of 959 injuries seen, 49.6 percent were complicated crown fractures. Only 16.3 percent of the injuries were uncomplicated enamel or enamel/dentin fractures. Sixteen percent of tooth injuries resulted in loss of both crown and root enamel/dentin.2
How much force is required to fracture a carnassial tooth? One recent study looked at this in vitro.3 The mean maximum force (± SD) sustained by the tested teeth at the point of fracture was 1,281 Newtons (N) (± 403 N). The most common occurring fracture was a complicated crown fracture (n=12), followed by uncomplicated crown fracture (n=6), complicated crown-root fracture (n=5), and uncomplicated crown-root fracture (n=1).
How does this compare to bite forces that can be generated in vivo? A 1995 study in the Journal of Veterinary Dentistry measured bite forces in awake dogs of varied sizes by chewing on a transducer. A total of 101 readings were obtained from 22 dogs, weighing between 7 and 55 kg (approximately 15 to 121 lbs). Bite force was found to range from 13 to 1,394 N, with a mean value of 256 N.4 The challenge with awake bite force studies is the ability to isolate the chewing to a tooth of interest, such as the carnassial. Bite force can also be measured under anesthesia in vivo and can be estimated using calculations or finite element analysis based on in vitro measurements.5
A study using a model for various jaw shapes validated by in vivo measurements found much higher mean bite forces, and found that gape angle (degree of openness of the mouth) inversely affected bite force. It also found, pound for pound, brachycephalic dogs registered higher bite forces than mesaticephalic dogs. The largest in vivo bite forces were recorded in the Rottweiler and the pit bull, both being over 2000 N!6
The prevalence of carnassial tooth fractures in our clinical patients supports the theory any dog can fracture a carnassial tooth if given the wrong chew items. Stay away from real bones, nylon bones, antlers, cow hooves, bully sticks, and ice cubes, and anything else that logically seems too hard for chewing.
John Lewis, VMD, FAVD, DAVDC, practices at Veterinary Dentistry Specialists and teaches at Silo Academy Education Center, both located in Chadds Ford, Pa.
References
https://www.veterinarypracticenews.com/why-you-should-keep-pulpitis-in-mind-when-treating-a-discolored-tooth/
Soukup JW, Hetzel S, Paul A. Classification and Epidemiology of Traumatic Dentoalveolar Injuries in Dogs and Cats: 959 Injuries in 660 Patient Visits (2004-2012). J Vet Dent. 2015;32(1):6-14.
Soltero-Rivera M, Elliott MI, Hast MW, Shetye SS, Castejon-Gonzalez AC, Villamizar-Martinez LA, Stefanovski D, Reiter AM. Fracture Limits of Maxillary Fourth Premolar Teeth in Domestic Dogs Under Applied Forces. Front Vet Sci. 2019 Jan 30;5:339. 
Lindner DL, Marretta SM, Pijanowski GJ, Johnson AL, Smith CW. Measurement of bite force in dogs: a pilot study. J Vet Dent. 1995;12(2):49-52.
Kim SE, Arzi B, Garcia TC, Verstraete FJM. Bite Forces and Their Measurement in Dogs and Cats. Front Vet Sci. 2018 Apr 13;5:76. 
Monchâtre-Leroy E, Barrat J, Bausmayer N, et al A. Bite force and its relationship to jaw shape in domestic dogs. J Exp Biol. 2020 Aug 17;223(Pt 16):jeb224352.