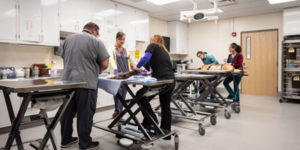 Ohio State University's Veterinary Medical Center has opened the Blue Buffalo Foundation Integrated Oncology Suite, allowing practitioners to comprehensively and holistically treat pets with cancer.
Blue Buffalo granted the school $650,000 to renovate the suite.
"Blue Buffalo was founded on a mission to help cure a disease causing 50 percent of health-related pet deaths," says the company's vice president, David Petrie. "In supporting the renovation of the integrated oncology space, we are able to support veterinary medicine so dogs and cats facing cancer can receive a cohesive team approach, resulting in better health outcomes."
The suite's team comprises veterinarians with specialties in medical, surgical, and radiation oncology. Clinical trials also are a big part of the integrated oncology service and are managed by the Blue Buffalo Veterinary Clinical Trials Office. The company's funding will help support animals enrolled in a study.
"Our partnership with Blue Buffalo has made it possible to provide studies that test new diagnostics and treatments across a wide spectrum of pet health, including cancer, renal failure, heart disease, and arthritis," says Cheryl London, DVM, PhD, clinical trials office director and professor of veterinary biosciences. "Clinical trials in veterinary medicine are critical for identifying new approaches to more effectively detect and treat diseases in the pets we love. They also have the added benefit of advancing outcomes for people with similar diseases."
The renovated suite now features two chemotherapy and minor procedure rooms, a quiet recovery area, and a significantly larger treatment room. It also employs more staff members, enabling team-based care for the more than 5,000 patients the center sees each year.