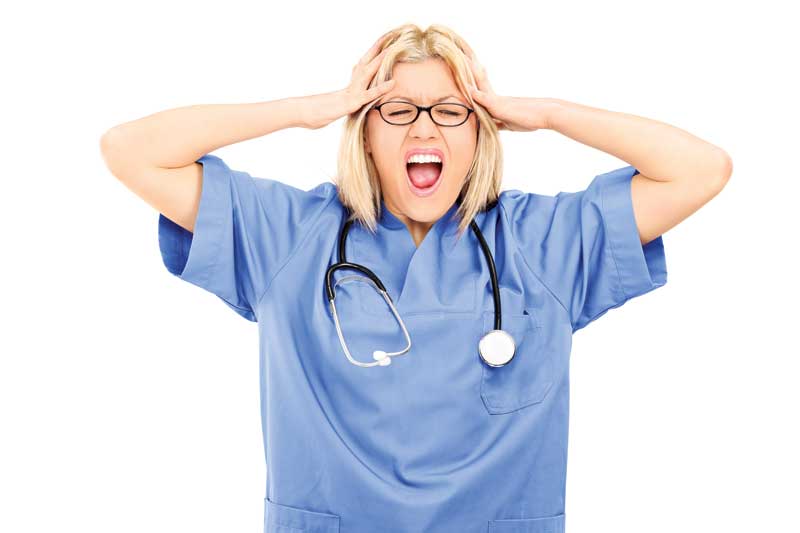 Jessica is overwhelmed with calls. With three months of backlogged checkups, the hospital is inundated with appointment requests during reopening phases. Doctors are booked for weeks. How can the hospital meet this demand and not lose clients due to delays?
A two-doctor practice typically sees 300 patients per month for preventive checkups. With a backlog of three months, you face up to 900 overdue patients. Although you won't get 100 percent client compliance for checkups, most practices achieve 70 percent or higher. Doctors will need to see 154 patients per week for checkups, with each veterinarian averaging 14 per weekday and seven on Saturdays (half day of operation), plus sick patients, urgent care, and emergencies. Can you see the chaos? Use these strategies to clear the backlog (and save your sanity):
Go from 30- to 20-minute checkup appointments. If a doctor works 8 a.m. to 5 p.m. with an hour for lunch, he would have eight hours of outpatient exams or 16 per day for 30-minute appointments. This scheduling method only leaves two appointment slots for sick patients and won't be enough. Shifting checkups to 20-minute slots allows for three checkups per hour or 4.6 hours of outpatient exams. The remaining 3.4 hours of outpatient exam time could be allocated to sick patients.
Immediately start a campaign to get overdue pets up to date. Focus on electronic campaigns of text, email, and app push notifications. Your client care team does not have time to make outbound calls because they're barely keeping up with incoming calls. Send this text/app notice: "<Pet name> is past due for a checkup. We offer priority scheduling for overdue patients. Click here to book online or call (555) 555-5555." The term "priority scheduling" is a call to action. Encourage clients to use online and app booking tools, rather than adding more call volume.
For email campaigns, use a powerful subject line such as "<Pet name> is overdue for a checkup | Get priority scheduling." Health-care emails have a33 percent open rate, so an attention-grabbing subject line is key.1 Put the pet's name in the subject line and "priority scheduling" to create a sense of urgency. The body of your email would state: "<Pet name> was due for preventive care when local guidelines limited us to urgent care and emergencies. We can now see preventive appointments and urgently need to get <pet name> up to date. We don't want to risk exposure to rabies, parvovirus, or parasites. We are offering priority scheduling for overdue patients. Click here to book online or call (555) 555-5555."
Veterinarians are reporting spikes in canine parvovirus cases. Unvaccinated dogs and puppies younger than four months are at greatest risk for this deadly and highly contagious virus, according to the American Veterinary Medical Association (AVMA).2
Forward-book pets with checkups coming due during the next two months. During COVID reopening phases, many hospitals are booking appointments two to six weeks out. If your hospital sends reminders one month before checkups are due, you risk being unable to provide timely care. Instead, send reminders six to eight weeks in advance so clients may forward-book. You'll have more appointment availability and can ensure well-timed preventive care.
In October, you will forward-book patients due Nov. 15 to Dec. 31. Because text has the highest open rates at 99 percent, focus on getting more clients to opt-in for texts (see chart to the left on "Reminder response rates by communication method").3 Send this text to prod clients to forward-book: "<Pet name> will be due for a checkup Dec. 15. We are experiencing increased appointment requests. Book now to ensure your first choice of time, day, and doctor. Click here to book online or call (555) 555-5555." Letting clients know you're experiencing high patient volume will motivate them to reserve appointments early. Use benefit statements such as "first choice of time, day, and doctor."
Your email subject line would be: "<Pet name> needs a checkup soon | Book now for best availability." The body of the email is: "Because many pets became overdue when COVID safety guidelines limited us to urgent care and emergencies, we are experiencing increased appointment requests. <Pet name> will be due on Sept. 15. To ensure your first choice of doctor, time, and date, we want to forward-book your pet's appointment now.
Click here to book online or call (555) 555-5555."
When forward-booking appointments, send a series of four confirmations, which also helps avoid no-shows: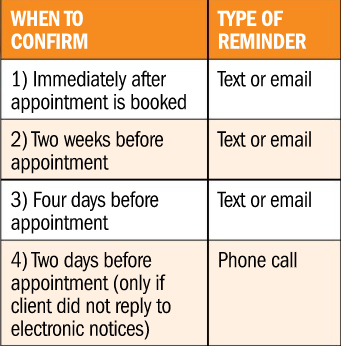 If clients have not responded to electronic notices, call them two days before exams to confirm. If the client reschedules or cancels, you have an entire business day to refill the empty slot.
Combining overdue patient campaigns and forward-booking will help you clear the backlog and transition to more stable appointment schedules.

Wendy S. Myers, CVJ, has been training veterinary teams for more than 20 years as owner of Communication Solutions for Veterinarians in Castle Pines, Colo. She helps health-care teams improve telephone and communication skills that result in getting more pets the medical care they need. Myers shares her expertise through conferences, online courses, and monthly CE credit webinars. She is a certified veterinary journalist and author of five books. You may reach her at wmyers@csvets.com or csvets.com.
References
1 Brudner E. Email Open Rates by Industry: See How You Stack Up. Published June 14, 2019. Available at: bit.ly/2DG2YHu. Accessed July 7, 2020.
2 Veterinarians See Spike in Dangerous Parvovirus as Pet Owners Fall Behind on Vaccines. ClickOnDetroit.com. Available at: bit.ly/2XErNe3. Accessed July 8, 2020.
3 Burke K. 107 texting statistics that answer all your questions. Text Request. Updated Jan. 24, 2019. Available at: bit.ly/2XEjf6P. Accessed July 7, 2020.
4 Push Notifications Statistics 2019. Business of Apps. Available at:
bit.ly/31tyzo3. Accessed July 7, 2020.
5 Inkit Team. 20+ Direct Mail Industry Statistics for your 2019-2020 Marketing Campaigns. Available at:
bit.ly/2DlfRHl. Accessed July 7, 2020.