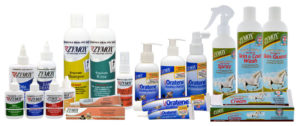 Pet King Brands has implemented an authorized seller (brand partner) program to protect its distribution channels.
The pet health product company says it is taking this step to protect its ZYMOX dermatology and Oratene brushless oral care enzymatic product lines from being sold by unauthorized distributors.
"At Pet King Brands, we are committed to providing the best experience for both our customers and consumers of our products," says the company's founder and president, Pamela K. Bosco. "However, due to unauthorized sellers and the potential for counterfeit products on the marketplace, we have implemented our Authorized Seller/Brand Partner program to ensure the highest-quality customer experience going forward."
Pet King Brands is also revising its minimum advertising price (MAP) policy to include more violation affects and subsequent enforcement actions. It is using a MAP monitoring and unauthorized seller enforcement software tool to further its investment in regulating all channels to authorized resellers.
"We understand the impact an unregulated MAP environment creates for every good standing reseller," Bosco says. "This is why we are committed to taking swift action against MAP violators and cleaning up the unauthorized sale of goods online."