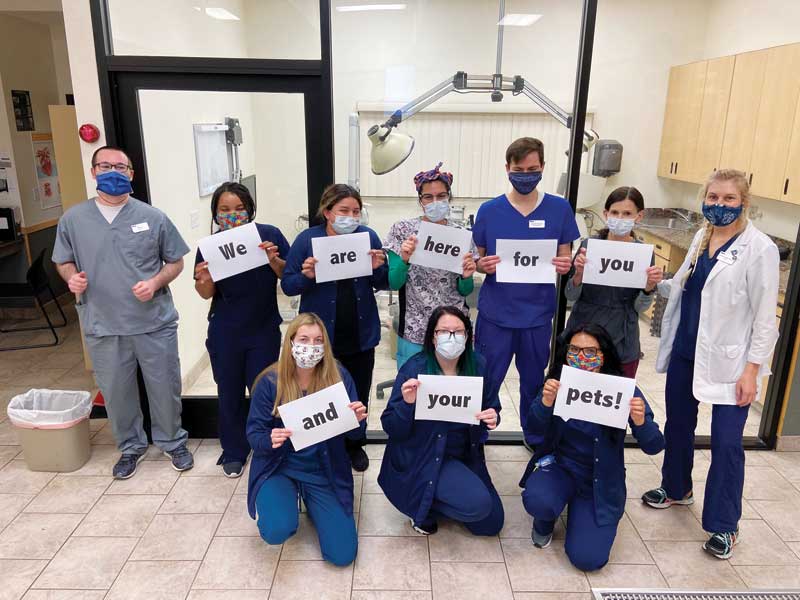 So much has changed since the start of 2020 that it's almost impossible to prioritize the challenges we've confronted. Can we just fast-forward to Dec. 31, please? Or better yet, someone press the rewind button and let's start over. All our plans have been upended, from our travels and weddings (my own included) to our kids' education and other family endeavors. And we're the lucky ones.
Still, I've tried to look on the bright side: We are resilient. We're soldiering through this crisis admirably. There's a lot to be proud of.
But––big picture now––what have all the changes done for our profession? We may have grown closer to our work colleagues and immediate families, but how has the coronavirus altered the fundamental landscape of veterinary practice?
Here are seven ways in which we've changed—and not necessarily for the better:
1) Separation at the border
In most U.S. practices, pets have been separated from their people at our front doors. Some of us have rejoiced in this development, marveling over how much "easier" the pets are to handle when out of their owners' presence. But is it good for the profession?
I'll argue vehemently that it's not. For those of us who consider a) close relationships with our clients the engine that drives both commerce and compassion, and b) a detailed history-taking a Herculean feat during the best circumstances, these conditions are an abhorrent, but still necessary evil.
Mark my words: Separation is not improving the quality of our veterinarian-client-patient-relationships and this damage may have repercussions long into the future.
2) Remote technology
It's all the rage nowadays—all the kids are doing it. But there's a downside, too. For the reasons I've stated above, telemedicine that aims to replace a percentage of our visits permanently is not good for our clients, our patients, or for veterinary professionals.
If its future goal, however, is to increase visits overall by improving access to care for those who won't visit otherwise, well then, I'm all for it. But separating the two may be harder than it looks. I just fear that once this is all over, we'll keep doing what's best for our practices (and our pocketbooks), not what's best for our patients.
3) Euthanasia and house calls
If there's a niche area in veterinary medicine that's taken a bigger hit than indoor, at-home services, I'd like to know about it. It's really hard to send veterinarians out into the field and put their lives at risk for services that can be done far more safely in a veterinary facility. It's sad to think COVID may have damaged our house call infrastructure for years to come, just when we were doing so well!
4) New and small-venture survival
I've written about it here before. If you're a new or small practice, you've had some serious challenges. This has been especially hard for enterprising veterinarians who finally decided to take the plunge and now find themselves immersed in more debt than they can repay. Practices serving lower-income families in hardest-hit areas have also succumbed. How many future independent owners has this virus discouraged? We'll never know.
5) Manpower crisis
I've heard it from all over the country: We're overworked! It's not just that the remaining practices are picking up the slack—it's also the fact we're understaffed. Some parents have had to stay home to school their children. Older, more at-risk employees have retired. Others have decided they can't risk getting sick and have quit or are temporarily on leave. Finding new staff has been near-impossible for most (take it from me), since no one seems to be looking for work, at least not yet, anyway.
Add to that the fact we all feel incredibly COVID-stressed and many of us now have children and parents to cater to more personally in our outside-of-work jobs. It makes sense we'd feel like we're drowning.
6) ER overwhelm
No one has enjoyed more financial success in these times than 24-hour services. For a host of reasons, including reduced day clinic hours and the closure of new and small practices, ERs are bustling places these days. In my area, the wait has been as long as five hours all weekend long. This is a manpower crisis, too, of course. But it's also creating affordability issues in a time when people can least afford to feel them.
7) Government reliance
I've never taken a dime from the government to support my five-year-old practice. I was disqualified for a loan from the Small Business Administration (SBA) over technicalities, and I didn't qualify for disaster relief loans or grants after the last hurricane. Beyond the drop-in-the-bucket, federal student borrowing rate (on loans that didn't even cover my first semester in college) and the infrastructure our collective tax dollars pay for, I've seen nada. Until now.
I didn't believe it until the check on the Paycheck Protection Program (PPP) loan cleared. Not until the $150,000 showed up in my QuickBooks window did it fully register. After all, I was planning on riding it out on savings. Given all those past loan denials, I'd finally gotten good at self-sufficiency.
But now they were throwing money at me in the guise of 100 percent forgivable loans! (Trust me, I jumped through every hoop to make sure I qualified for non-repayment.) Sure, I was grateful, especially after having to close for 10 days when one of my technicians tested positive, but it's still hard to believe. So can you blame me for thinking obsessively there's a wolf under all that green?
To wit, I can't help but wonder what accepting such sums of federal assistance will do to veterinary medicine. For one, I believe it makes us less likely to plan for disasters if we come to expect bailouts we might've survived without.
But more than that, I believe it exacerbates the divide between the practices that can afford to stay open and those that can't. (You can't get a loan to support payroll if you no longer have staff to pay.) Moreover, smaller practices with no experience in the process of soliciting funds are less likely to have successfully sought and received them.
And, ultimately, who wins when the cash is doled out? For most veterinary practices, the answer is clear: It's the owners. After all, it requires very little accounting genius to devise ways to pocket the surplus, which only helps the survivors get bigger and richer, thereby echoing the story of my generation's economic life.
So how does all the above affect how we deliver health care to our patients? It does it by demotivating an incoming generation of independent practice owners, furthering consolidation, and concentrating wealth. Add this to the increased strain on human resources, the decreased access to care, and the exacerbation of affordability issues, and you've just cooked up an Insta-Pot meal that gives the veterinary profession a bellyache and poisons our patients, potentially into perpetuity.
Again, there's a lot to be proud of. We've done a great job of reinventing our practices and our lives. But does it all have to be so exhausting? Please write me if you've managed to find bright spots during COVID. I'm collecting stories so that fewer future columns aren't so depressing!
Patty Khuly, VMD, MBA, owns a small animal practice in Miami and is a passionate blogger at drpattykhuly.com. Columnists' opinions do not necessarily reflect those of Veterinary Practice News.