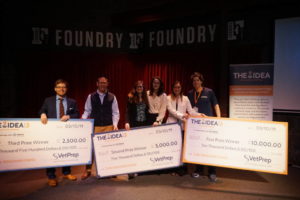 Three teams of veterinary students were awarded a total of $17,500 from VetPrep's third annual live finale of The IDEA, a veterinary student innovation competition.
The yearlong competition was hosted by VetPrep in partnership with Merck Animal Health and was also supported by the Veterinary Innovation Council (VIC) from Texas A&M and Hill's Science Diet. The IDEA was created to provide veterinary students the opportunity to bring their ideas to life.
"We created The IDEA to support young veterinary entrepreneurs because we started our company when we were veterinary students and our business allows us to interact with veterinary students frequently," says VetPrep cofounder, Ira Gordon, DVM. "Students have so many great ideas, but oftentimes lack the confidence, resources, and mentorship they need to turn their ideas into reality. The IDEA can help with all three. It is an opportunity for us to provide the type of assistance we wish was available to us back when we were students."
The competition comprised 43 students from North America, the U.K., and New Zealand. The chosen semifinalists then worked with Aaron Massecar, PhD, from the VIC to fully develop their ideas. After being narrowed down, the three remaining teams competed in the finals, which took place at the Student Chapter of the American Veterinary Medical Association Annual Symposium held March 9 to 11 in Athens, Ga.
The students pitched their ideas to a panel of judges and then participated in a question period. The competition happened in front of a live audience and was broadcast on Facebook.
The winners of The IDEA competition are as follows:
• the $10,000 grand prize was awarded to Stephanie Young and Brianna Boyle, Texas A&M, for their SKYPaws wireless monitoring device;
• the $5,000 second-place prize was given to Rachel Hilliard of the Cornell ParaSIGHT team for their app focused on real-time parasite identification; and
• the $2,500 third-place prize went to Jon Lou and Kirk Bradtmiller, Cornell, for their BigFoot foot pump attachment for pressure bags.
See the website to watch the live finale.