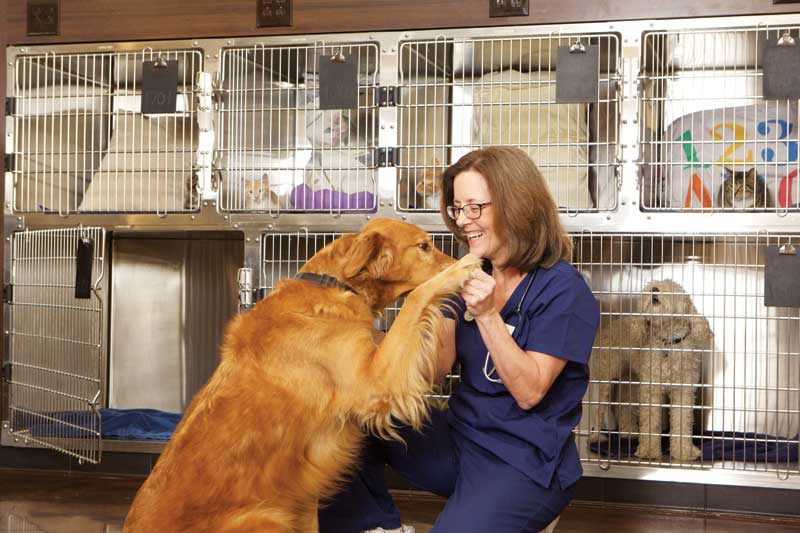 The holiday season is upon us. I think it is safe to say if you offer a boarding service in your practice, you were faced with empty kennels and an eerie silence for the 2020 holiday season.
For 2021, so far, our boarding numbers are already tracking to be above 2019! With numbers on the road to recovery, tap into that comeback to make your practice even healthier during this holiday season by offering additional services while the pet is in your care. These services should be easy to implement and a great way to add additional revenue to your practice.
Additional services
When considering what additional services to offer during a pet's stay, it is certainly not one size fits all. Put some thought into staffing, time management, logistics, client demographics, and so forth. I recommend adding two or three services you can manage with the team and resources you have available at the present moment.
A few very successful and easily implemented ideas are:
Check-in health evaluation
Microchipping
Complimentary dental exams with incentivized dental services during their stay
Amenities (see examples below)
Bathing or grooming services
Share with the clients
Once you have decided which additional services you are going to offer, the next step is sharing the excitement with clients. There are several ways you can bring awareness to your new services, but two stand-outs are reservations and boarding check-in. While going through all the normal information during the reservation process, add the list of new services your practice offers. This not only alerts the client ahead of time, but expedites check-in.
Your next opportunity to review the new services is when the pet is checking in to boarding. Ensure the team is letting clients know they can pick from the new services, and there will also be an elevated level of care by checking them over thoroughly to identify any issues. You should also utilize social media and email marketing campaigns to make these announcements to your clients to spread the word!
Check-in health evaluation
At check-in, it is common for the boarding team to examine the pets for fleas. Makes perfect sense, right? Fleas can cause a huge negative impact on your business if you send pets home with fleas when they weren't dropped off with them. Take it a step further than the negative impact fleas can have on your business and consider other ways you can help the pets in your care.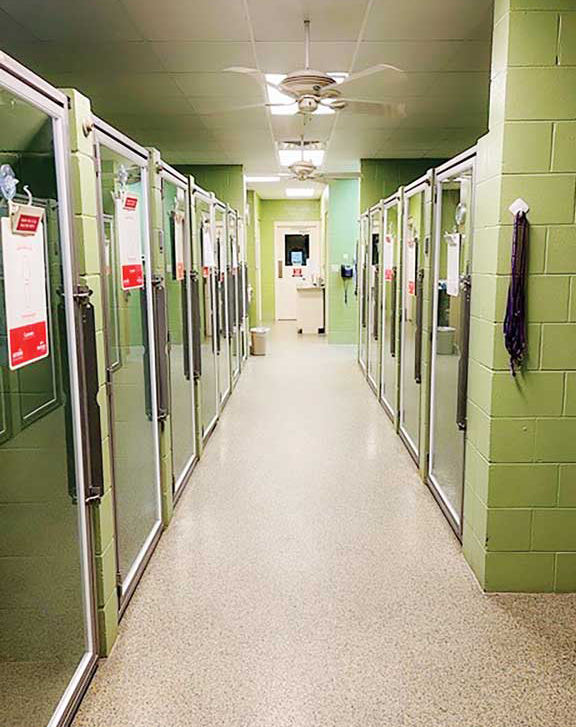 Train the boarding team to look at the entire pet. Start at the nose and end at the tail. Some common things you can catch are yucky ears, flaky or red inflamed skin, lumps or bumps, full anal glands, and long nails, to name a few. If the boarding team is not comfortable, the other option would be to have a technician make rounds and assess everyone after check-in.
After the pet has been checked over thoroughly, give the client a call, review the findings, and let them know the team can take care of this while they are away. For the more common issues, you can have estimates for the exam, potential diagnostics +/- treatment ready to share. Not only are you growing the revenue for your practice, you are also taking care of issues that may be obvious to us but "normal" for the client and will make the pets so much more comfortable.
Microchips
My saying when it comes to microchips is, "Every pet, every time." Every pet crossing your threshold should be scanned for a microchip, and if they do not have one they should not leave without one. If they are already chipped, it is imperative the number is scanned and in your practice management software.
If they are not microchipped, encourage the client to have them chipped during their stay. Not only is it 100 percent the right thing to do in general, but in the terrible event something happened and you had to identify the pets in your care, a microchip could save a life. Don't ever be scared to work with your reps to see if they can offer special pricing or other incentives and even do a challenge for the team!
Lift up those lips!
I can bet you all have at least three Yorkies named Bella hanging out with you during the holiday. I could also make a bet they need a dental cleaning. At check-in, let the client know every pet will receive a free dental evaluation by a technician during their stay. Everybody knows if you start lifting those lips, you will start identifying issues.
Once these dirty mouths have been identified, give the client a call to go over the dental evaluation. At this time I offer an incentive (no more than $50) to have the procedure performed while the pet is staying with us. I emphasize we can make sure they are properly fasted and recover safely, plus dose any needed medications after the procedure. Sure, there are some logistical things to work through, like scheduling those additional procedures, but it is oh so worth it—healthier pets and increased revenue for the practice.
Amenities are not just for humans!
One of the most successful services I have added to boarding were amenities. While some of you may snicker, trust me when I tell you the clients can't resist adding something to their pets' stay to make them feel a little more like home. When you tell them every day at 4 p.m. is yappy hour, they literally cannot resist. Some other ideas for amenities are:
For dogs:
Playtime—15 minutes of one-on-one play time.
Group playtime—one hour of group play time with dogs of similar size and good temperament.
Yappy hour—a yummy treat!
Frozen homemade pupsicle—yogurt, peanut butter, banana pupsicle frozen and served!
PB cone—mini ice cream cone stuffed with peanut butter (frozen is a plus).
Quiet time—sit with the older or more shy kiddos and offer some pets or brushing for comfort.
For cats:
Catnip play time.
Bedtime service—a warm towel and a tuna flake right before going to bed.
Quiet time—not all cats like playtime, so maybe just some time out of their quarters to roam around and maybe get some pets.
Playtime—15 minutes of one-on-one play time.
Laser tag—what youngster can resist a laser?
Warmie—some cats love to lay in warm places. Offer these kitties a warm disc to lay on at their leisure.
Meow time—delectable treats daily at 4 p.m.
Create an amenities menu you can laminate and show clients at check-in. I also create an internal challenge for the team—whichever team member who schedules the most wins a prize!
A visit to the spa
I have seen way too many boarding facilities offer free baths, nail trims, or anal sac expressions during their stay. If you are doing this, please stop the madness today! Your team's time is valuable. Clients do not return to board at your practice because of a free bath. Instead, they leave their pets in your care because of the added security of an actual veterinary practice where care should be top-notch. Charge for your spa services with pride and offer them with every single reservation.
Adding in new services can really reinvigorate the team, especially if you are elevating the care you offer to the pets they work so hard to care for every day. Set goals for each initiative, openly track the progress, and add in some fun prizes. Keep the energy and momentum strong and your boarding will shoot to a whole new level this holiday season.
Emily Shiver, CVPM, CCFP, CVBL, is a certified veterinary practice manager serving as the Florida regional director of operations for Family Vet Group. Her passion is creating and maintaining positive, successful workplace cultures, as well as helping practices increase revenue and the client experience. Shiver enjoys every aspect of inventory and strives to help practices meet and exceed their inventory goals. She and her husband reside in Lakeland, Fla., with their two Patterdale terriers and a few other furry family members.