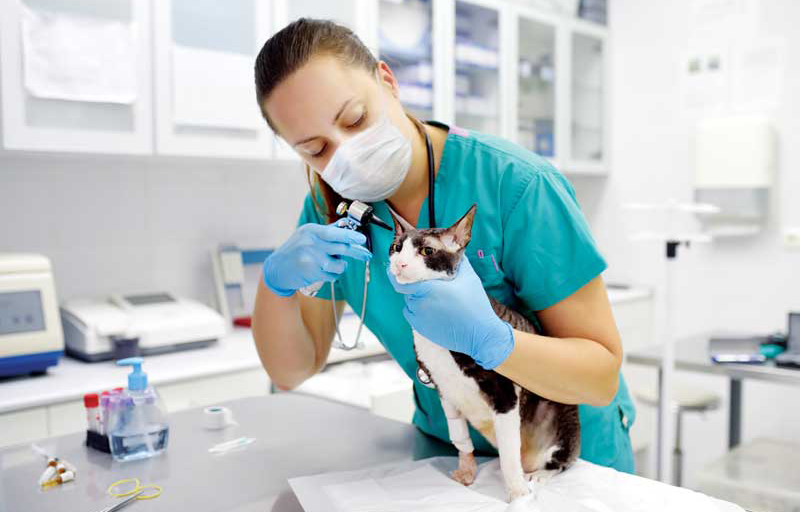 I've often used the following words in problem-solving and in creating opportunities, not only in our beloved profession of veterinary medicine, but in my personal life as well: What has seemed impossible to you that, if it were possible, would change dramatically the way you practice and live, while benefiting everyone involved?
Over my more than four decades in veterinary medicine, I've heard speakers joke that veterinary medicine moves about as fast as molasses in January. We are skeptical scientists that a) must see proof, b) want to see others blaze the trail and take the arrows, c) are hesitant to spend money, and d) tend to feel pain before we take the medicine. And that's under normal living conditions, the opposite of what we're experiencing now.
What 2020 and COVID have shown us is there's a thin line between "panic" and "preparation." Things that seemed impossible/improbable in our lifetimes have arrived at the "speed of fright." Consider the following:
1) Handshaking has been replaced with handwashing. Casual hugs outside of family have become about as common as jackalope sightings.
2) All-you-can-eat buffets, whether in a local strip center or on a cruise ship, are no-gos. So is blowing out birthday candles when celebrating with anyone other than those we live with, as we don't want the celebrant spraying potentially virus-loaded droplets onto the frosting.
3) Remote working is widespread—studies show more than 50 percent of people are now working from home.
4) Knee-to-knee contact in concerts, sporting arenas, theaters, airplanes/buses/subways, or houses of worship has been replaced with a 6-ft radius. Also, we're see an explosion of in-home entertainment options that may even include major movies released online in the near future.
5) Delivery to your door of food, groceries, and pet and garden supplies—services that literally bring the world to your address—are the norm in most places.
6) Curbside pickup is part of our new normal, and not just at the biggies such as Walmart, but at mom-and-pop shops, too.
7) Telehealth is here. Even after COVID wanes, online communications channels such as FaceTime and Zoom will help increase access to health care and make it more convenient to get.
8) We'll see a reduction in or end to our dependence on foreign suppliers for goods critical to our health and everyday activities.
9) The consumption-driven society we're largely part of will reduce chasing risk and reward with seeking comfort and stability. COVID presents a depression-era change catalyst for generations that have not valued saving or experienced delayed gratification as much as previous ones who were in careers during the 1999 dot-com bubble burst, 9/11, and the Great Recession of 2008.
10) Gen Z/iGen will reevaluate college. Online learning will become a wildly popular option. Expensive private schools will lose students to public colleges. Technical training, in lieu of a college education, will be seen as an attractive option. Parents willing to spend $75,000 to put a child through four years of college only to see them take a job that doesn't require or value this investment will become as common as lepers in a hot tub.
Moving from general life to veterinary medicine specifically, we've seen the battleship of our industry start moving as if it were a ski boat. Here's what is new or greatly increased:
1) Remote check-in and checkout of patients.
2) Doing consultations over the phone versus face-to-face.
3) Split-scheduling of doctors, nurses, and other team members.
4) Embracing telehealth options.
5) Utilizing home-delivery options for prescriptions, therapeutic diets, regular diets, treats, toys, etc.
Finding hope
My mother, Virginia, loved to hum hymns while we did farm chores. One of her favorites was "The Solid Rock," written by Edward Mote in 1834. The refrain goes:
On Christ, the solid rock I stand,
All other ground is sinking sand,
All other ground is sinking sand.
While COVID has been tossing many of us around like a pool float in a typhoon, in times like this we seek solid rock or a protective harbor. Life preservers such as Paycheck Protection Program (PPP) payments, additional unemployment benefits, increased food stamps, and food banks will disappear, leaving us trapped in sinking sand. Yet, it's possible for us as individuals, as well as our practices and our profession, to emerge from this crisis transformed and energized.
I have a friend, Edward Creagan, MD, who just retired from practice at the Mayo Clinic in Rochester, Minn. He's quadruple-boarded in internal medicine, oncology, palliative care, and hospice. We first met when I was writing The Healing Power of Pets in 2000.
Sadly, Dr. Creagan has seen thousands of people die, and the one rule he follows is to never extinguish hope in a patient. For example, a certain cancer may typically take one's life within six months of diagnosis, but some have lived for 10 years with it. So, expect to live six months, but hope for 10 years. It's the same with COVID: You can expect your business to be affected or for you to contract the disease, but hope that somehow, like many others, you dodge all the bullets.
Dr. Creagan told me he'd been talking recently with some colleagues at the Cleveland Clinic who said having a healthy immune system offers the best protection against contracting COVID and it helps you survive if you get it. And we would all agree one of the top things you can do to have a healthy immune system is to share your life with pets.
Think about this, colleagues and friends: In our lifetimes, we've seen dogs and cats go from animal, to pet, to family member, to child, to now a human life-support system cleverly disguised as a four-legged child.
Being an animal lover my whole life, loving veterinary medicine, wanting to communicate positive messages to my various audiences, I asked Dr. Creagan why he thought pets were the number one thing to help us have a healthy immune system in general and protect us from COVID specifically. A proud pet dad himself, he provided the following as to why pets were leading his marching band for health:
1) This medicine is already in almost seven out of 10 households across the U.S.
2) It's a medicine that is trusted.
3) It's a medicine that tastes good.
4) It's a medicine with no side effects (other than a worn rotator cuff from petting over decades).
5) It's a medicine that doesn't cost anything (not counting a few bags of Beggin' Strips).
Bringing this home to the practice of veterinary medicine, consider this: During the Great Recession, the pet/veterinary industry did not decline a single quarter from 2008 to 2010, which leads one to believe it is "recession proof." Here we are in 2020, and once again, we see that while people might give up many things in their lives when facing fear, anxiety, stress, and bad news, they still find a way to help their pets live happy, healthy lives.
We veterinary health-care professionals have a unique and valuable role to play during COVID and forever more: To be the competent, compassionate team that helps dogs, cats, and other companion animals—a.k.a. human life-support systems—live good lives. This in turn helps pet moms, dads, brothers, and sisters live better lives, which, to bring it all home, positively reinforces veterinary medical professionals to go to work and find the financial success and emotional wealth we deserve.
Marty Becker, DVM, writes every other month for Veterinary Practice News. He is a Sandpoint, Idaho, practitioner and founder of the Fear Free initiative. For more information about Fear Free or to register for certification, go to fearfreepets.com. Columnists' opinions do not necessarily reflect those of Veterinary Practice News.