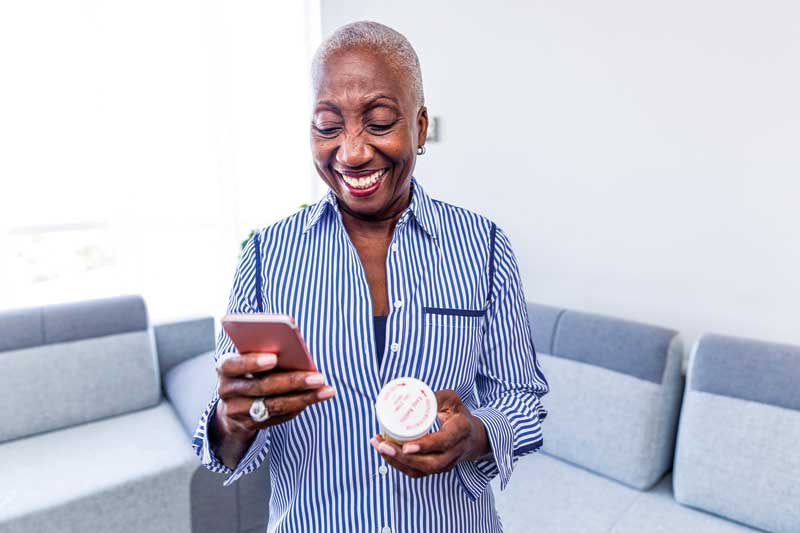 Dr. Wilson loathes the hours he spends reviewing and approving online pharmacy requests. The piles of faxes and emails consume an hour every day, which is precious time away from revenue-generating patient care. Worse yet, managing online pharmacy requests actually reduces his income! Like many colleagues, Dr. Wilson is making the No. 1 mistake in pharmacy operation: Failure to remind clients to reorder medications and food. Online polls of nearly 400 hospital managers and veterinarians found 86 percent don't send refill reminders.1
Relying on clients to remember to reorder is a horrible business strategy. During the pandemic, 31 percent of Americans bought drugs from internet pharmacies for the first time.2 Online pet retailer Chewy added more than five million customers during 2020 and net sales grew 45 percent.3 While internet pharmacies boomed during COVID, veterinary hospitals saw drops in client traffic, operating hours, staffing, and revenue, according to the American Veterinary Medical Association study, COVID-19: Veterinary Impacts and Responses.4
Dr. Wilson could secure and grow more of his pharmacy income if he does one simple strategy: Turn on refill reminders. Pharmacy sales represent 25 to 30 percent of revenue in companion animal practices.5 Here are smart pharmacy operational strategies:
Strategy 1: Identify top-selling drugs
Run a pharmacy sales report in your practice-management software. Sort data from highest to lowest dollars to prioritize the order of setting up refill reminders. Your top four categories will be: 1) flea/tick preventives, 2) heartworm preventives, 3) non-steroidal anti-inflammatory medications (NSAIDs), and 4) long-term drugs for chronic conditions. Parasiticides represent the largest market share of pet medications with 42 percent of sales, according to Packaged Facts.6
Your inventory or hospital manager will set up reminders for each drug that will need to be refilled. For example, a six pack of heartworm preventives will have a refill reminder in five months, while a 12 pack will remind in 11 months.
Strategy 2: Send reminders 30 days ahead
If a client buys six months of heartworm preventives today, she may forget to reorder because the next checkup won't be due until 12 months. Patient health and pharmacy income are at risk. Reminders alert pet owners to refill medications before they run out. Besides allowing time for home delivery or in-clinic pick up, this removes the aggravating habit of pet owners who wait until the last pill is gone and call you for "emergency refills" the same day.
Sample text: "<Pet name> needs a refill of <brand> for heartworm protection. Click here to refill in our online store with home delivery OR reply Y to get curbside/in-clinic pick up at our hospital."
When sending email reminders, create subject lines that will grab clients' attention, get opened, and have them ordering. A strong email subject line is personalized with the pet's name and has a call to action: "<Pet name> needs a refill of heartworm preventatives. Click to order."
Sample text: "<Pet name> needs a refill of <brand> for heartworm protection. Click here to refill in our online store with home delivery. If you prefer curbside/in-clinic pick up at our hospital, just reply with "curbside/in-clinic pick up" in the subject line. We will email you when your medication is ready and send a link to pay online. Enjoy the same rebates/free doses online or in-clinic."
Strategy 3: Send lab test reminders when required for medication refills
Rather than have confrontational conversations that you can't refill pets' medications because lab tests are due or overdue, remind for recurring lab tests for patients taking chronic medications that require drug monitoring. If a client's dog takes an NSAID and needs testing every six months, set the lab reminder for five months, allowing ample time for the client to schedule a nurse appointment for the sample collection.
Sample text: The subject line is: "<Pet name> needs a lab test before next medication refill on <date> | Click to schedule." The email states: "<Pet name> is due for a lab test. Drug monitoring is necessary for <pet name> to continue to safely take <medication name> and is required before the next refill on <date>. During a nurse appointment, we will collect a blood sample and run the test. Click here to schedule online, download our app at <link>, or call us at 555-555-5555. We want to provide timely testing and refills for <pet name>."
Strategy 4: Use "Blood work required before next refill" stickers
This bright-colored sticker will prompt clients to act before the last pill is gone. When the client picks up the medication, lead her to forward book the nurse appointment.
Sample script for receptionist: "This is your last refill before a drug-monitoring test will be due. Let's schedule a 15-minute nurse appointment for the blood sample collection. I have a nurse appointment available next Tuesday at 1 p.m. or Wednesday at 11 a.m. Which do you prefer?" This yes-or-yes technique guides the client to forward book and gets stronger results (and revenue) compared to the yes-or-no choice of "Do you want to schedule a nurse appointment?"
Strategy 4: Add links to your online store in reminders
Clients have Amazon mentalities and want to be able to order at 11 p.m. They won't call your hospital after hours, leave a message, and wait for a returned call. They want the 24-7 convenience of online ordering (if you don't offer it, they will shop elsewhere).
Sample text: The subject line is: "<Pet name> needs a refill on preventives. Easy online ordering!" Use emojis in subject lines to stand out in clients' inboxes. The email body is: "<Pet name> needs a refill of <brand name>, which provides monthly protection from heartworms and <list parasites>. Click here to order online and get home delivery, download our app at <link>, or call 555-555-5555." If a heartworm test also is due, add, "An annual heartworm/tick test is due now and is required to ensure your pet may safely take ongoing medication. Our hospital's standard of care is year-round protection from parasites. Click here for online scheduling, download our app at <link>, or call 555-555-5555."
Strategy 5: Set up auto shipments in your online store
Chewy's marketing allure of "Save 30 percent when you sign up for your first autoship" has it grabbing more of the $7 billion pet pharmacy market. The e-commerce share of pet medications is $1 billion to $1.3 billion, of which Chewy has claimed 40 to 45 percent.3
Your hospital can use this same replenishment strategy for prescription and over-the-counter drugs. An autoship strategy improves client compliance and lets you avoid seasonal declines. Let's say the client buys six months of flea/tick preventives, and you hand her the box today. Walk the client through setting up auto shipments during curbside or in-clinic appointments.
Sample script for receptionist: "Let's set up your next refill through our online store. In less than two minutes, you can create your account and set up auto shipment so future refills arrive at your doorstep. You'll never run out. Our hospital's online store also lets you qualify for rebate and reward programs."
Set a flea/tick preventive to autoship every five months when one dose will remain. A six-month heartworm preventive would be eligible for one autoship refill, and then a heartworm test and prescription renewal will be due.
Still skeptical about the results of refill reminders? The 2020 annual report for 1800PetMeds shows the internet pharmacy giant earned 87.5 percent of its income or $248.6 million from refills.7 One of the original internet pharmacies founded in 1996, PetMeds uses online marketing, television advertising, direct mail, email marketing, live web chat, refill reminders, and a mobile app with "ask-the-vet" feature.8 Focusing its marketing muscle on refills generated the majority of its $284.1 million in sales last year.
Have your inventory and hospital manager develop refill strategies for your pharmacy. Clients will appreciate timely reminders, and you'll enjoy recurring revenue.
Wendy S. Myers, CVJ, has been training veterinary teams for 21 years as owner of Communication Solutions for Veterinarians. She teaches teams to become confident communicators, so more pet owners say yes to medical care. Wendy shares her expertise through conferences, online courses, and monthly live CE credit webinars. She is a certified veterinary journalist and author of five books. Her passion is to help practices thrive and grow through effective communication skills. You may reach her at wmyers@csvets.com or www.csvets.com.
References
1 Online webinar polls by Communication Solutions for Veterinarians and Boehringer Ingelheim, October 2020 to February 2021. Data on file with Boehringer Ingelheim.
2 Kennedy J. COVID-19 Is Driving Consumers Online and Illicit Pharmacies Are Waiting for Them. Forbes. Dec. 1, 2020.
https://www.forbes.com/sites/jaykennedy/2020/12/01/covid-19-is-driving-consumers-online-and-illicit-pharmacies-are-waiting-for-them/?sh=22b5a570798b. Accessed March 29, 2021.
3. Verdon J. Chewy Keeps Adding New Tricks to Grow Sales and Keep Pet Parents Happy. Forbes. Dec. 8, 2020. https://www.forbes.com/sites/joanverdon/2020/12/08/chewy-keeps-adding-new-tricks-to-grow-sales-and-keep-pet-parents-happy/?sh=1994228253dd. Accessed March 29, 2021.
4 COVID-19: Veterinary Impacts and Responses. 2020 AVMA Study. https://ebusiness.avma.org/files/coronavirus/COVID-19-practice-effects-report-2021.pdf. Accessed March 29, 2021.
5 Gavzer K. How to Profit on a Hospital Pharmacy. Today's Veterinary Business. August 2017. https://todaysveterinarybusiness.com/profit-hospital-pharmacy/. Accessed March 29, 2021.
6 McReynolds T. Veterinarians Outselling Online Retailers When It Comes to Pet Meds—But Not For Long. AAHA NEWStat. August 2019. https://www.aaha.org/publications/newstat/articles/2019-08/veterinarians-outselling-online-retailers-when-it-comes-to-pet-medsbut-not-for-long/. Accessed March 29, 2021.
7 2020 Annual Report. Pet Med Express, Inc. https://www.1800petmeds.com/on/demandware.static/-/Sites-1800petmeds-Library/default/dw57dcab64/images/aboutus/PetMedExpressAnnualReport2020.pdf. Accessed March 29, 2021.
8 PetMedExpress. https://www.bloomberg.com/profile/company/PETS:US. Accessed March 29, 2021.