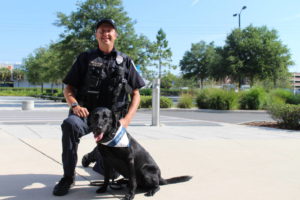 Service animals near the University of Florida's (UF's) Small Animal Hospital will be able to receive free eye and heart screenings, come May 3.
Sponsored by the American College of Veterinary Ophthalmologists (ACVO) and StokesRx National Service Animal Eye Exam, the event will only provide free exams on active working animals that have been certified by or enrolled in a formal service animal training program/organization.
"Healthy eyes and vision are critical for a service animal to be able to perform to the best of its ability," says Caryn Plummer, DVM, who will perform the eye examinations. "Regular screening may help detect problems early, which are potentially sight- or comfort-threatening, so intervention may be possible."
UF veterinary cardiology faculty members will do the heart screening exams.
Should veterinarians decide further examination is required, the owners will be able to make a secondary appointment at the event.
To participate in the event, service animal owners can register on the website from April 1 to April 30. They must also call UF Small Animal Hospital at (352) 392-2235 to schedule an appointment. (Ask for Holly Kitchen or Katherine Devine of the ophthalmology service.)