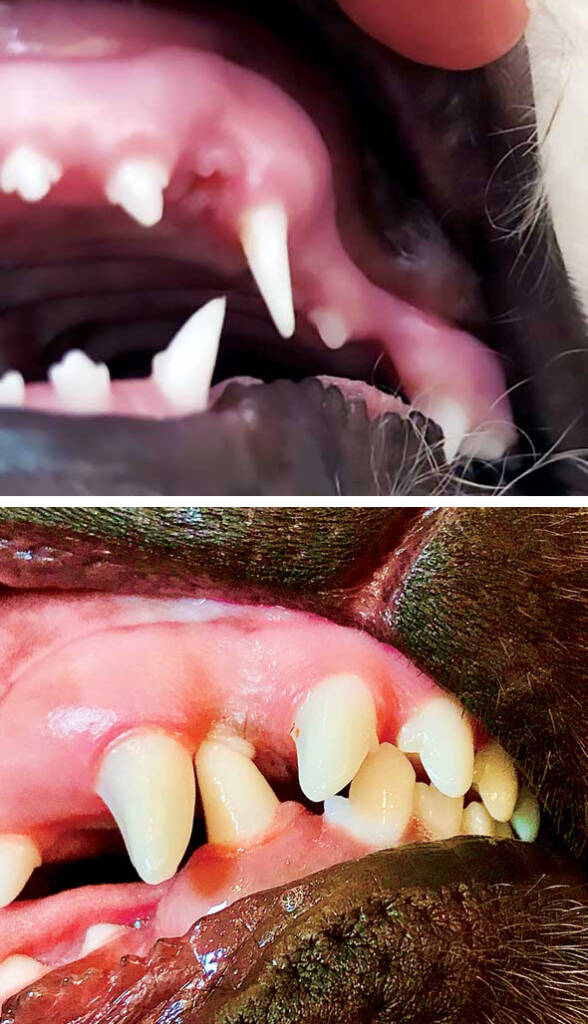 I saw a 10-week-old puppy recently with a malocclusion that was mild enough to consider "ball therapy." This is one of those rare prescriptions that is inexpensive, enjoyable, and effective when used for the right patients.
First, let's start with a discussion of normal occlusion and malocclusions. Normally, when the mouth is closed, the mandibular incisors are behind the maxillary incisors, while the mandibular canine tooth is behind the maxillary third incisor and in front of the maxillary canine. There is interdigitation of the premolar cusps of the maxilla and mandible, resulting in a resemblance of pinking shears. The maxillary premolars and molars are positioned lateral to the mandibular premolars due to the anisognathic widths of the maxilla and mandible in the dog and cat.
There are four classes of malocclusions.1 Class 1 refers to a normal jaw length relationship between the maxilla and mandible, but one or more teeth are malpositioned. Class 2 denotes the mandibular arch occludes caudal to its normal position. Previously called mandibular brachygnathism, its preferred medical term according to the American Veterinary Dental College's (AVDC's) nomenclature committee is mandibular distoclusion. The common lay term used to describe this malocclusion is "overbite." Class 3 malocclusion occurs when the maxillary arch is shorter than the mandibular arch. Previously referred to as maxillary brachygnathism or "underbite," the preferred medical term for this condition is mandibular mesioclusion. Class 4 malocclusion refers to maxillomandibular asymmetry in either the rostral-caudal, medial-lateral, or dorsal-ventral direction due to asymmetric growth of the right or left maxillary or mandibular arch. A common lay term for a type of Class 4 is "wry bite."1
Play ball
Ball therapy only works for certain malocclusions. A specific type of Class 1 malocclusion of the mandibular canine tooth (a.k.a. linguoversion, in which the mandibular canine tooth is tipped medially) results in abnormal contact with the maxillary arch. Another malocclusion that may be amenable to ball therapy is a mild Class 2 malocclusion. Ball therapy is a treatment for mild malocclusions when the mandibular canines are impinging on the soft tissues of the upper jaw.
Leen Verhaert, DVM, Dip. EVDC, EBVS, first described the technique in a study published in the Journal of Veterinary Dentistry (JOVD) in 1999. The title of the paper was "A removable orthodontic device for the treatment of lingually displaced mandibular canine teeth in young dogs." I must admit when I first heard of the technique, I did not expect it to be as helpful as it has proven to be. The study documented use of the technique in young dogs of different breeds with Class 1 or Class 2 malocclusions. Dogs ranged from five to 9.5 months of age. Twenty-three of 38 cases were fully corrected without any other treatment.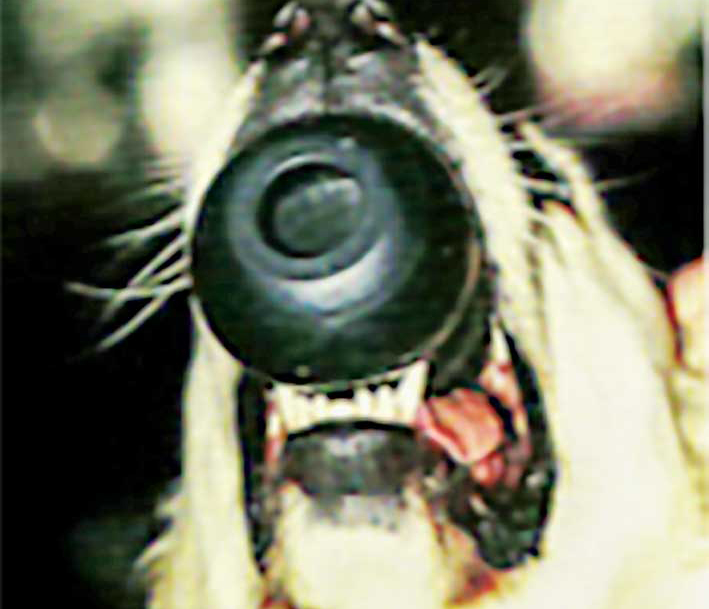 What was the breakdown of success rates in different types of malocclusions? In 14 dogs with Class 1 linguoversion, malocclusion of the mandibular canine teeth was corrected within two months, and in some cases, in as little as two weeks. The eight dogs in the study with Class 2 malocclusion had variable results, depending on the severity of the mandibular distoclusion. Three dogs with slight mandibular distoclusion showed correction within two to three weeks. Dogs with severe mandibular distoclusion or with teeth in positions that blocked movement of the mandibular canines were least likely to correct with ball therapy. Access the full text of this landmark study at bit.ly/33A4PZ9.2
Although the procedure has been described for use in dogs whose permanent mandibular canine teeth have begun to erupt, I also use the technique on deciduous mandibular canine teeth that have mild malocclusion, but normal jaw length relationships. If there is an unfavorable dental interlock preventing mandibular growth or if the mandibular deciduous canine teeth are causing deep palatal ulceration, extraction of these deciduous teeth should be pursued. However, if the mandibular canine is in the proper diastema when the mouth is closed, although slightly linguoverted (Figure 1A), this technique may help.
The treatment
Dogs who meet the criteria are encouraged to play with a solid rubber toy with round or ovoid shape, such as a rubber ball or Kong-style toy for a minimum of three 15-minute sessions per day, although more frequent sessions of longer duration may be helpful. A practical way to ensure play with the toy is to toss it and have the dog retrieve it repeatedly. The type of ball or toy is important. The solid rubber construction of a ball or Kong is important—avoid a hollow ball to provide weight necessary to move the teeth to the desired location. Though it needs to have some weight, hard toys are discouraged to avoid tooth fractures. Do not use tennis balls, which may cause tooth abrasion. The ball/toy ideally should fit between the cusps of the mandibular canine teeth to promote labioversion (i.e. movement in the direction of the lips). If too large, the ball/toy may result in intrusion instead of the desired labioversion.
The key to successful ball therapy or "rubber toy therapy" is realizing its limitations and using it in cases of linguoversion or mild Class 2 malocclusions (Figure 1B). Hopefully, this will help some of your patients with mild malocclusions. Have you had success with ball/toy therapy? Send your "before and after" photos to me at info@siloacademy.com.
John Lewis, VMD, FAVD, DAVDC, practices dentistry and oral surgery at Veterinary Dentistry Specialists and is the founder of Silo Academy Education Center, both located in Chadds Ford, Pa.
References
1 avdc.org/avdc-nomenclature
2 Verhaert L. A removable orthodontic device for the treatment of lingually displaced mandibular canine teeth in young dogs. J Vet Dent. 1999; 16(2): 69-75.