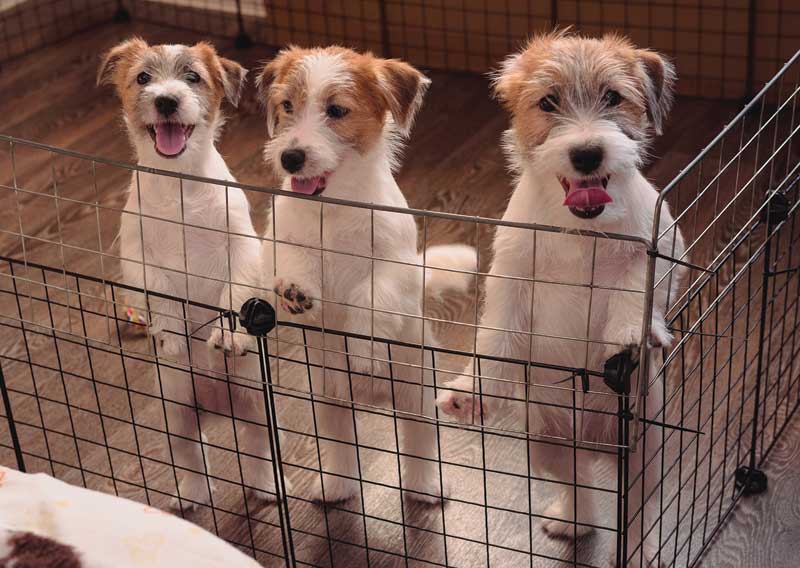 Small animal practitioners will recognize this scenario: a client hands you a list of vaccines like they are turning in a menu at a sushi restaurant. They are going out of town, and their pet's boarding facility (aka kennel) has vaccine requirements. The client wants you to give these exact shots.
For an animal health professional, especially one striving to be an evidence-based practitioner, this presents a dilemma. You are supposed to be the one with recommendations for preventive care based on good science. How and where is each kennel coming up with their specific requirements? Of course, mandatory vaccines are not unique to kennels, many veterinarians are familiar with standardized requirements for international animal transport. However, the standardization is the key difference.
Countries requiring health certificates have specific, veterinarian-informed criteria for admission, whereas different kennels often have a hodgepodge of requirements that are sometimes contradictory within the same geographical area.
Kennel risks
Kennels (overnight and daycare facilities alike) present unique opportunities for pathogens: a dispersed group of animals comes together to bark, yip, howl, cough, sneeze, urinate, throw up, and fling diarrhea on the walls in unison. From a pathogen's point of view, it is like arriving at the land of opportunity! Outbreaks do happen. Sometimes, it is a low-virulence pathogen such as papillomavirus,1 but the stakes can be higher.
During a cluster of canine influenza outbreaks in Ontario, Canada, that included daycare and overnight care locations, several dogs died.2 In a series of leptospirosis cases in dogs in Arizona,3 overnight boarding increased the risk of disease almost three-fold. At daycare facilities, the risk was a whopping 7.7 times greater.
These documented outbreaks at kennels demonstrate the potential for vaccination to mitigate risk, and kennels want to limit the risk of contagion in their facility. Nobody wants to be the dog version of the 2014-2015 Disneyland measles outbreak;4 and it is true having policies such as vaccine mandates can reduce the risk of an infectious disease outbreak.
Kennel policies
Veterinarians will recognize medical decisions (such as a vaccine mandate) come with uncertainties, tradeoffs, and nuance.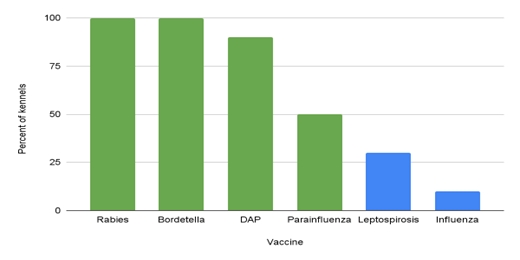 As an example, just for fun (on an unusually slow day), I pulled up 10 websites for dog kennels in my area. Not exactly a rigorous methodology, but still, when I compared their vaccine policies, almost none were the same (Figure 1). Rabies vaccination was the only uniform requirement. Other than that, there was quite a bit of variability in the requirements for vaccine type, target pathogen, frequency of administration, and ancillary diagnostic testing for infectious disease.
What gives? To be fair, I do not know a lot of relevant infectious disease factors at these facilities, such as: maximum occupancies, disinfection protocols, ground substrates, or staff training requirements, but within the same geographical area, there was surprisingly little agreement.
How come K9 Kribz and Mini-Mutt-Motel (fake names) have different requirements? They are across the street from each other. Is there a way to have an evidence-based vaccination policy? Well, sort of, but it is a little complicated.
Unfortunately, what appears to be a very simple question to a pet owner is, in fact, a myriad of very nuanced and context-dependent questions to an evidence-based practitioner.
What is the risk-benefit ratio for this vaccine in this pet? What is the duration of immunity for this vaccine? Does this pathogen even occur in my geographic region? In terms of our available levels of evidence, this one requires a lot of time going up and down in an elevator.
It was surprising to find so little agreement among the facilities. On top of that, several kennels had requirements that flat-out countered the available evidence. One kennel required a Bordetella vaccination every six months, a policy which has no scientific support.9
Another kennel required a negative fecal exam before admission, but did not specify which diagnostic technique should be used. If the poop is being picked up quickly, and coprophages are properly shamed, this is probably not necessary.
One facility accepted vaccine titers as an alternative to documentation of current vaccination. This is supported by the evidence for CDV, CPV-2, and CAV-2,7 but not yet for other pathogens at this point. Good luck finding a diagnostic lab willing to quantify Bordetella antibodies.
So, this all seems a lot more complicated than what owners might care about. What a long-winded way to answer a simple question! Who has time to check with their dog's kennel if the staff are trained on the appropriate contact time for quaternary amine disinfectants? Do you think most clients want to know all that? Mine do not.
Despite good efforts from organizations such as the International Boarding and Pet Services Association (IBPSA), there is still surprisingly little agreement, at least in my little, unscientific sample. Some facilities are just kind of winging it and hoping nothing bad happens. No doubt they are sincere in their efforts, but evidence-based practices to limit the spread of infectious diseases are not always being followed.
Risk reduction and management
In 2016, a group of infectious disease experts authored a special report in the Journal of the American Veterinary Medical Association (JAVMA), "Risk reduction and management strategies to prevent transmission of infectious disease among dogs at dog shows, sporting events, and other canine group settings,"5 combing through over 400 articles, including top-tier meta-analyses, all the way down to parking level expert consensus pieces, they came up with a list of recommendations.
Right away, the experts acknowledge their advice is based on their best available knowledge, which is sometimes pretty limited. For example, there is no objectively correct answer to what vaccines any individual dog should get when boarding. Even at a more granular level, the question, "Are leptospirosis vaccines effective?" just does not have a simple yes or no answer.5
In general, though, the 2016 recommendations are intuitive: training staff on disinfection protocols, health screening animals prior to admission, infection control plans, vector control, etc. They also recommend discouraging coprophagia (yes, they really say "discouraging"), and other principles of good hygiene, such as hand washing and reading disinfectant label instructions. As you can imagine, there is a spectrum of how feasible these recommendations are for any individual kennel or pet owner.
The authors documented pathogens of concern for canine group settings, then gave recommendations for specific pathogens, as well as general guidelines for a variety of group settings. Their advice is multi-pronged, and they stress the importance of tailoring risk management to an individual location. They recommend kennels develop a relationship with local veterinarians to develop their infectious disease planning.
Common causes of outbreaks were identified, such as "high dog density and dog-to-dog contact, inadequate quarantine of new or returning dogs, poor dog confinement or wildlife exclusion, inadequate vaccination, poor vector controls, and inadequate disinfection practices."6
Vaccine recommendations
It was interesting to note that of the 43 pathogens of concern, only eight are the targets of existing vaccines, demonstrating how vaccine policies are only one component of disease management policy.
In alignment with vaccination guidelines from the American Animal Hospital Association (AAHA) and the World Small Animal Veterinary Association (WSAVA),8 the authors recommend every dog be vaccinated for canine adenovirus (CAV-2), canine parvovirus (CPV-2), canine distemper virus (CDV), Bordetella bronchiseptica, canine parainfluenza virus (CPiV), and rabies. In addition, they made conditional recommendations for leptospirosis, Lyme disease, and canine influenza.
Timing is important, too. Vaccines are not up to date if they are not given enough time to work. The authors point out it does not do any good to give vaccines the day of a boarding stay. They make specific recommendations for the minimum period after which each vaccination would be considered effective.
For CAV-2, CDV, and CPV-2, the recommendation is at least one week. For intranasal or oral B bronchiseptica, at least three days. For rabies, don't go near the bat cave any sooner than 28 days after vaccination.
The prevalence of each pathogen varies by region and season. In my area, I recommend leptospirosis vaccine for almost every dog, but not every veterinarian would. We are making recommendations based on our experience (i.e. "I just saw a puppy die of lepto, so I'm going to talk about it at every wellness visit!"). Ideally, we would know the exact prevalence of different infectious diseases in our geographical regions. Unfortunately, that is not the case.
In the United Kingdom, veterinarians refer to Small Animal Veterinary Surveillance Network (SAVSNET) for data. In in the U.S., the best we have is (typically industry-funded) maps provided by the Companion Animal Parasite Council (CAPC), American Heartworm Society (AHS), and canine influenza vaccine manufacturers.
The Ohio State University has developed an online tool for dog owners to get a general sense of their dog's risk of infectious disease. Tools like these, although far from perfect, are hopefully a prototype for better risk assessment strategies.
Veterinarians know pathogens love these places, and yet there are large knowledge gaps in how best to mitigate risk. This is likely a much bigger problem than we recognize, since infectious disease testing tends to be fairly rare in general practice,10 and animals obviously do not self-exclude for subclinical disease.
While having a sense of our ignorance can be helpful to guide avenues for new research, we are still fortunate to have expert guidance from infectious disease veterinarians. The 2016 special report in JAVMA is a great example of a thoughtful and rational document that can be used to guide policy. It is open access, and there is also a white paper in lay language accessible to kennels and the public alike.
In the U.S., each state defines minimum requirements for animal boarding facilities differently. Proactive collaboration could bring everyone closer to the best practices. I am not qualified to say whether this should take the form of veterinarian certification or state regulation, but I do know any veterinarian could access the 2016 guidelines and be a helpful advisor to their local kennel. If you happen to see a kennel requiring "a rattlesnake vaccine given in the left gluteus only on the fourth Tuesday of the month," maybe forward them a copy.
Greg Bishop, DVM is a small animal veterinarian and part time Veterinary Technology Instructor in Portland, Oregon. Dr. Bishop is a member of the Evidence-Based Veterinary Medical Association (EBVMA), with different members writing this column. While all articles are reviewed for content, the opinions and conclusions of the author(s) do not necessarily reflect the views of the EBVMA or Veterinary Practice News. For information about the association or to join, visit https://www.ebvma.org.
References