Suggested Veterinary Products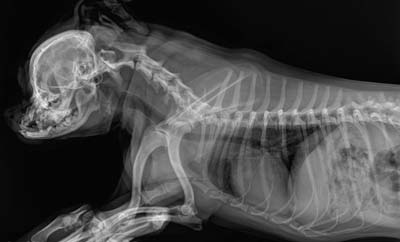 Vetology Innovations LLC now offers automated heart evaluation tools to veterinarians as part of the company's artificial intelligence (AI) radiology software.
In August, the San Diego-based company introduced its AI radiology software, designed to provide veterinary professionals with automated diagnostic analysis of patient radiographs.
Individuals subscribing to the Vetology AI software suite will now gain full access to cardiac-specific tools, including automated heart-size evaluation and automated vertebral heart score calculations. These features work within the Vetology AI dashboard automatically when a clinic uploads an X-ray to the secure Vetology cloud. There, the software automatically evaluates an animal's heart size and the comparative size of the heart in relation to the vertebral body size. This process results in a Vetology AI heart evaluation report and vertebral heart score delivered to the veterinarian via email/fax in two minutes after the X-rays have fully uploaded.
"The ability for a veterinarian to receive rapid heart analysis before they even begin evaluating a patient's radiograph is invaluable," said Seth Wallack, DVM, DACVR, founder of Vetology Innovations. "This technology leverages AI neural networks that are not yet available in human medicine. This new AI resource fulfills every attending doctor's hope of having important diagnostic information available almost instantaneously."
"We have been using Vetology's AI software in our hospital for some time and are excited to incorporate the new AI-guided heart measurement tools into our patient evaluation process. They are easy-to-use and are considerably quicker than manually measuring and performing the calculations," said Richard Glassberg, DVM, at Sunnycrest Animal Care Center in Fullerton, Calif. "These tools have the potential to greatly improve the time it takes for veterinarians to evaluate a patient's cardiovascular health."
Visit https://ai.vetology.net for more information.