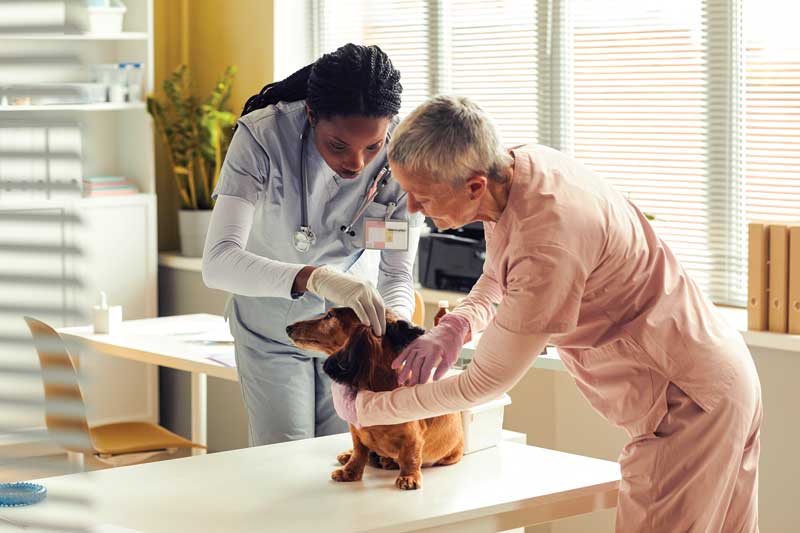 Every day, we see pets come and go from our practices. Every day, we have the opportunity to be proactive as opposed to reactive when it comes to their health. One of the greatest gifts we can offer our clients and their pets is the early detection of diseases that have the potential to be managed for many years.
You can create a world where over 85 percent of heartworm tests morph into full lab profiles loaded with information and early diagnoses. Do not let the fear of a transition such as this scare you—it is totally doable!
Toss those heartworm tests and fecals aside
Heartworm tests can be obtained at an exceptionally reasonable price, marked up substantially, and your compliance rate is high. This is a very one-dimensional approach to preventive care. With a staggering one in four pets needing follow up care, it becomes clear how much we really are missing the "better pet care" mark by running only a heartworm test in-house.
Fecals are right up there with heartworm tests—are they being set up properly, read by a qualified team member, and how long does the client wait for results? If you want to give your technicians an early Christmas present, tell them they do not have to run fecals in-house anymore. It is the simple things in life that make the biggest difference!
The benefit of collecting samples and sending them directly to the reference laboratory is a blessing for your technicians, but it also expedites your workflow. No more holding up an exam room for an extra 10 minutes waiting on sample results.
Interpreting the results
I have met more than one doctor who has looked me dead in the eye and told me additional testing would put them in a situation where they would need to interpret results they are not comfortable discussing.
Tick-borne illnesses are among the top results that make doctors squirm. If this resonates with you, or you know a doctor who has made this statement, I encourage you to reach out to your reference laboratory diagnostic consultant, or even some of your tick-prevention vendors. They both should have doctors on their team that can guide your veterinarians on how to have those conversations with clients, or even how/when to treat. I empathize with the hesitation, but it should not prevent us from obtaining pertinent information to be proactive with each pet's care.
Something for all ages
Sure, we have been conditioned to think senior pets need a more comprehensive workup than your healthy three year olds. Having a nine-year-old retired police K9 myself, I am very passionate about providing extra care to senior citizens. It is normal to see cats between 13 to 16 years old in advanced stage renal failure because they "just started" feeling bad.
We put a lot of trust in our clients to recognize subtle changes in behavior to clue them in to a potential illness. Let's change this. Educate your clients on what to expect as their pets age, which should include comprehensive lab screening to take the weight off them.
I am equally as passionate about ensuring the youngsters are screened every year. It is very common to catch urinary tract infections, tick-borne diseases, and pancreatitis, just to name a few. If they had come in just for a heartworm test, we would have missed all of those issues and the pet would potentially be left untreated until symptomatic.
Pricing for the compliance win
With any initiative in the practice, we hope to be successful. There is much more at stake here—longer, healthier lives for your patients. The team will want to provide better pet care and their clients want the best for their pets, but it still takes some effort to achieve compliance. I am very careful how I price the lab profiles at the beginning of the initiative so you have buy-in from everyone—the team and clients. These are the three steps I follow:
Coordinate a meeting with your reference laboratory diagnostic consultant and your doctor(s).
Collaborate on a set of four profiles—canine junior, canine senior, feline junior, and feline senior.
Keep your price around what you are charging for a fecal and a heartworm test during the initial launch. You may have to negotiate pricing with your reference laboratory to ensure profit margins.
Once you have nailed down the profiles, have your reference laboratory diagnostic consultant come in and provide a lunch and learn for the team. This will help provide a solid understanding of what the profiles include. I create scripts for the team so they feel very comfortable educating clients and making the switch.
Making those phone calls
If there is one con to sending your blood profiles to the reference laboratory, it would have to be the client communication on the back side. If your compliance rate jumps to 80 percent per day, your expected calls to clients have the potential to increase substantially, as well. We value our doctors' sanity and do not want them sitting on the phone for hours calling clients with lab work results.
I prefer to lean into the 21st century and your team. Ask the client their preferred method to receive results. Text message is typically highly preferred and takes the contact time down to seconds. Many veterinarians are hesitant to send a text for a urinary tract infection or maybe a slightly elevated value requiring a recheck in three months. The truth is, it is not our decision to make—let the clients determine how they prefer to receive that information. I read a text much faster than I listen to voicemail.
Tracking callbacks can be streamlined inside of your practice management software, and if you aren't quite that sophisticated, it is okay. A good old file holder will do the trick. Technicians should be empowered to review laboratory results as they are received and separate out normal vs. abnormal results. This expedites the doctor's time reviewing results.
In my practices, sending comprehensive profiles to the reference laboratory is a way of life. The majority of the clients are very appreciative and expect those results yearly. Why provide ordinary, reactionary care when you can provide extraordinary preventive care? As with all of my initiatives, create a goal and celebrate the victories!
THE RELATIONSHIP BETWEEN TESTS, RESULTS, CLIENTS, AND YOU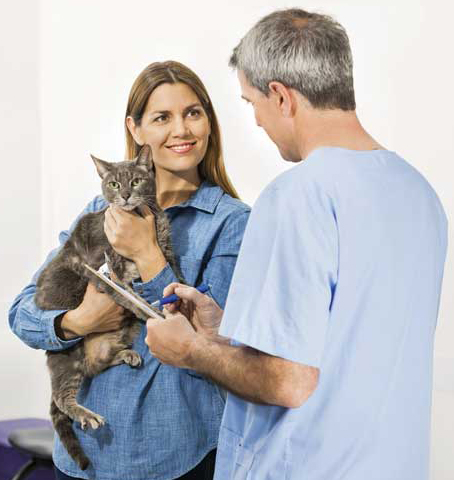 I remember pacing and trying to appear calm as I waited for the little single blue dot to appear in the snap test. Literally praying for it to be negative so I could move on with my day.

Have you been there before? If not, you are my hero and I want to be more like you.

For me, having that dreaded conversation with owners felt confusing and uncertain… for us both!

So, I asked myself, how would I navigate these sure to be repeatable events in practice in a way that relieved the dread?

Here are some steps that helped me:

1) Research

Whether it is VIN, a trusted colleague in the area, or the company itself. Get answers and simplify them into a format that works for your brain and your communication style. Consider your clients. Be willing to simplify the information down to a level of explaining an eight year old can comprehend. Because they may be in the room with you!

2) Create a script

Since we test for the same things over and over again, I created a medical note template ("script") for each positive result option. Then, I could upload it into the medical record and read from it when I made the call back. Print it out if you are delivering an in-person result for a smoother conversation they can also take home with them.

3) Consultation

If it were your pet, what would you do? Give them options without judgement or preconceived ideas of how they will want to proceed.

4) Document

All information presented, options given to the owner, the option they landed on that day and a plan if anything changes in the future. Also include a follow up plan: when to retest. What to expect if they retest positive. Prep the owners and include them in the plan. But definitely document!

5) Prevent

The responsibility also lies with the pet owner. Stress, offer and document prevention for the next positive rest. Whether it is tick control or diet restrictions, let the owner know they have some power to help!

6) Manage expectations

Manage the owner expectations for follow-ups. When and how often are retests and follow-ups indicated? If it is chronic, be up front with them right away about any possible outcomes or frustrations. Remember, too, to manage your expectations. Every owner is different, and they get the choice of how they wish to manage their pet's condition.

Side note

Do not forget to stress the value of negative results, too! You will likely see more negative results in the clinical setting, but owners should be made aware this can change at any time. Help them see the value in your testing, whether the result is negative or positive.

These are some things that have helped me.

I hope you've created a system that makes your day smooth and happy!
Emily Shiver, CVPM, CCFP, CVBL, is a certified veterinary practice manager serving as the Florida regional director of operations for Family Vet Group. Her passion is creating and maintaining positive, successful workplace cultures, as well as helping practices increase revenue and the client experience. Shiver enjoys every aspect of inventory and strives to help practices meet and exceed their inventory goals. She and her husband reside in Lakeland, Fla., with their two Patterdale terriers and a few other furry family members.