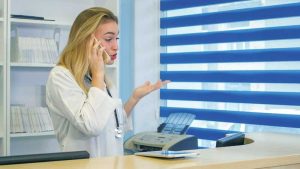 Do you remember the first time you told a pet owner her dog was dying? You were sweating bullets, struggling to find the right words, and tried your best to be honest and compassionate. I'm going to have a similar conversation with you. Your front-desk team is in critical condition. If you don't resuscitate your employees, client relationships will die.
Every client interaction begins and ends with your client-care team. From the phone call to book an exam to collecting payment at checkout, your front-office staff impacts your hospital's revenue and client relationships. Here are your team's ailments and how to cure them:
1)They don't know your standards of care.
As a mystery caller, I explained I had recently moved from another state and received an email from my previous veterinarian that my dog was due for a checkup. I asked which vaccines would be needed in our new community and the cost. The employee replied, "The shots are always up to you, but we usually do leptospirosis, distemper, rabies, and bordetella." Describe core vaccines with confidence, rather than "shots are up to you."
Miscommunication of basic medical information is commonplace. In another call about a 16-week-old kitten, an employee told me rabies vaccination should be given at six months of age. Another time, I explained I adopted a 12-week-old puppy, shared which vaccines were given, and noted the puppy was treated for "worms" at the shelter. I asked how to prevent my puppy from getting "worms" again. The employee replied, "That would be something you would need to talk to a doctor about. I'm just a receptionist." As the caller, I heard, "I don't know anything, and I can't help you. I just work here."
Every employee must communicate confidently the preventive standards of care your veterinarians have set. Create a quick-reference guide of your standards of care for puppies and kittens at eight, 12, and 16 weeks of age, along with adult and senior pets. List questions to ask, services to describe, and prices to quote. This will save significant time during calls and help you consistently and accurately quote services and prices. Protocols differ for a 16-week-old kitten compared to a 16-year-old cat.
Have doctors conduct a refresher class at least annually, so front-office teammates can discuss commonly asked questions and formulate consistent messages when describing professional services and products. Have pharmaceutical representatives train your client-care team twice a year on vaccines and parasites, so they know essential product facts.
Too often, client service representatives have never been invited to venture beyond the front desk. As part of new-hire orientation, have them rotate through the lab, pharmacy, treatment area, and surgical suite. Letting nonmedical personnel observe surgeries will give them confidence when describing services over the phone. Have seasoned front-desk employees watch one surgical and dental procedure at least annually. This hour away from the front desk allows them to witness patient care firsthand, seeing every professional service from preanesthetic testing to nursing recovery care. How can you expect them to accurately describe a neuter or dental treatment to callers if they've never watched the procedure?
2) You didn't teach them manners.
When I approached the check-in counter with my cat in a carrier, your employee was typing on the computer. I waited several minutes for her to acknowledge me. She stared up at me with an exhausted expression and said, "Sorry, I was just entering a prescription refill. How can I help you?" If you have a 10 a.m. appointment for a kitten and I walk through the door at 10 a.m. with a cat carrier, you can easily greet me and my pet by name.
Stand up for service. Your body language communicates you're ready and eager to help. Say, "Good morning, Wendy. We're excited to meet your new kitten, Alex! Did you bring his adoption papers and a stool sample for us to test?" After the client responds, show your team is prepared and ready to deliver medical services. Say, "I will let Dr. Lavallee and her technician, Sue, know you have arrived. I'll take the stool sample to our lab, where we will begin the test and have results during today's exam. I'll add Alex's vaccine information to his medical record. What questions may I answer before we get started?"
Simple gestures of appreciation, such as saying "please" and "thank you," making eye contact, and using "you're welcome" in place of "no problem" are the difference between ho-hum and five-star service. If Chick-fil-A can teach manners to millennials, so can you.
3) You don't provide ongoing training.
Veterinarians and credentialed technicians must earn continuing-education (CE) credits for licensing requirements. Receptionists only expand their knowledge when a sales professional sponsors a lunch-n-learn session at your office. How can you expect employees to improve if you don't grow their skills?
Your front-desk team must polish and perfect telephone and client-service skills. If your hospital is in Pennsylvania, veterinarians need 30 hours of continuing education every two years, while technicians need 16 hours. Require client-care employees earn at least eight hours and incorporate CE requirements into performance reviews. To be "raise eligible," staff must complete a specific number of hours of training each year. Learning could include webinars, conferences, in-clinic lunch-n-learns, and sponsored dinners. If employees are continually growing their skills, they are constantly growing your hospital.
4) No one directly supervises the front-desk team.
Sure, your hospital manager handles client complaints, sets work schedules, and troubleshoots questions from frontline teammates. But your receptionists work solo without daily elbow-to-elbow leadership.
Appoint a team leader who also works at the front desk. This manager leads by example, sets work schedules, provides in-the-moment coaching, delivers timely reviews, and creates training plans to elevate the team's skills. If you don't yet have a supervisor candidate, have the hospital manager help at the front desk once a week. He or she will see and hear interactions between employees and clients.
5) You treat them like "receptionists."
This job description includes being a superior scheduler, multitask master, problem solver, operator extraordinaire, bill collector, compassionate caretaker, retail marketer, and much more. Treat frontline employees with respect and as equal colleagues if you want them to look and act like professionals. Consider a title change that represents the "I do everything" job description. My favorites are client-care coordinator, client-service advocate, and client-care specialist. Make your team feel like the superheroes they are!
Wendy S. Myers, CVJ, has been training veterinary teams for more than 20 years as owner of Communication Solutions for Veterinarians in Castle Pines, Colo. She shares her expertise in communication and receptionist skills through seminars and monthly CE credit webinars. Myers is a certified veterinary journalist and author of 101 Communication Skills for Veterinary Teams. You may reach her at wmyers@csvets.com or www.csvets.com.