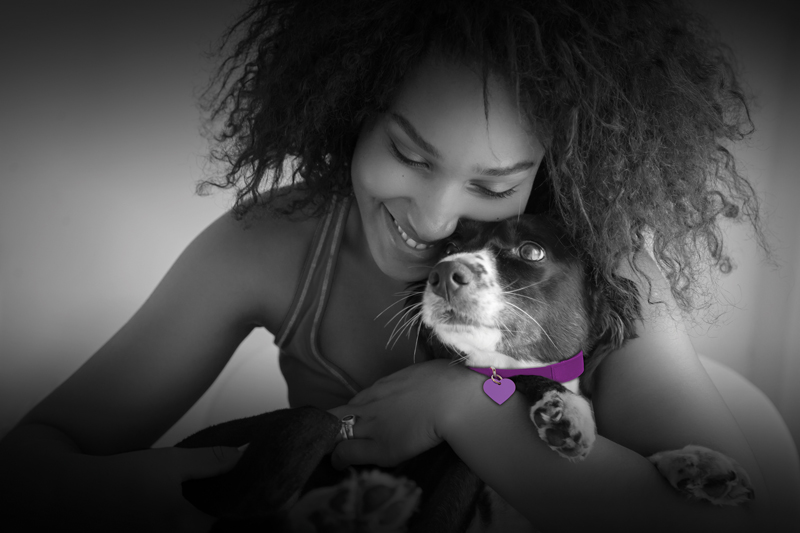 A movement aimed at protecting domestic abuse survivors and their pets, and preserving the human-animal bond has just received a helping hand in the form of celebrity support.
Journalist and talk show host, Tamron Hall, and actress, Lucy Hale (Pretty Little Liars), are lending their voices as advocates for the Purple Leash Project. Founded by Purina and nonprofit organization, RedRover, the national initiative aims to provide more resources and support for domestic violence survivors with pets.
While 70 percent of domestic violence survivors report their abuser threatened, injured, or killed a pet as a means of control, fewer than 10 percent of shelters in the U.S. allow pets. As such, nearly half of victims delay leaving their abuser in an effort to protect their pet from the inherent danger of being left behind, Purina says.
Funds raised through the Purple Lease Project will go toward transforming shelters into pet-friendly spaces, allowing humans and animals to heal together, the company says. This is particularly important amidst the pandemic, as this period has seen an increase in domestic abuse incidents.
"The bond we share with our pets is unbreakable, but for women and men suffering from domestic violence, abusers will often use pets to threaten and manipulate their victims," says Purina's president, Nina Leigh Krueger. "That's why it's critical to pave a way for survivors to leave abuse with their pets in tow, to protect the bond they share and begin the healing process together."
One in three American women and one in four men experience domestic abuse in their lifetimes, Purina says.
"The thought of survivors of domestic violence forced to leave pets behind because shelters are not equipped to take them in is a heartbreaking reality not talked about enough," Hall says. "I'm proud to be partnering with the Purple Leash Project and lending my voice to increase awareness and help eradicate this issue. Together, we can help ease one of the many burdens that victims have to shoulder."
"I can't imagine having to face the dilemma of staying in a dangerous situation or leaving my dog, Elvis, in harm's way," Hale adds. "This is a heartbreaking situation for someone to be in, on top of the abuse they have already endured."
Since its founding in 2019, the Purple Leash Project has raised nearly $1 million and dedicated more than 1,500 hours to renovating shelters nationwide.
For more information, click here.