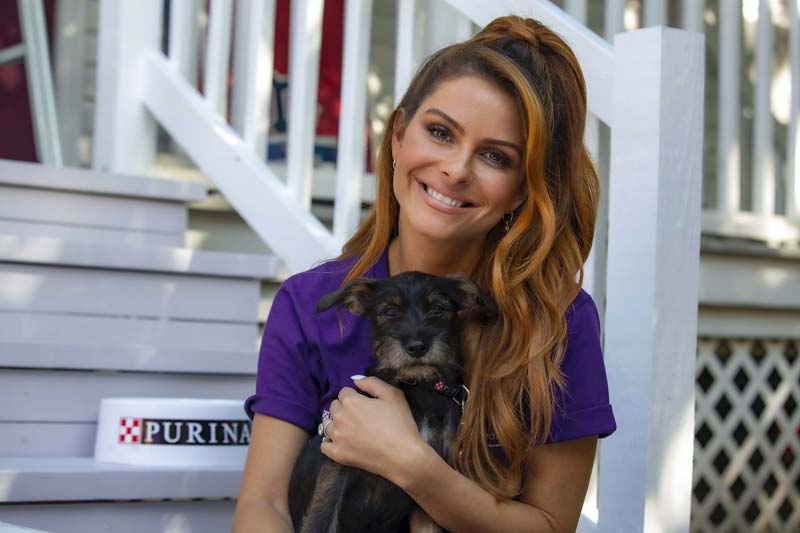 Purina has teamed up with rescue group RedRover on a campaign raising awareness of a dilemma faced by people and pets living with domestic violence.
The pet food company has committed more than half a million dollars to create RedRover + Purina Purple Leash Project grants to fund pet-friendly renovations at domestic abuse shelters across the country. The funding also provides trained volunteers to help with renovations, as well as donations of pet food, supplies, and other resources for pet owners escaping abuse.
The campaign coincides with Domestic Violence Awareness Month, which takes place in October. Less than 10 percent of emergency shelters in the U.S. allow pets, Purina says, which leads many victims of domestic violence to stay in abusive situations out of fear for their pets' safety.
Emmy-award winning journalist, Maria Menounos, is an advocate for the project.
"Nobody should have to choose between their own safety and the safety of their pets," she says. "I've long been an advocate for pets and share Purina's belief that pets and people are better together. That's why I am humbled to join the Purple Leash Project and lend my voice for those who are suffering in silence with their pets by their side."
To raise awareness about the lack of pet-friendly domestic violence shelters, Purina and RedRover are asking social media users to do the "Take the Lead" challenge by:
snapping a picture while walking your pet;
sharing it on Facebook or Instagram using hashtag #PurpleLeashProject; and
tagging three friends to do the same.
"Domestic violence and its impact on the daily lives of our friends, neighbors, and their pets is a social issue, and we're asking fellow pet lovers and survivor advocates to lend their voices on social media to help drive awareness and advocate for change," says Purina president, Nina Leigh Krueger.
For more on the Purple Leash Project, click here.
Check out the video below, courtesy Purina.