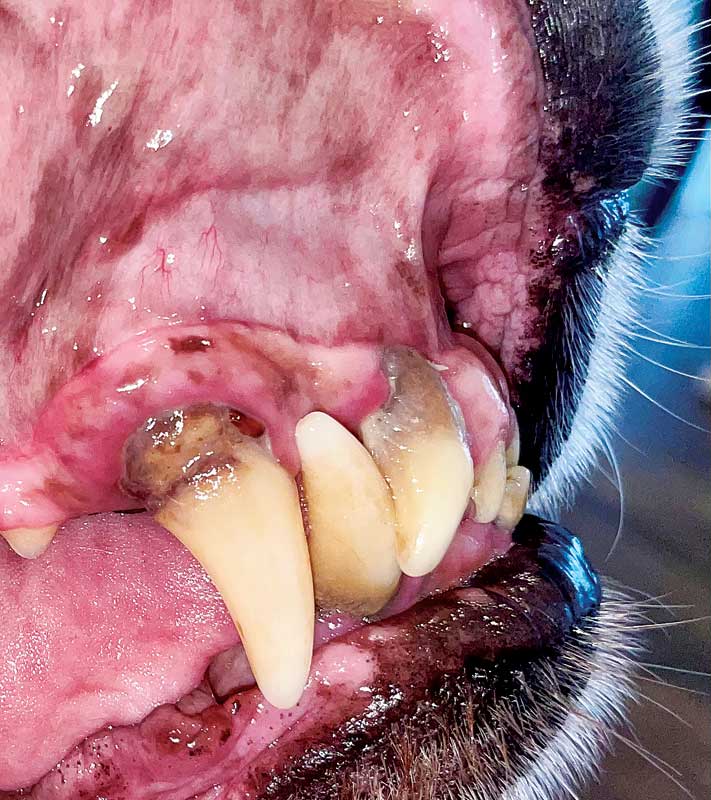 My brother-in-law, Michael, recently texted me with an update on his family's beloved Labrador, Lucy. She is a 13.5-year-old spayed female, and, like most Labradors, she normally loves to eat. Mike sent a video that showed a change in her approach to eating. In the video, Lucy can be seen being very deliberate and thoughtful about whether or not to eat her kibble. She looked at the food in the bowl, convinced herself to take a bite, grabbed multiple pieces of kibble with her incisors, and quickly gulped down the pieces of kibble without chewing any of them.
Mike and Lucy live 2.5 hours away from us, and it seemed like a visit was warranted. A Labrador that doesn't eat with vigor? Unheard of. After seeing the video Mike sent, I asked him to also send some pictures of Lucy's mouth. In addition to significant plaque and calculus accumulation, there was evidence of gingival recession over multiple incisors and canine teeth (Figure 1).
A few days later, Lucy made the trip to visit us in Chadds Ford. We started with a conscious physical examination. Lucy's heart and lungs sounded fine.
An oral exam confirmed marked periodontal disease as evidenced by gingival recession. My wife (Mike's sister), who is a veterinary technician, noted Lucy's abdomen seemed more pendulous than when we last saw her. Abdominal palpation revealed no overt pain, but Lucy did tense her abdominal muscles, which prevented palpation of specific structures. Upon placing her on the scale, it was noted that Lucy lost 6 lbs since her last visit almost two years earlier.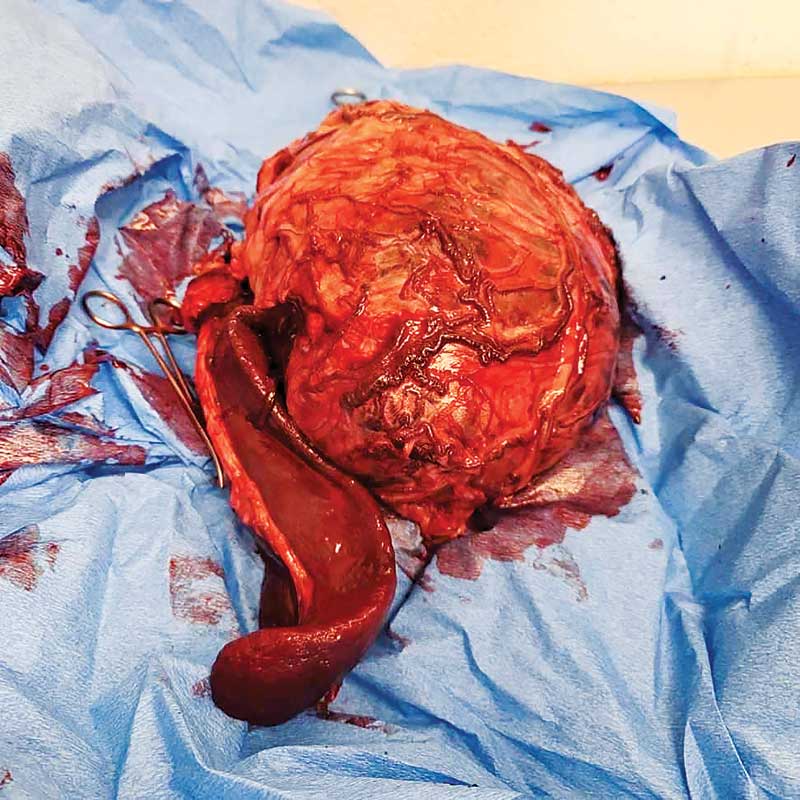 Prior to considering anesthesia for further assessment of her periodontal disease, we decided to perform blood work, chest radiographs, and abdominal radiographs. CBC showed a hematocrit of 20.9 percent, RBC of 3.28 x 106/ul, and hemoglobin of 7.5 g/dl. Chemistry screen showed ALT of 331 U/l, ALP of 646 U/l, and GGT of 17 U/l. Chest radiographs were unremarkable, but the abdominal films showed what appeared to be a large mass in the area of the spleen, occupying most of the abdomen. Concurrent mild peritoneal effusion could not be ruled out. We sent the radiographs to a board-certified radiologist, who confirmed the diagnosis of an abdominal mass, likely a splenic tumor.
Needless to say, Lucy's periodontal disease took a back seat to these new findings. I called the emergency service of Ryan Veterinary Hospital at the University of Pennsylvania (Penn Vet) and spoke with Dr. Sage DeRosa. Knowing they, like most ERs these days, were already working at capacity, we were grateful she was able to coordinate a transfer through ER for an ultrasound and probable surgery. Lucy was transported to Penn Vet, where she received an abdominal ultrasound that confirmed a large splenic mass, no appreciable peritoneal effusion, enlarged hepatic and pancreaticoduodenal lymph nodes, and diffuse liver changes.
The next morning, Lucy was internally transferred to Dr. Hunter Piegols with the soft tissue surgery service at Penn Vet. A 9-lb splenic tumor was removed, and the liver and enlarged lymph nodes were biopsied (Figure 2). Lucy did so well during the surgery that she didn't even need a blood transfusion. Final biopsy results are pending as of the time of my writing this article, but I am happy to report after a few days of recuperation, Lucy's interest in food returned. Mike and his family are glad to have their old Lucy back home (Figure 3).
Key takeaways
Lucy's case provides some good reminders. First, periodontal disease, though it may look alarming, is rarely the cause of decreased appetite. If periodontal disease progresses, discomfort associated with endodontic disease may result in a selective appetite for canned vs. dry food, but even endodontically affected dogs and cats still eat.
When a patient is presented exhibiting anorexia or hyporexia, a good general mantra is "it's not the teeth." Though exceptions exist, be wary about blaming dental issues for a decreased appetite or decreased food intake. Even dogs and cats with stomatitis (widespread inflammation throughout the mouth often of immune mediated etiology) will eat, albeit more slowly and with the cry or hiss from a cat with severe caudal stomatitis when a piece of food touches the ulcerated mucosa.
Even though Lucy's splenic tumor was 9 lbs, it may still be a benign process. The fact Lucy did not have a fatal bleed prior to the tumor growing to such a large size is a good sign it is not a hemangiosarcoma. Hematomas of the spleen can be quite large. One study that looked at histopathological findings of splenic masses in dogs found although hemangiosarcoma was the most frequent neoplasm of the canine spleen, in approximately half of the cases benign lesions were histologically diagnosed.1
The lack of peritoneal effusion or hemoperiotoneum in Lucy's case is a good sign. A study found that in dogs that have hemoperitoneum requiring a transfusion, malignant splenic neoplasia was identified in 54 of 71 (76.1 percent) dogs.2
Mike and his family are glad we looked at the entire patient, not just the mouth. They know their time with Lucy is limited, if for no other reason than large-breed dogs don't live much past her current age. But they are thankful for every day of good appetite she will have going forward, and they appreciate all the staff here and at Penn Vet did to accomplish that.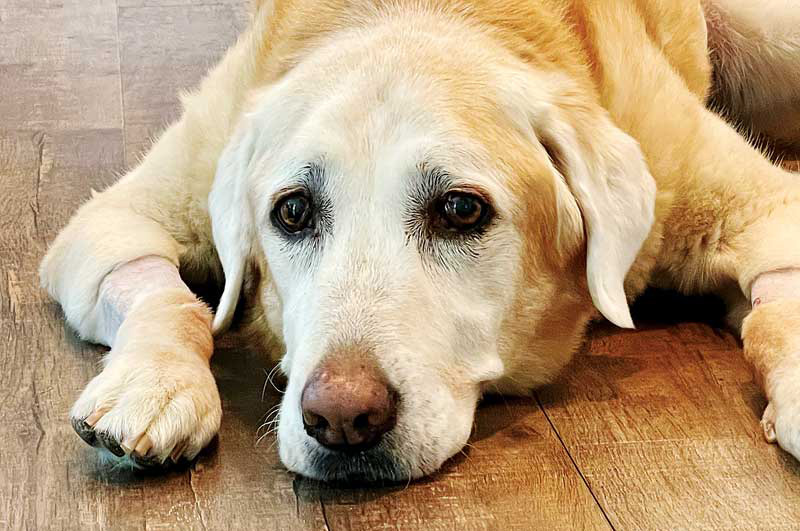 John Lewis, VMD, FAVD, DAVDC, practices dentistry and oral surgery at Veterinary Dentistry Specialists and is the founder of Silo Academy Education Center, both located in Chadds Ford, Pa.
References
Eberle N, von Babo V, Nolte I, Baumgärtner W, Betz D. Splenic masses in dogs. Part 1: Epidemiologic, clinical characteristics as well as histopathologic diagnosis in 249 cases (2000-2011). Tierarztl Prax Ausg K Kleintiere Heimtiere. 2012;40(4):250-60.
Hammond TN, Pesillo-Crosby SA. Prevalence of hemangiosarcoma in anemic dogs with a splenic mass and hemoperitoneum requiring a transfusion: 71 cases (2003-2005). J Am Vet Med Assoc. 2008 Feb 15;232(4):553-8.