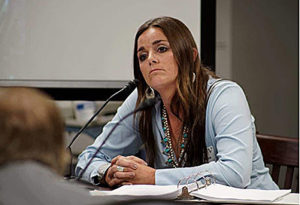 A Texas veterinarian's request to appeal her suspension and probation for shooting a cat through the head with an arrow has been rejected by that state's Supreme Court.
In 2015, Kristen Lindsey shot a feral cat and then bragged about it on social media. In a Facebook post accompanying the photo, Lindsey wrote, "My first bow kill, lol. The only good feral tomcat is one with an arrow through it's [sic] head. Vet of the year award … gladly accepted." A state board in 2016 suspended her veterinary license for one year and placed her on probation for four years.
Since her one-year suspension ended in October 2017, Lindsey has been permitted to practice veterinary medicine on a probationary basis. Following that, she attempted to get her sentence overturned in district court and the Texas Third Court of Appeals. Another appeal to challenge the rules dictating her disciplinary action also was pending. In April 2018, she lost both cases and was ordered to pay all costs related to the trial court and the court of appeals.
"The Texas Supreme Court now becomes the highest authority in the state to confirm what we've known all along—that Kristen Lindsey is wholly deserving of punishment for her brutal killing of Tiger," says Becky Robinson, president and founder of Alley Cat Allies. "This was a case of a veterinarian not only ignoring her responsibility to relieve suffering, but actually rejoicing in the suffering she was inflicting on [the cat].
"This has been a sickening case of cruelty that should have resulted in a much more severe punishment than a one-year suspension. The legal system should have permanently barred Lindsey from ever practicing veterinary medicine again."