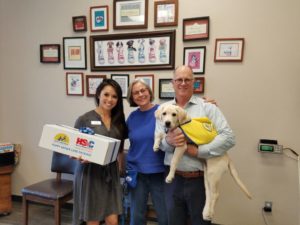 Covetrus has delivered its 2,000th puppy care package to volunteers who train assistance dogs in support of Canine Companions for Independence.
For the last four years, the company has equipped volunteer puppy raisers, who are responsible for socializing and training the puppies, with a puppy care package supplied with vital products for raising the puppy during the first 18 months of its life. The nonprofit organization is dedicated to providing highly trained assistance dogs at no charge to recipients with disabilities.
"We are thrilled to have delivered our 2,000th Puppy Care Package in support of Canine Companions for Independence," says Davey Stone, Covetrus vice president of specialty markets and corporate philanthropy. "This philanthropic initiative was designed and managed by Covetrus employees wanting to support volunteers who raise puppies for Canine Companions and the veterinarians who provide their care. It has been a rewarding mission for our employees, and a wonderful channel for their compassionate philanthropic spirit."
During the 18 months with their puppy raiser, the future assistance dogs must learn 25 commands to enable them to assist their future partners, including opening doors, retrieving items, or pulling a wheelchair. Afterward, the puppies move to professional training for four to six months. Once they graduate assistance dog training, they are reunited with their puppy raiser and presented to their new partner.
"We're grateful to Covetrus and their partners for providing the puppy care packages," says Canine Companions national director of canine health and research, Brenda Kennedy. "Our volunteer puppy raisers use the donated preventatives, supplements, and supplies to ensure each Canine Companion puppy gets a healthy start on their journey to becoming an assistance dog."