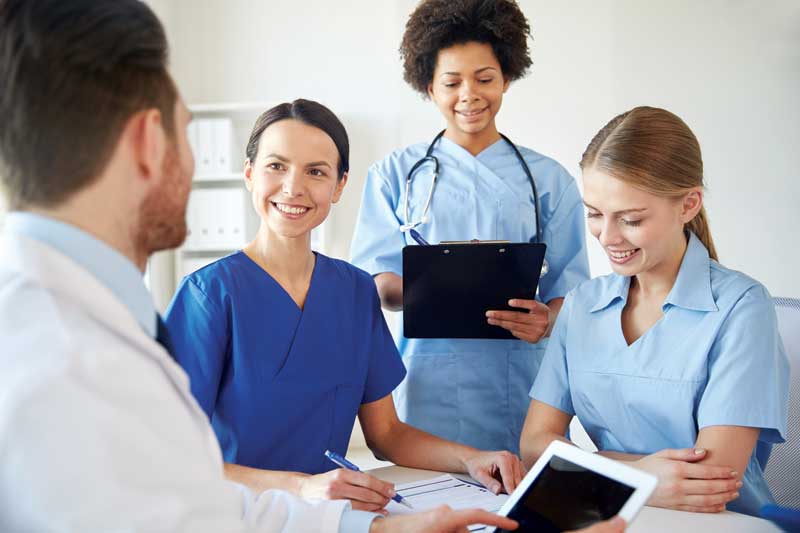 Does your team have productive, engaging, and empowering meetings? Yes? Kudos to you!
Not there yet? Good news is, they can be improved upon. Perhaps it's time to get back to the basics.
This article will help you develop a good process or identify what is already working well for your employees. Either way, team meetings require constant vigilance to keep them effective.
Why even have them?
You already have more work than your team can manage. Is squeezing in a team meeting beneficial? Of course!
Veterinary team meetings are a great way to disseminate information, ensure everyone is on the same page, build trust, and improve communication between team members and departments. While it might save a few minutes by not having meetings, avoiding them may become detrimental in the long run.
That doesn't mean you should have a meeting just to meet. When establishing or evaluating meetings ask:
Who needs to attend? Do we need a department meeting or an entire team meeting?
What do we need to accomplish during our meeting?
Where are we meeting? Is the physical space conducive to a safe and effective meeting?
When will we meet and for how long? Will we close the practice for "all-team" meetings? I strongly encourage it.
Why should people participate?
Finally, it is a chance to celebrate the successes. Once certain tasks are completed, recognize the efforts, whether big or small, as it will build comradery among team members.
Ground rules
Before a meeting occurs, it's important people understand what is expected of them. Ground rules refer to standard operating procedures and, when followed, improve the team's ability to work together. When ground rules are created as a team, buy-in and accountability are implied for everyone. This can be a great exercise in and of itself.
Here is one example of ground rules for meetings (bit.ly/3jqR8Aq):
Show up on time and come prepared
Stay mentally and physically present
Contribute to meeting goals
Let everyone participate
Listen with an open mind
Think before speaking
Stay on point and on time
Attack the problem, not the person
Close decisions and identify action items
Record outcomes and follow up
Once created, post the rules in a visible place, such as in the meeting room and in a dedicated notebook. Review them as needed.
Initial "complaining" sessions (something to expect at first) will morph into constructive, productive, engaging gatherings. Help the veterinary team build trust by discussing low-risk topics at first. Later, when they are feeling more comfortable with one another, tougher conversations can ensue.
While managing a three-doctor practice, I implemented weekly meetings. Fortunately, the doctors and the team welcomed it. The initial meeting consisted of a discussion around the outcomes we wanted from the meetings, creating the ground rules, explaining the roles of the facilitator, designating a scribe and timekeeper, and reviewing expectations for agendas
and minutes.
Here are some questions I presented that gave me valuable feedback while helping team members identify their own expectations:
In a well-run meeting, how do people engage with one another?
In a productive, engaging meeting, how do team members offer their opinions?
When a topic goes over the allotted time, what do we do with the discussion?
When there is a heated discussion, what shall we do to allow for continuation?
When the facilitator has lost control of the meeting, how can they get back on track?
Who = Meeting attendees
You will lose the team's attention if they attend meetings with information that does not directly apply to them. Make sure the agenda items (see the next section) fit with the audience.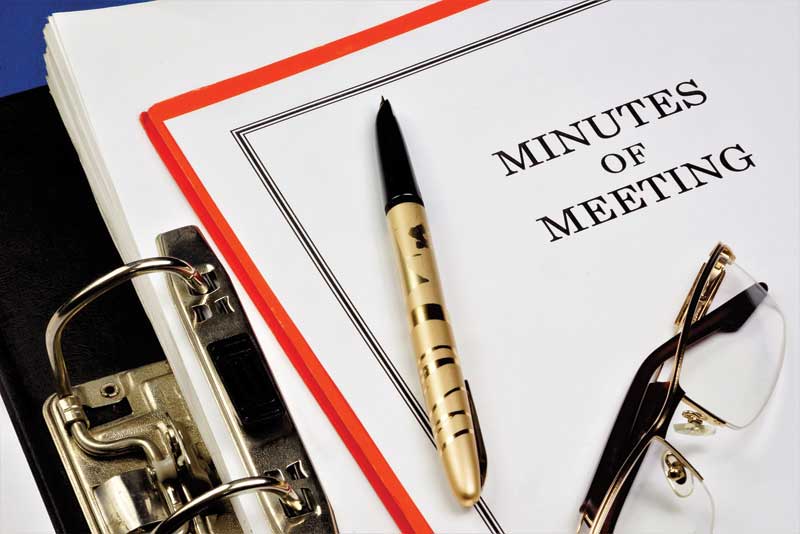 Once the appropriate group is identified, select people for specific roles. Rotate these responsibilities either monthly or quarterly, as it builds empathy.
Choose team members to fill the roles of facilitator, timekeeper, and scribe. The facilitator works with the manager to create and post the agenda, steers the conversation during the meeting, and defers off-topic discussions to more appropriate settings. The timekeeper helps the facilitator stay on time. The scribe captures relevant information and posts the meeting's minutes within a short time frame, generally only a couple of days.
While there may be exceptions, managers generally should attend all meetings. They are there to support the departments, understand the successes and challenges, and keep a finger on the pulse of the hospital.
What = tools
Agendas
Your team members will appreciate an agenda prior to the meeting because they will know what to expect and how to prepare for the discussion. Plus, they can follow the facilitator while s/he keeps the dialogue flowing while understanding why the timekeeper encourages folks to "wrap it up." It creates a sense of control for the attendee.
It's a good idea to review the minutes from the previous meeting to help formulate the next agenda, which can be presented in a similar format each meeting. Here are a few examples of what to include:
Old business: What is still in the works? What projects were completed?
New business: What is problematic? Who will work on it and report at next meeting?
Clinic updates: Recap an interesting case, sign sympathy cards, announce upcoming vendor visits, etc.
Training: What has been planned or what needs to be completed?
Next meeting: Identify the date, time, facilitator, timekeeper, and scribe
Time allotments should be written into the agenda so everyone can be their own timekeepers. Examples of time frames include:
five-minute slots for quick responses and input;
10-minute slots for projects and hot topics; and
15-minute slots for informative and continuing education type pieces.
I also recommend keeping a physical copy of the agendas and minutes in a notebook available to everyone. Yes, it may seem a bit old-school. However, it's a symbol of organization, continuity, and accessibility. While electronic copies can be kept, not everyone may have access to a computer.
Minutes
When taking the meeting's minutes, act as a keeper of ideas, action items, and outcomes for future reference. This is not about capturing who said what—trust is diminished if a team member is afraid every word said will be recorded. Names are only recorded when specific people are assigned tasks.
It is handy to refer to these notes in understanding the ebb and flow of topics. Some subjects will need to be revisited to either address recurring situations or for new staff members.
Additionally, the minutes allow you to review:
Topics discussed, action items, outcomes
People who volunteered for specific tasks and deadlines
Materials distributed during the meeting and where to find them later
When the next meeting will occur and any details concerning it
Where to meet?
It's wonderful if you have a dedicated meeting area. However, if space is a premium in your clinic, it's even more important to establish boundaries when meeting.
There exists a perceived transformation when one enters the "meeting room." It signals leaving the daily work "outside" and allows people to focus on the task at hand. It indicates collaboration, a safe space for sharing ideas, and a connected culture. It also inspires success (bit.ly/2EKJhyE).
If you're struggling with productive meetings in a less-than-ideal space, try physical barriers such as hanging a sheet. The idea is to diminish the distractions of the clinic so the focus can be fully on the meeting.
When = time
In the practice I managed (mentioned previously), staff members met Wednesday morning before the doors opened. That worked well for that team. In another larger hospital I'm familiar with, the entire team meets monthly and the smaller departments gather weekly. It is about identifying what works best for your team.
It's important to establish a consistent date and time so team members can plan appropriately. In addition, sticking to the time is crucial. Always start and end on time, regardless of who is or isn't there. We know situations arise that will pull people away. That said, by not adhering to the predetermined time frame, it shows disrespect to staff members who are there.
This may be difficult at first and make the facilitator unpopular. However, when holding meetings becomes a habit, the team will realize, "If I am to be heard, I need to show up!"
Why participate
You hired smart people with a variety of expertise and experience. The idea is to have input from all to arrive at the best decisions.
Two key factors must be in place to have engaged, open dialogue:
1) Safety—employees must feel they are protected to speak
2) Trust—employees must trust the leadership to follow through
It is important employees feel heard and action is taken on their ideas. Encourage brainstorming and then work toward the goals identified. However, an emotionally charged atmosphere can ensue when people feel passionately about their positions and are comfortable expressing their opinions. This isn't necessarily a bad thing; it just needs to be controlled.
When the emotions get heated, then what? Either the facilitator (if comfortable) or the manager needs to redirect the conversation using a calm, confident demeanor. Here are some ideas to consider:
Remind everyone about the ground rules
Ask the person to summarize the position in one sentence
Reference the time allotment in the agenda and state the topic will be revisited at the next meeting
Depending on the topic, suggest the person do some further research and report back
Remind the team of the clinic's mission, vision, and value statements, and ask how the discussion aligns with them
Regarding this last point, by inviting the person to weigh his/her thoughts against an established goal, it removes any personal agendas that may unintentionally cast the facilitator or manger in an unfavorable light.
I have found ideas can be aligned by simply asking, "How is this idea best for the pet, its owner, and the veterinary practice?" It removes the focus from the individual and places it in the context of the bigger picture regarding the clinic's existence.
By establishing solid routines and boundaries, regular meetings can be valuable in building better communications, stronger teams, and improving trust. Identifying parameters, setting ground rules, and utilizing roles may make all the difference in creating meaningful, productive meetings.
From time to time, ask and answer the question, "Are these meetings effective?" If most of the team answers in the affirmative, you know you're on the right track.
Rebecca Rose, CVT, certified career coach, founder, and president at CATALYST Veterinary Professional Coaches, has a diverse background in the veterinary community. She has worked in and managed clinics, collaborates with industry partners, and facilitates engaging team workshops. Rose's enthusiasm for professional development in veterinary medicine is contagious, as she encourages and supports veterinary teams in reaching their highest potential. She can be reached via getCATALYST@CATALYSTVetPC.com.