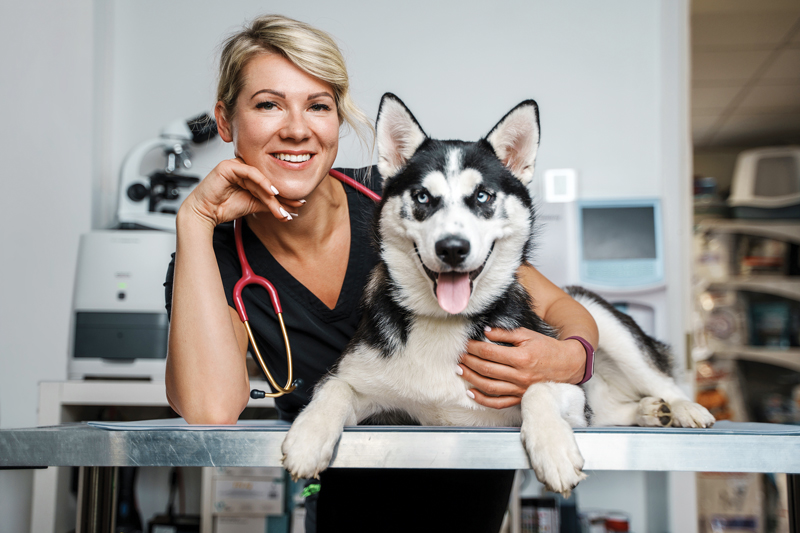 When clients dictate times and dates of appointments, you get a disorganized schedule. You end up with four sick patient exams in a row and struggle to keep exams on time. Toss in a few urgent care and emergencies, and you are guaranteed to go home late. Schedule mismanagement leads to inefficiencies and burnout.
Stop letting clients tell you when they want appointments. Be the boss of your schedule. A smart scheduling strategy is to pre-block two appointment types in your daily schedule template: checkups and urgent care.
How to pre-block checkups
Given preventive care is predictable, it is more likely to stay on time. Pre-block three checkups per doctor per day. Fill in additional checkups as clients request appointments.
First appointment of the day: Starting with a checkup lets the doctor ease into his or her workday rather than beginning with a patient that has had diarrhea for three weeks. Doctors are confident about preventive care, which sets a positive mindset for the day.
First appointment after lunch: It is like hitting a reset button and beginning the afternoon on time.
Last appointment of the day: Finishing with routine care ensures you will go home on time.
Think of checkups as the bread in a club sandwich. A club sandwich has three slices of bread with two layers of meat, lettuce, tomato, and mayonnaise. The three slices of bread are on the top, middle, and bottom, holding the sandwich together. If you remove the bottom slice and place it on top, the second layer of meat and vegetables will fall apart without support. Likewise, putting checkups as the first appointment of the day, first after lunch, and last appointment are like the three slices of bread, bringing structure to the day's schedule.
How to pre-block urgent care slots
Urgent care is an illness or injury that does not appear to be life-threatening, but needs to be seen today. Your hospital may charge different fees for sick patient exams, urgent care exams, and emergency exams. Client service representatives (CSRs) need to choose the right appointment type based on urgency and explain fees to clients. Create scheduling guidelines that help CSRs prioritize how soon patients need to be seen (See "Effective scheduling"). 1
Stagger doctors' urgent care slots by 30 to 60 minutes. In this example, two outpatient doctors are simultaneously seeing appointments. Do not risk traffic jams at your in-house lab or X-ray machines when two patients need workups at the same time.

Pre-block the last urgent care slot 60 to 90 minutes before closing. If your hospital closes at 6 p.m., pre-block the last urgent care slot at 4 or 4:30 p.m. You will need time to work up patients. Never schedule urgent care as the last appointment of the day. You risk rushed patient care, a stressed medical team, and overtime for at least four employees, including one doctor, two technicians, and one CSR.
Charge an urgent care exam fee, which is higher than a sick patient exam. Three factors determine exam fees: 1) Expertise or area of special interest such as orthopedics and reproduction, 2) Convenience (can get an urgent care exam today), and 3) Length of time (10-minute progress exam vs. 30-minute urgent care exam).
Here are average fees from The Veterinary Fee Reference, 11th ed.2

Explain the urgent care fee upfront. Express empathy, offer the next two available urgent care slots, and set expectations for the cost of care. Ask questions about the pet's symptoms so you can determine whether a sick patient exam, urgent care exam, or emergency exam is needed.
Say this: "I'm concerned your pet is sick. Based on the symptoms you described, your pet needs urgent care today. The doctor will examine your pet, ask questions about symptoms, and explain any tests or next steps to get an accurate diagnosis. Our urgent care exam is $XX. We will provide a treatment plan that lists the services and fees so you can decide how to proceed. We have an urgent care appointment at 11 a.m. or 2 p.m. Which do you prefer?"
The word "concerned" expresses empathy. Lead the caller to seek care today before the condition becomes an emergency. To help clients feel comfortable about the cost of care, share the urgent care exam fee upfront and explain a treatment plan will be provided before care is delivered. Use the yes-or-yes technique, offering the next two available urgent care slots and guiding the client to book now.
Vary the number of urgent care blocks by weekday. Pre-block three to six urgent care slots per doctor per day based on the weekday. Most practices see more urgent care patients on Mondays (because you are closed on Sundays), Fridays (because clients took a wait-and-see approach), and Saturdays (because pet owners have the day off work and/or took a wait-and-see approach).
Your opening hours also may vary by weekday. Fill in the first pre-blocked urgent care 60 to 90 minutes before closing or the end of the doctor's shift. Work from beginning to end, adding an urgent care slot about every 60 to 90 minutes until you reach the second or third appointment of the morning.
When to pre-block urgent care on Mondays and Fridays
As hospitals see more sick patients on Mondays and Fridays, you'll block the most urgent care slots on these weekdays. In a two-doctor practice, each outpatient doctor has six pre-blocked urgent care slots for a total of 12 available. Both urgent care slots end within 60 to 90 minutes of the end of the doctors' shifts.
Mondays and Fridays: one outpatient doctor, one morning surgery/afternoon outpatient doctor.

Doctor 1 is an outpatient doctor, working 8 a.m. to 5 p.m. Doctor 2 performs surgery in the morning and sees afternoon appointments, working 7:30 a.m. to 4:40 p.m. Nine urgent care exams are available between the two doctors.

When to pre-block urgent care on Saturdays and Sundays (if open)
If your hospital is open from 8 a.m. to noon on Saturdays and/or Sundays, have two urgent care slots per doctor for a total of four.

When to pre-block urgent care on Tuesdays, Wednesdays, and Thursdays
Demand for urgent care slots may decrease during the middle of the week. Pre-block four urgent care slots per doctor for a total of eight. Both outpatient doctors work 8 a.m. to 5 p.m.
Monitor the number of slots used and adjust as needed. Busy summer months often increase sick patient visits 10 to 20 percent due to outdoor activities that result in injuries (limping, cut paws) and illnesses (tick-borne diseases, giardia, ear infections).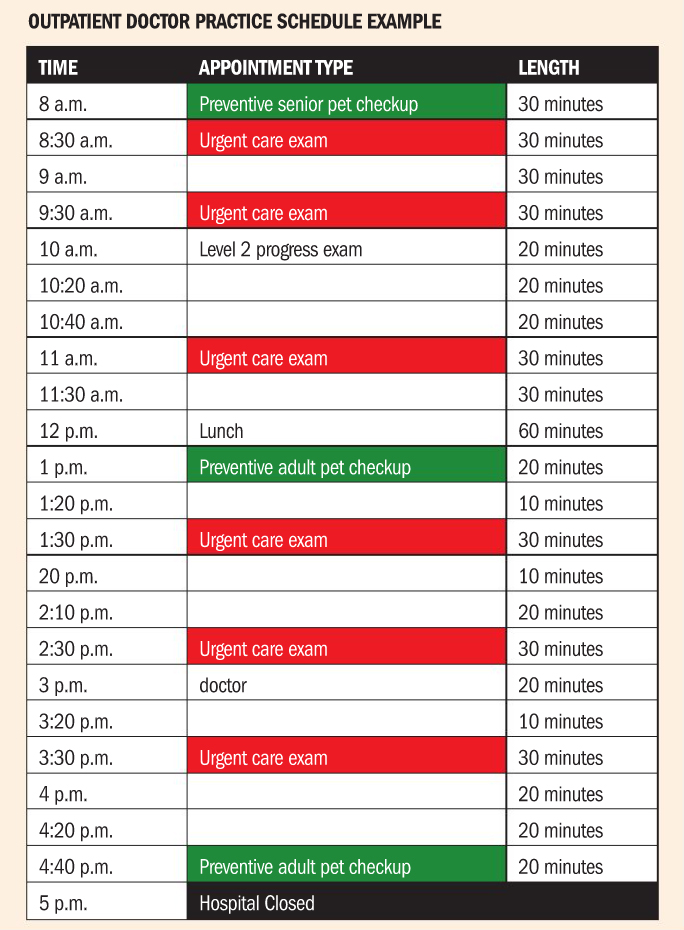 If you run out of urgent care slots within one hour of opening, you need to pre-block more. If an urgent care slot is empty within 60 to 90 minutes of the reserved appointment time, release it as a regular exam.
Suppose it is 8:30 a.m., and you have an open urgent care slot at 10 a.m. No one has requested it. When a client calls about a new kitten, offer the open appointment. Say this, "Congratulations on your new baby, <pet name>. I have an appointment available today at 10 a.m. Does this fit your schedule?"
Now put the two smart scheduling strategies together. This outpatient schedule template is for a Monday or Friday with six pre-blocked urgent care slots and three pre-blocked checkups. Open appointments are blank. Add appointments as clients request them.
CSRs should be problem solvers while controlling the schedule. When you are the boss of your practice's schedule, you can optimize time management, keep revenue healthy, and reduce burnout among employees.
Wendy S. Myers, CVJ, has been training veterinary teams for 22 years as owner of Communication Solutions for Veterinarians. She teaches teams to become confident communicators, so more pet owners say yes to medical care. Myers shares her expertise through conferences, online courses, and monthly live CE credit webinars. She is a certified veterinary journalist and author of five books. Her passion is to help practices like yours thrive and grow through effective communication skills. You may reach her at wmyers@csvets.com or www.csvets.com.
EFFECTIVE SCHEDULING
When scheduling appointments, creating a prioritization list based on urgency is a helpful guide that CSRs can refer to. Below are sample versions:

Sick patient exams (make an appointment within a few days)
Sneezing or runny nose
Coughing without respiratory distress
Itchy ears or skin
Scooting
Limping
Hot spots
Vomiting/diarrhea one to two times within 24 hours, but acting normal
Broken nail
Urgent care exams (make a same-day appointment)
Vomiting/diarrhea with change in behavior
Eyes: Redness, discharge, or squinting
Porcupine quills
Blood in urine or stool
Wounds
Injuries
Lameness, limping, or difficulty walking
Allergic reactions
Tick-borne diseases
Emergency exams (needs immediate care, life-threatening, often walk-ins)
Foreign body or toxin ingestion
Trauma (i.e. hit by car)
Cannot breathe, chocking
Unconsciousness, collapse
Bloating, retching, or unproductive vomiting
Straining or unable to defecate or urinate
Snake bite
References
1 What Is Veterinary Urgent Care? Ethos Veterinary Health. Available at: https://www.ethosvet.com/blog-post/what-is-veterinary-urgent-care. Accessed May 17, 2022.
2 The Veterinary Fee Reference, 11th ed., AAHA Press: 2021; p. 50, 55, 54.