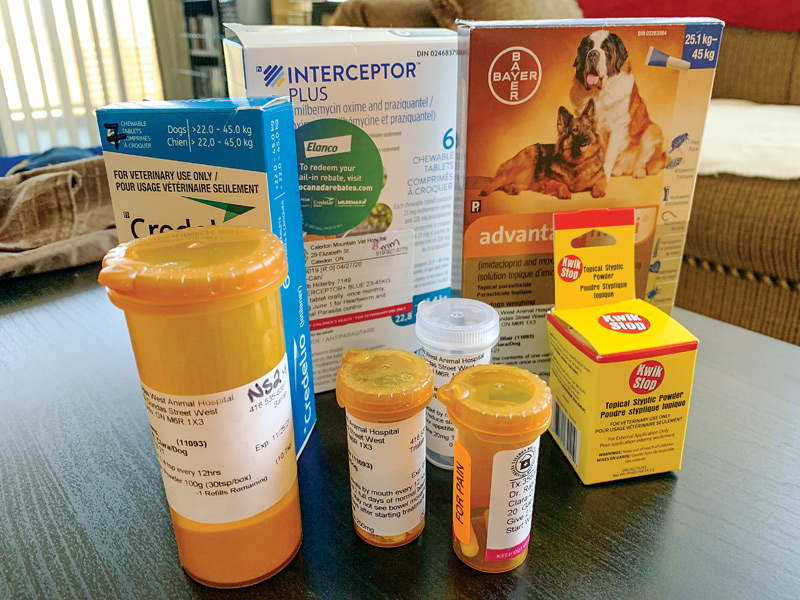 Having a practice's money tied up in pharmacy inventory (be it medications sitting on the shelf or supplies in a central supply area) can be a pain point for discussions with practice owners and managers, especially with in-house pharmacies that have higher than ideal inventory costs.
Some veterinary practices have a cost of goods sold percentage of revenue above benchmarks of 20 percent.1 Think of this as the practice's money being tied up in potentially stagnant inventory instead of a readily usable form, like a needed new piece of equipment, raises for team members, or direct bottom line net revenue! Wastage such as expired drugs, inventory shrinkage from theft, and accounting errors can be corrected, minimized, and hopefully, eliminated with some good inventory practices without running out of supply.
Inventory organization is the first step to maximizing an in-house pharmacy. Begin with gathering all back-stock inventory of a specific item to one area. This reduces extra supplies stocked in multiple areas. For instance, when two boxes of syringes are kept in all three exam room cupboards, with two more boxes in the treatment area, a few more in the central supply area, and one emergency box in the manager's office, it creates excess inventory. Instead, keep all the unopened boxes in the central supply area with one open box in the treatment area. The practice can operate with four boxes instead of 10.
Square footage
A practice's footprint and usable square footage does not always allow for a central supply area for all back-stock of inventory. However, keeping all the same  items grouped together will help streamline inventory. Once inventory is gathered, the next step is organizing and labeling, especially in the pharmacy area.
For most practices, it is recommended to organize drugs by medication category (cardiac drugs, antibiotics, anti-inflammatory, ear meds, topicals, etc.), then alphabetized by drug name within each category. For some practices, it may make sense to alphabetize all drugs by name, regardless of category. In this case, the entire pharmacy starts with A and ends with Z.
During the organization process, cull the expired drugs and remove them from stock. Set these drugs aside to see if any can be returned to vendors for partial credit and, if not, dispose of them as needed.
Labeling
Now for labeling: Some practices have made great use of the circle "garage sale" stickers for expiration dates. Each color indicates a specific year the drugs expire. Use a marker to record the month the drug expires on the colored sticker for a quick reference of that drug's expiration date. For example, a yellow sticker with "7" written on it indicates the drug expires July 2021, while a green sticker with "2" indicates a February 2022 expiration date. Finally, record all drugs that will expire in the coming three months on an Excel spreadsheet and post the list where doctors can easily reference the drugs expiring soon.
Each quarter, post a new list with soon-to-be expiring drugs to keep this information fresh in their minds. The goal is to use up the drugs that are short-dated first when appropriate. This also helps with looking to have any expired drugs, or drugs expiring soon, returned for credit or partial credit with vendors.
The next step is to update quantity on hand, or QOH, in the practice management software, or PMS. Utilizing data will help reduce inventory costs tremendously, but to be accurate and useful, it is vital to keep PMS data current.
Updating the QOH and entering new purchase orders in PMS with each new order received allows a practice to maintain good data, specifically, accurate reorder points. This is incredibly valuable information to keep the practice appropriately stocked without running out or carrying too much product. 
Data
Another great tool to help with understanding reorder points is the distribution and manufacturing data. Ask for, review, and utilize their order reports for more information to better aid in reducing inventory costs. This data can give the practice an idea of how often a product is being ordered. For example, if a 1,000-count bottle of cephalexin 500 mg was ordered 17 times in a 12-month period, it means one bottle lasts approximately every three weeks. To take it a step further, approximately 46 capsules are used per day.
If this drug can be at the practice the next day once ordered, and ordering is once per week, we know our reorder point is when that bottle is 2/3 used, or when you have 330 remaining (or a one- week supply). Give the bottle a good shake and guess or check the PMS reorder point report for accurate information. Good PMS data indicates how many have been dispensed, and by setting the reorder points to 330 capsules of 500 mg cephalexin, a report tells us it is time to reorder. For those who like to be extra cautious, set reorder points at tad higher, say 400 or 450.
Keeping a current QOH helps maintain solid data in the PMS and distributor reports. However, counting drugs can be time consuming and time is money. Counting inventory for updated QOH does not need to be done daily, weekly, or monthly. In fact, inventory counts can be done yearly once set up properly and can be easily managed by rotating the count by drug category. For example, cardiac drugs are counted and updated every June, whereas antibiotics are counted and updated every January. More popular categories can and should be counted twice per year to help maintain accurate QOH in the PMS.
Updated QOH also decreases the chance of theft in the practice. If accurate counts are being maintained, missing products suddenly become easily visible. Double-checking with the PMS reports and identifying missing products can be a way of reducing shrinkage from theft. We never want to believe a team member would steal, but, sadly, it happens more than we think. Without proper tracking, however, it might not be caught.
Offering free product, especially flea and tick, heartworm, and vaccines is a fantastic perk for the team. Free goods are often provided by the manufacturer's sales representatives as team incentives and passing this along to the team not only boosts morale, but will also help prevent theft of these items.
The 'want list'
Ever have something not make it to the "want list" and find the practice is completely out of a desperately needed drug?
Reorder tags can reduce running out of an item before it is needed. Your favorite distributor should provide reorder tags at no charge, and will often come out to the practice to help set up the process. This works hand-in-hand with reorder points and can eliminate the "want list" entirely.
As a rule of thumb, every product and inventory item should turn over every 30 days. Some products turn over much faster and can be ordered as often as once a week, or even faster. Other items may only be used once a year, but are considered necessary in practice. Some doctors require drugs, such as pentobarbital or mannitol, to be available on hand at all times, but rarely have a case that warrants use of the drug. So, the 30-day turnover rule of thumb is more of a guideline than a rule.
Finally, all these procedures and guidelines are great, but if the inventory manager is not given the time to properly manage the inventory in the practice, it defeats the purpose. Investing the time into the project will bring returns on the investment. Try things like having the inventory manager wear business clothes or a white lab coat when working on inventory. This helps remind the rest of the team not to bother the inventory manager while they are counting or ordering.
Schedule appropriate coverage during the time the inventory manager is working on inventory and avoid doing it during a busy day or during team lunches when little of the team is present to cover. Ultimately, proper inventory management can be reduced to a few hours per week without needing to make multiple orders, and without running out of needed items.
Maintenance
Once the pharmacy is organized and systems are in place to maintain organization, your pharmacy and inventory can feel like a well-oiled machine, instead of a part of the practice that hemorrhages cash. Make it a goal to decrease total COGS to 20 percent and then keep going! Inventory itself can still be more than functional at 10 to 12 percent of practice revenue.
Find ways to fill special items through the practice's online store if there is one. One of the most important aspects of maintaining the organization of your pharmacy and inventory is to keep the data current in the PMS regarding your QOH to help with ordering time and efficiency. Keeping data current will help reduce waste by decreasing and even eliminating expiring drugs on the shelf.
Carving out a little time initially to invest in setting up your pharmacy and inventory management systems will show a return on investment that will yield dividends in the long run. It will be worth it for your veterinary practice, as well as for your clients and the pets you serve.
Andrea Crabtree BS, CVPM, SPHR, PHRca, CCFP, is the owner of FurPaws Consulting in Orange, Calif. She works with veterinary practice owners and practice managers all over the country to help develop their teams, as well as expand and develop their practices. When Crabtree is not traveling to or working in a veterinary practice, she can be found speaking at events and webinars or recording for PAWSitive Leadership Podcast, which she co-hosts while doing what she loves: teaching, coaching, and training. Her passion for veterinary medicine also keeps her busy with the SoCal Veterinary Manager's Network, which she co-founded in 2011. She is a member of Southern California VMA, VHMA, and VetPartners. Crabtree graduated from Cal Poly Pomona with a BS in Animal Health Science in 2004. She became a Certified Veterinary Practice Manager in 2011, received her Professional in Human Resources in 2016, California Professional in Human Resources in 2017, and accomplished both her Certification as a Senior Professional in Human Resources and Certified Compassion Fatigue Professional in 2019.
Reference
1 https://wellmp.com/2019-well-managed-practice-benchmarks-study-wmpb-provides-insights-to-the-top-veterinary-practices-in-the-country