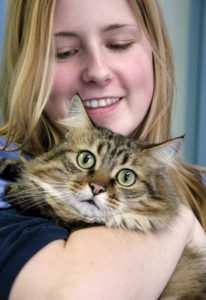 You don't have to be a human resources guru to ensure the person you're hiring is genuinely credentialed. Yet, fraud happens. When applying for a position, anyone can claim to be a credentialed veterinary technician/technologist (CVT) in good standing. But are they?
It can be frustrating if you know someone who has falsely (either intentionally or through ignorance) represented himself/herself as a CVT to obtain a job. People who are CVTs in good standing have gone through a process to obtain these credentials (CVT, registered veterinary technician [RVT], licensed veterinary technician [LVT], or licensed veterinary medical technician [LVMT]).
It's unfortunate when individuals apply for a position as a CVT (of any title) when they are unqualified. However, this is no excuse for the hiring manager not to perform due diligence in the hiring process, which includes verifying credentials.
Defining proper job duties
Hiring a new employee starts by defining the role of each team member, establishing a solid job description for the required expertise. These can be tweaked as needed for individual skill sets when a good fit is found.
It is important to recognize the training CVTs receive. Ultimately, the requirements to be certified, registered, or licensed are defined on a state-by-state basis. Knowing the rules that govern this position will help in defining the job description.
For example, many states define what a CVT can do with and without a veterinarian's direct supervision. If a veterinarian is always on the premises, this may not be a concern. However, if there are times when a veterinarian is not immediately present, outlining the CVT's scope of job duties is important. If you hire someone expecting they can legally perform the duties you're requesting, it's critical they have met the state's requirements to fill that position.
Once the job description is developed, the job announcement can be generated. This should outline the desired skills for the candidate and speak to your team culture. When hiring for a CVT position, be sure the announcement appropriately establishes the credential required. (States vary in credential title and list of duties).
Strategic hiring process
Once the résumés start coming in, then what? Begin by setting clear objectives on paper as to what constitutes a good candidate. It will be beneficial to write these qualifications down and assign values to each candidate.
There are many areas to consider that are not the current focus of this article.
In general, you'll want to objectively review the cover letter and résumé, identify specific interview questions, follow up with references, verify credentials, and do a working interview.
Verify credentials as best practice
An article from Global Backgrounds summarized it nicely: "Hiring managers evaluate employees based on what value they believe the applicant will be able to add to the organization in the future. However, the data a hiring manager uses to make this assessment is predominantly what the applicant has accomplished in the past. If the applicant falsifies her past accomplishments, the hiring manager is making a decision based on bad information."1
In this article, they referenced Career Builder, which identified the following common résumé lies and their occurrence:
Overstated skill set – 57 percent
Embellished responsibilities – 55 percent
Dates of employment – 42 percent
Job title – 34 percent
Academic degree – 33 percent
Companies worked for – 26 percent
Accolades/awards – 18 percent
Verifying specific credentials
This is where it gets a little confusing, as each state is different. To determine if the candidate is credentialed, you must first identify the credentialing body.
If you don't know it, this is fairly easy to ascertain—just ask the candidate to provide his or her credentialing number, the state in which it is held, the expiration date, and who (person or agency) to contact for verification. Once you have this information, contact that body to determine if the person's credentialing status is current. You will still want to follow up, as an applicant may not have renewed his or her credentials (even though they say they did). If the candidate can't provide the information, this may be a red flag for you, and further investigation is prudent.
In some states, it is acceptable for people to maintain their credentials in another state. Again, candidates should know how their credentialing is maintained. That said, you will need to know if this is acceptable in your specific state.
Some states are more "user-friendly" than others. For example, all CVTs in Colorado are listed on the Colorado Association of Certified Veterinary Technicians (CACVT) website. Just plug in the person's name and you'll know. If all else fails, reach out to the state veterinary technician association or veterinary medical association for assistance.
Background screening
This is a must, as you are about to trust an individual with drugs, money, and patients. Why risk having a bad situation that could have been prevented through a simple background check.
"You want to know you can trust your employees to be productive, honest, and outstanding representatives of your organization. Many times, your staff and/or volunteers may be the first impression a client has of your organization. Why risk your reputation? One incident can dissolve all you have worked to build."2
This may seem like more work, money, and time, especially when you are already short-staffed. Yet, in the big picture, this seems to be the most important step, especially when you consider veterinary clinics—which are service-based—have a difficult time discovering fraud or theft.3
With lower salaries and easy access to money, it's no wonder 33 percent of the people who commit fraud in a veterinary practice are receptionists. That said, three percent are veterinary technicians and seven percent have annual salaries between $20,000 to $35,000.3
Keep in mind that just because a person has a flaw in their background check, it doesn't mean you shouldn't hire him/her. Not all people with records present equal risks. It just means that it's out in the open and everyone is aware of past deeds prior to hiring.
Of course, a background check can be a good "weeding" tool. Consider a clinic that has offered an individual the practice manager's job after an extensive interview process. She seemed like the perfect fit and she readily accepted the position. However, she didn't show up for her first day of work, which happened to be the day her toxicology screen came back positive.
While it is frustrating for the clinic to have exerted all that energy, imagine what kind of scenario could have developed if a background check hadn't been performed.
It's a daunting process
Does hiring feel like a huge and daunting process? Well, it is! But don't cut corners. Make sure the stellar person you want to hire really meets your standards. Trust, but verify! You don't want an employee who has lied about his/her credentialing status or has a marred background. Ultimately the short-term gain of hiring a person quickly may turn into a long-term nightmare.
To find that great fit, it takes diligence and due process. However, as this person grows and matures in the practice, all the initial effort will be worth it.
Rebecca Rose, CVT, director of possibilities at CATALYST Veterinary Practice Consultants, has a diverse background in the veterinary community, working in and managing clinics, collaborating with industry partners, and facilitating engaging team workshops. Denise Mikita, MS, CVT, CATALYST's manager of possibilities, brings extensive knowledge in practical clinic experience, organizational management, and team dynamics. Combined, the authors have more than 50 years' experience in elevating veterinary teams. In addition, they have sat on veterinary councils, led state and national professional organizations, and have volunteered for animal welfare groups. Rose and Mikita can be reached via getCATALYST@CATALYSTVetPC.com.
References
1 Part 1 of 4 on Employment Screening: The Importance of Validating Credentials. August 26, 2015. Global Backgrounds. bit.ly/2ELPGra
2 Why do background checks? Guardian Background Screening. Oct. 30, 2018. bit.ly/2IU3lQT
3 Fraud/Theft in Veterinary Practices: Are YOU Vulnerable? Oct. 4, 2016. Veterinary Business Advisors, Inc. bit.ly/2tRvBt0