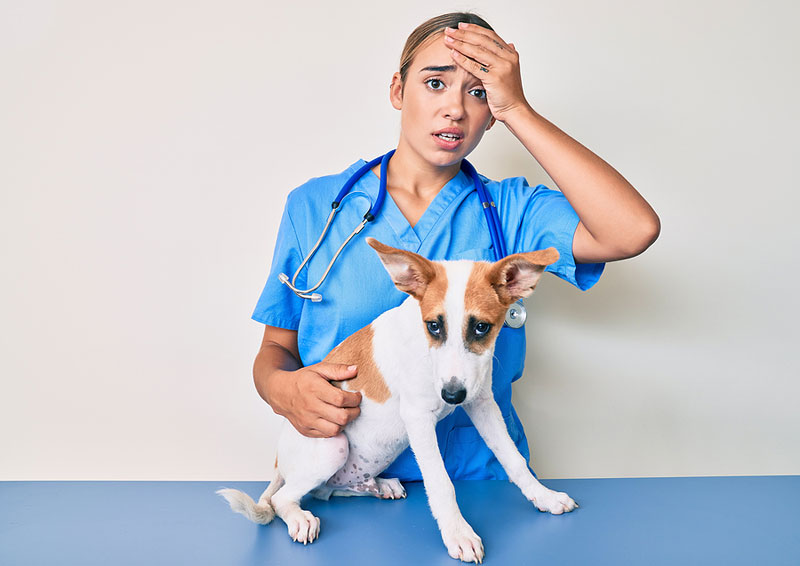 Receiving phone calls, text messages, and emails from veterinary professionals in which I am asked to keep the conversation "under wraps" or confidential happens frequently. I am obliged to hold their trust and keep the disclosed career leap or practice sale or struggle with their boss in my vault. That's what a coach does.
Recently, veterinary professionals have been reaching out in dire need of help, not necessarily for themselves, but for support in helping a coworker navigate a crisis. They reach out writing in an instant message (because we are friends on Facebook or some other social media platform), "I kinda need advice. A coworker admitted herself into the local center for a hold—suicidal. She has asked me to notify the practice manager. Do I just notify our boss? Is there a way to protect my coworker? She is afraid to go back to work."
My first response, "Are you and her in a safe place?"
"Yes," is the reply. Good, that's a good thing, as I let out a big sigh of relief (then and even now as I type these words, reliving the conversations).
I move into "logistic mode," asking about the use of an employee handbook, any employee wellness programs, access to an Employee Assistance Program (EAP), or anything else they wanted to tell me.
"I'm concerned about confidentiality. These types of things have not been dealt with very well in the past," I am informed. Thus, the previous statement, "protecting her coworker."
Does this scenario sound familiar to you? It is my third such conversation in a few months. That is why I am bringing this to the table because there is an opportunity for questioning, persuading, and referring (QPR). Or assessing, supporting, and knowing (ASK). Opportunities to save lives, keep our veterinary teams whole, normalize the conversation, and improve the outcome.
There are two trainings and policies to highlight so veterinary team members may not have to call, text, or email me in the future. Not because I do not love them and want to hear from them, but because there is a better way to be proactive instead of reactive in these cases.
QPR Training for Suicide Prevention
ASK Training
Employee Wellness Programs
EAP
Looks like alphabet soup for a healthier veterinary team. Regardless of the industry, suicide is on the rise.1 Conversations and training in recognizing emotional distress among our team members can no longer be neglected. It is time to break the stigma and talk about the ways we can train our teams in suicide prevention, normalizing the conversation, and providing needed benefits.
QPR training
While attending the AVMA's Wellbeing Summit in Chicago (November 2019) I learned of QPR Gatekeeper Suicide Prevention Training. We had the privilege of walking through the training while convened in the summit hall prior to lunch. One of the summit facilitators delivered the course, allowing for those at the tables to break into pairs, roleplaying the various exercises. Believe me, practice does make progress when normalizing the awkward, yet heartfelt exercise.
Listening to understand.
Question to determine the struggle.
Persuade in seeking help.
Refer by offering the name of a therapist or taking to a place of safety.
QPR Suicide Prevention Training is available to everyone on the veterinary team. The Gatekeeper training is found on www.qprtraining.com, costs $29.95, and takes approximately one hour including videos and taking a 15 question quiz.
QPR Training is meant to offer hope through positive action. You are encouraged to take it and share the invitation with others in your sphere of influence. When your gut tells you something is wrong, go with it! You are more intuitive than you know.
ASK training
Banfield announced their ASK training designed specifically for veterinary professionals to help them recognize and address emotional distress and suicidal thoughts in themselves and others in September 2019. Last January, the group launched its ASK Training program. The free resource provides tools on how to address concerns related to emotional distress. For more, visit www.askassesssupportknow.com.
Employee wellness programs
Good employee health can make a difference in the workplace. One of the best veterinary employee wellness programs I found in my research was on the Center for Veterinary Medicine (CVM) within the Food & Drug Administration (FDA). CVM's Work-Life/Wellness Program was implemented to keep the seven components of wellness at the forefront of the employee's minds.
Intellectual
Physical
Emotional
Social
Occupational
Spiritual
Environmental
There programs include monthly health challenges, physical activity offerings, volunteer offerings, nursing mother's program, and an Employee Assistance Program.
EAPs
In a previous series of articles, Veterinary Practice News was kind enough to collaborate with the Veterinary Hospital Managers Association (VHMA) and the National Association of Veterinary Technicians in America (NAVTA) in unveiling the basics of an Employee Assistance Program (EAP). The contributors discussed benefits of veterinary team members using an EAP, what can be covered when utilized, and the myths and misconceptions in the use of the benefit.
Employee Assistance Programs (EAPs): The Basics (1 of 4)3
I was quoted, "Because our work lives blend into our personal lives, employees with aging parents, in the throes of a faltering relationship, or caring for a sick child are affected physically and mentally. It takes a Herculean effort to turn off the emotions associated with these issues and turn in a stellar performance on the job. Employers must be sensitive to the issues impacting performance and have the institutional supports in place that take away the stigma of asking for help and make it effortless to access services." (URLs are available below in references.)
Read the other articles in the line-up to learn more and share the information with everyone on your team:
The Importance of Increasing the Understanding and Awareness of EAPs (2 of 4)4
Breaking Down the Barriers to Emotional and Mental Wellbeing (3 of 4)5
Behavioral Changes; Don't Ignore these Red Flags (4 of 4)6
Looks like alphabet soup:
Yet, breaking the stigma begins with the individual in overcoming the myths and misconceptions associated with mental health challenges, suicide, and seeking help. That places the responsibility squarely on your shoulders to take action! Please complete a suicide prevention training program, and know how to use your hospital's EAP. If one does not exist, act in creating it.
Together, we will keep our teams healthy and whole.
Rebecca Rose, CVT, certified career coach, founder, and president at CATALYST Veterinary Professional Coaches, has a diverse background in the veterinary community. She has worked in and managed clinics, collaborates with industry partners, and facilitates engaging team workshops. Rose's enthusiasm for professional development in veterinary medicine is contagious, as she encourages and supports veterinary teams in reaching their highest potential. She can be reached via getCATALYST@CATALYSTVetPC.com.
Resources