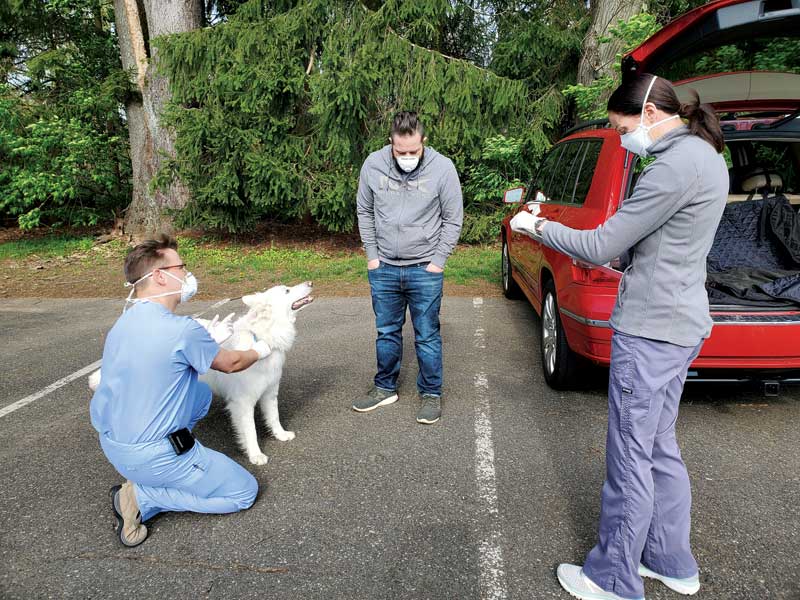 Even though they were declared as "essential businesses," veterinary hospitals are seeing dwindling patient visits and revenue.1 To conserve personal protective equipment (PPE), many practices have gone to urgent and emergency care only, cancelling all nonessential appointments and elective procedures. As you adjust plans day by day, here are four strategies to start rebounding from the COVID-19 crisis:
Strategy 1: Offer curbside concierge services. To maintain social distancing and keep clients and employees safe, go curbside and restrict pet owners from entering your building. When clients call to book appointments, explain the process: "Please call us from your car when you arrive for your pet's appointment. After reviewing your pet's medical record, a veterinary nurse will call to ask you questions about your pet and to explain services we will deliver. We will take your pet inside the hospital and perform care while you wait in your car. A doctor will call you to explain exam findings, treatments, and medications. The receptionist will review your pet's services and fees over the phone and get your credit card information for payment. The nurse will bring your pet and medications to you in our parking lot. We appreciate the opportunity to care for your pet and have a safe environment for everyone."
When clients arrive, reinforce instructions in the parking lot. Post lawn signs asking them to stay in their vehicles and call you. Lock the front door and post a similar note, along with an "employees only" sign. At Oconomowoc Animal Hospital in Oconomowoc, Wis., staff created numbered stakes in front of each parking spot. When clients call to say they've arrived, confirm their cell number, email, and parking spot number.
Before greeting the client curbside, a nurse will review the patient's medical record to identify services and refills, along with the chief complaint. Call the client's cell phone to get the patient's history. You don't want to risk being sprayed with a client's sneeze or stand in the rain. Explain that a doctor will call next. Ask which car door is closest to the pet. Your job is to get the patient and go inside the clinic.
To show value for the exam, the veterinarian could call or video chat with the client using a practice app or smartphone. Explain exam findings, treatments, and medications. The doctor would tell the client over the phone, "I will connect you with Sue, who will explain our services and fees. She will ask for your consent for us to deliver care now. When we are finished, our client care team will call you to get payment over the phone and email your receipt. Thank you for the opportunity to care for <pet name>."
If you need to demonstrate home-care instructions, have the client stand outside in front of your glass door while employees stay inside the lobby. Having the client watch through a glass door, wall, or window will let you keep appropriate distance.
After the receptionist gets payment and explains a receipt has been emailed, she will tell the client to remain in the car, and the technician will put the pet in the back seat, avoiding direct contact with the pet owner.
Strategy 2: Get an online store. Clients will need refills of preventatives, long-term drugs, and food. You can't afford to miss this recurring revenue. In addition to offering curbside pickup to clients, talk with your veterinary distributor about setting up and promoting your online store. If you already have an online pharmacy, send email blasts, share social media posts, update on-hold messages, and inform callers about home delivery.
Lead clients to sign up for auto shipments to help improve compliance and avoid seasonal declines in practice revenue. An American Animal Hospital Association (AAHA) compliance study found only 55 percent of dogs get year-round heartworm preventatives.2 Let's say a client buys six months of heartworm preventatives. Set up an auto-ship refill in five months when one dose will remain. Because a heartworm test and exam will be due at the completion of one automatic refill, send reminders for professional services and to renew the prescription.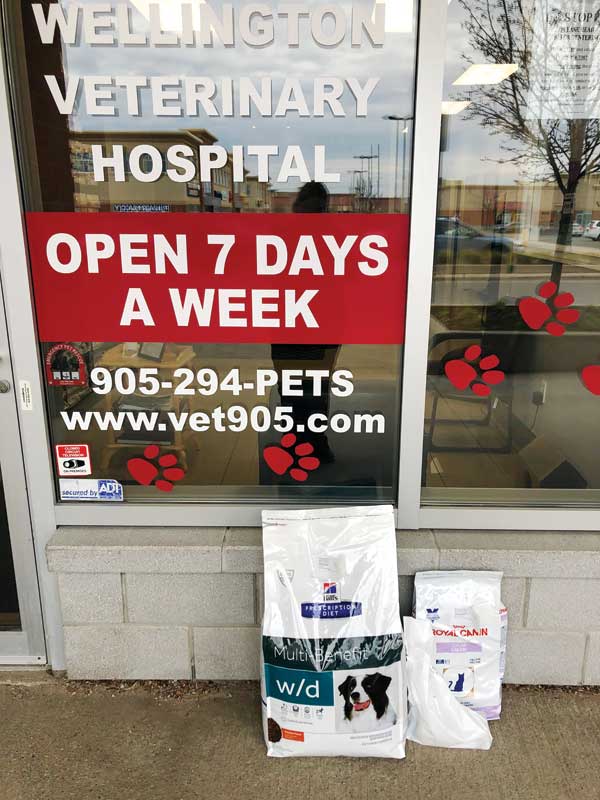 Flea/tick products also could be set up as auto shipments. When one dose remains, alert the client via text, app, or email: "Your auto refill of <brand name> to protect your pet from fleas and ticks has been filled and is on the way."
You also can set up auto shipment of single doses. Distributors offer monthly delivery of single doses of preventatives with free shipping. Receiving monthly doses in the mail helps clients on limited budgets as well as multi-pet families. A client may not be able to afford 12 months of preventatives for six dogs at the same time. This also breaks the habit of sharing a box of preventatives between several pets.
Strategy 3: Use telemedicine. Get an app for your hospital with telemedicine capabilities. Live video consults with a messaging tool that allows pictures, videos, and other attachments will let you share information back and forth with clients. Many telemedicine apps integrate with practice-management software for medical record-keeping and invoicing. The American Veterinary Medical Association (AVMA) offers a list of telemedicine vendors (bit.ly/2wLbTV7).
In addition to allowing you to see patients virtually during the pandemic, telemedicine lets you fix low compliance for follow-up exams and postsurgical assessments. AAHA and AVMA have a digital guide titled, "The real-life rewards of virtual care: How to turn your hospital into a digitally connected practice with telehealth" (bit.ly/2UAVDPk). Consider telemedicine for hospice care, after-hours care, general wellness advice, and when the trip to the clinic may prevent the pet from getting medical care.
Charge the same fee for a telemedicine exam as an in-clinic appointment. If an exam is $60 but a telemedicine visit is $40, you may inadvertently lead clients to book future virtual visits instead of hands-on exams. Consistency keeps your fee structure easy for clients to understand. If diagnostics are needed after the telemedicine consult, clients can bring pets for technician appointments and wait in their cars while tests are performed inside your hospital.
Strategy 4: Reach out to clients who have pets with chronic conditions. Electronic medical records make it easy to search patients by diagnostic codes. Check the exam and diagnostic status of patients with your top 10 chronic conditions such as arthritis, cardiomyopathy, allergies, and diabetes.
Let's say your standard of care is to see diabetic patients every three months to monitor glucose levels, check weight loss or gain, and assess overall health. Run a report on diabetic patients, sorting by the date of their last visit.
Have receptionists call clients with diabetic patients that have not been seen in longer than three months. Explain, "Dr. <Name> asked me to call you about <pet name>. He/she noticed that <pet name> is overdue for an exam and blood test to monitor glucose levels so we may manage your pet's diabetes. Dr. <Name> can see <pet name> on Monday at 11 a.m. or Thursday at 4 p.m. Which do you prefer?" Guide the client to schedule with the yes-or-yes technique, which gets stronger compliance than the yes-or-no choice of, "Do you want to schedule an appointment?"
COVID-19 is an opportunity for your practice to examine the ways you serve clients and patients. Watch my free 45-minute video, "How your practice can survive and thrive through COVID-19" (bit.ly/39C5SHB). Initiatives you start today will get your practice through this crisis and establish ongoing revenue streams. Your business will rebound and return to normal operations faster once lockdowns disappear.
Wendy S. Myers, CVJ, has been training veterinary teams for more than 20 years as owner of Communication Solutions for Veterinarians in Castle Pines, Colo. She helps health-care teams improve telephone and communication skills that result in getting more pets the medical care they need. Myers shares her expertise through conferences, online courses, and monthly CE credit webinars. She is a certified veterinary journalist and author of five books. You may reach her at wmyers@csvets.com or csvets.com.
References
1 COVID-19 Updates. AVMA email to members. Available at: bit.ly/2R57FhX. Accessed March 23, 2020.
2 Compliance: Taking Quality Care to the Next Level. American Animal Hospital Association, 2009:11,19.