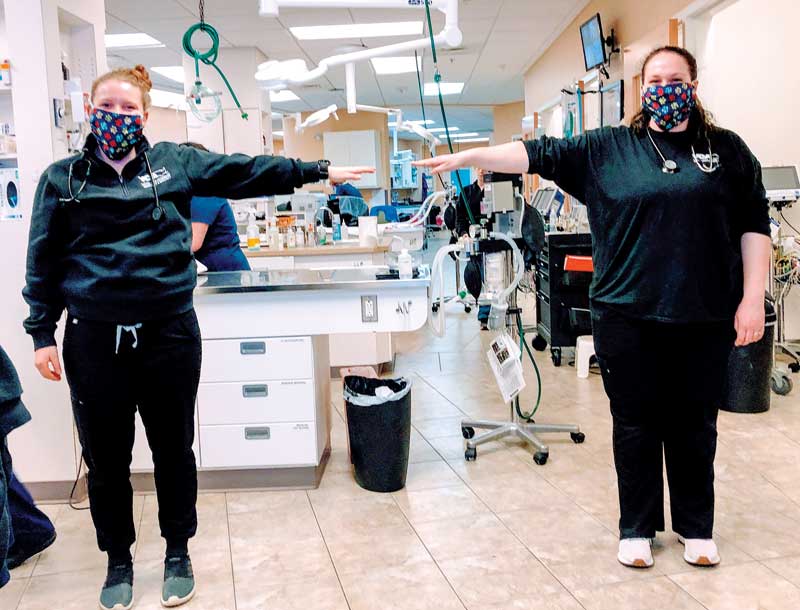 While some states are letting veterinary hospitals offer preventive and elective procedures again, others are slowly reopening. A study found three-quarters of practices reported 40 percent fewer appointments and 20 percent revenue declines in April.1 Hospital owners are counting on recapturing postponed checkups and nonessential procedures to rebound profits. Here's how to prepare your practice:
Prioritize which patients you will see
Use a point system to budget the number of procedures. Resuming elective procedures doesn't mean opening the floodgates. The Oregon Veterinary Medical Association (OVMA) advises practices to have a two-week supply of personal protective equipment (PPE) based on the number of procedures to be performed and an open supply chain.2 PPE masks should be used during procedures, rather than cloth face masks. When medical teams must work in close proximity, follow a checklist to set up supplies and equipment in advance for efficiency and reduced contact time.
Veterinarians should collaborate with the client care team to prioritize the order of patients. Contact clients with pets that needed elective procedures in January through April, but were unable to schedule due to stay-at-home orders. Let's look at dental procedures as an example. Use a point system, with one point equaling 10 minutes of procedure time. If your team will perform procedures for four hours, budget 24 points or 240 minutes. Book overdue Grade 3 and 4 procedures first, which may limit you to two to three procedures each day.
Below is a sample dental point system:
Capture overdue patients and forward-book the next checkups. Because the American Veterinary Medical Association (AVMA) advises pet owners not to postpone rabies vaccinations, call clients with overdue pets and book their appointments first.3 Use forward-booking for patients that will be due over the next two months. If a patient is due June 15, send the reminder June 1 to book the checkup for the week of June 15. This will allow you to space checkup visits throughout the schedule, still reserving urgent-care slots for sick patients that will need to be seen the same day. I advise practices to have a checkup at the top of each hour, the first appointment after lunch (it's like hitting the reset button), and the last appointment of the day (so you avoid overtime).
Keep employees safe
Consider assessing employees' health at the start of each shift. When employees arrive, a supervisor would use an infrared noncontact thermometer to take their temperatures. The Centers for Disease Control and Prevention's (CDC's) definition of a fever is 100.4 F (38 C).4 Managers should maintain a temperature and self-assessment log. Each employee will answer a short list of self-assessment health questions, which could be incorporated into your electronic time clock software. Consult with your employment attorney, and send employees with fevers home. Equal Employment Opportunity Commission (EEOC) guidelines give employers the right to take employees' temperatures and advise having a plan on how the process will occur. Screening information must be kept confidential, and you must decide how you'll handle employee refusals and what actions you'll take if fevers are detected. Download EEOC guidelines at bit.ly/2Ww0zVx.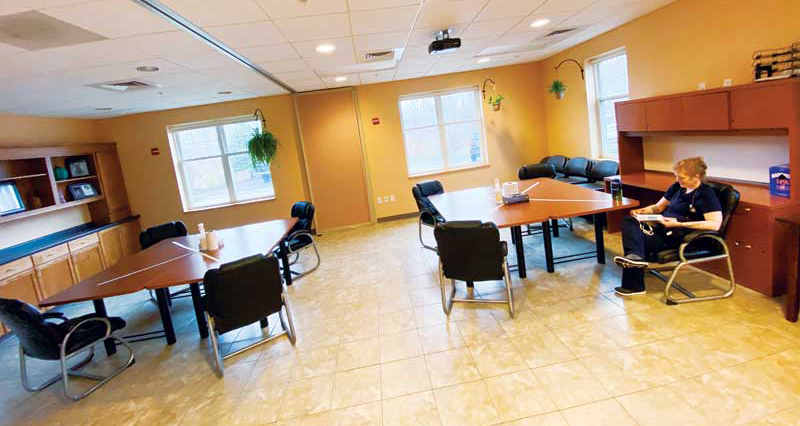 The Colorado Department of Public Health and Environment (CDPHE) created an online symptom checker for health-care businesses (bit.ly/2WuMuaP). The questionnaire asks about the presence of symptoms such as fever, chills, cough, difficulty breathing/shortness of breath, sore throat, headache, body aches, vomiting, and diarrhea. Further, it asks whether the employee has been in contact with someone who had COVID-19 symptoms but was not tested or with someone who tested positive.
Have employees immediately wash their hands upon arrival. Staff shouldn't clock in or put personal items in lockers until they've washed their hands with soap and water for at least 20 seconds. Set hygiene standards such as having employees wash their hands after providing care to every patient, using the restroom, sneezing, blowing their nose, cleaning, sweeping, mopping, smoking, eating, drinking, taking a break, and before or after starting a shift.
Encourage safe distancing. Coworkers should stay at least six feet apart. If you have two receptionists at the front desk, shift the workstations to be farther apart or move the second employee to a phone cubby or an office. Employees should wear cloth masks (PPE for procedures), even if you're not allowing clients in the building. Wearing a mask is not a substitute for social distancing—employees must do both.
Sanitize workspaces. Doctors and managers should sanitize and clean personal workspaces at the beginning and end of each shift. Shared workspaces, such as reception and nursing stations, should be cleaned between client interactions and when another coworker will use the same equipment or computer.
Adapt your break room. If you have a small space, schedule individual employee breaks and mealtimes so only one employee is in the break room at a time. Provide sanitizing spray to wipe down the counter, table, and chair after each use. COVID-19 can live on cardboard for 24 hours and on plastic and stainless steel for up to 72 hours. The virus can be spread from infected objects if you then touch your mouth, nose, or eyes. Encourage employees to bring their own coffee mugs, dishes, and utensils from home, avoiding shared kitchen supplies.
For larger teams, reduce the number of chairs at tables, spacing them six feet apart and using colored tape on table surfaces to indicate separate seating. At Capital Area Veterinary Emergency Service in Concord, N.H., its hospital director, Joshua Jasper, moved the break room to a larger conference room, marked table surfaces for distancing, and set up a team appreciation station with complimentary snacks and drinks (bit.ly/2A2Ymtg). 
Keep clients safe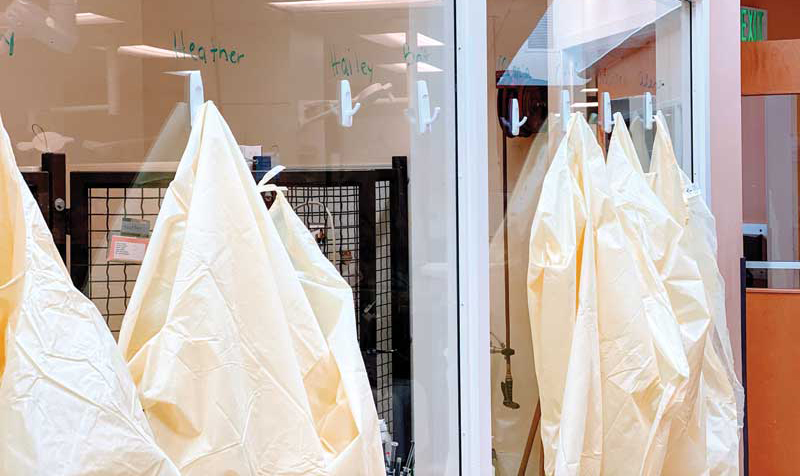 Decide on curbside versus in-clinic care. As local jurisdictions phase in businesses' reopening, your hospital may want to continue curbside concierge care for the first one to two months before welcoming clients inside your building. Check local jurisdiction guidelines, as many are changing daily. If you're able and want to let pet owners inside, provide clear instructions, such as:
Clients are required to use hand sanitizer or wash their hands upon entry. Occupational Safety and Health Administration (OSHA) advises to provide alcohol-based hand rubs with at least 60 percent alcohol if soap and running water are not immediately available.5
Clients should follow local regulations regarding the wearing of face masks.
Tissues must be provided at the front desk and in every exam room. Clients could use tissues to open doors or punch keypads on credit card devices. Use step trash cans for touchless waste disposal
Create pathways to control clients' movement. Put adhesive arrows and lines on floors to direct them to washing areas, exam rooms, and exits. Post signs in your lobby encouraging physical distancing.
Limit the number of clients who may accompany pets to appointments. You can't fit a client with her three kids, their grandma, and two dogs in a 10 x 10-ft exam room, along with a doctor and technician. Some practices are limiting one owner and patient per visit, with exceptions made for euthanasia. Medical staff may choose to perform euthanasia outdoors, such as a side or backyard where families can have more space and privacy.
Install clear sneeze guards. Because many lobbies have high ceilings and curved counters, an easier and visually appealing approach is to hang sneeze guards from chains or cables mounted on ceiling supports. If sneeze guards are placed on counters, have secure mounts so they can't tip over and injure workers or clients. Daniel D. Chapel, AIA, NCARB, of Chapel Associates Architects in Little Rock, Ark., explains there's competition for every square inch of countertop, so mounting sneeze guards from ceilings is best. Anchor bottoms of sneeze guards to avoid swaying.
Add physical barriers in exam rooms, too. The average exam room is 8 x 11 or 10 x 10 ft, totaling about 100 sf, Chapel explains. Once furnished with an exam table, client seating, work counter, overhead cabinets, and sink, only two feet may remain between employees and clients. Mount or hang the sneeze guard at the edge of the exam table closest to client seating. A veterinary nurse or assistant will help the veterinarian with patient restraint. The client cannot cross the barrier to hold her own pet.
Remove the coffee pot in your lobby. Have pre-sanitized bottled water available upon request, although clients will need to remove masks to drink, so that is something to consider.
Install a drive-thru window or designate a pick up parking spot. Woodland West Animal Hospital in Tulsa, Okla., has a covered drive-thru window with a side door. A client could prepay over the phone when ordering, pull into the drive-thru, push a button from the driver's seat to open an SUV's back gate, and an employee could load items without having physical contact with the client.
An alternative would be to designate a parking space with a "prescription pick up here" sign for curbside service. With the pandemic, Chapel predicts a resurgence of drive-thru windows in new construction or remodeling projects. He also has seen businesses mount lockers on building exteriors. Clients prepay over the phone and get a code to unlock a box with their items, which allows for 24-7 pick up.
Provide contactless payment or exam-room checkout. Email receipts to avoid seeing a second employee at the front desk for checkout. Pens and keypads should be sanitized between individual use.
Clients must have appointments. With the exception of life-threatening emergencies, pet owners will need to make appointments. Clients will wait in their cars until the medical team is ready to begin. You want to avoid a lobby filled with waiting clients and walk-ins (yes, even nail trims must be scheduled as nurse appointments). For walk-in clinics, post yard signs and notices on doors instructing clients to call upon arrival and wait in their cars. Log the order of walk-in arrivals to provide curbside or limited in-clinic service.
Consider senior hours. Just like grocery stores, set aside the appointment hours of 7 a.m. to 9 a.m. every Monday, Wednesday, and Friday for senior citizens to spread out traffic in your hospital.
Go to single-table surgical suites. Chapel advises that some two-table surgical suites can be converted to a single-table room, providing more space for medical teams working in a confined space.
When you create structured guidelines for reopening based on local jurisdiction and safety protocols, you'll help clients and employees feel confident you're minimizing risks. Monitor local jurisdiction updates and network with colleagues on how they're adapting their facilities and operations. Thousands of patients and clients are counting on you as essential businesses.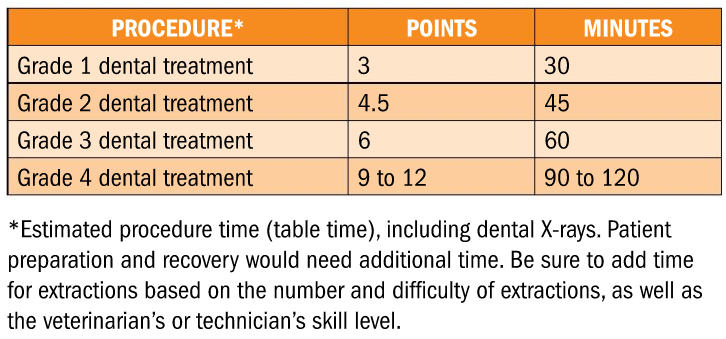 Wendy S. Myers, CVJ, has been training veterinary teams for more than 20 years as owner of Communication Solutions for Veterinarians in Castle Pines, Colo. She helps health-care teams improve telephone and communication skills that result in getting more pets the medical care they need. Myers shares her expertise through conferences, online courses, and monthly CE credit webinars. She is a certified veterinary journalist and author of five books. You may reach her at wmyers@csvets.com or csvets.com.
References
1 Survey finds declining practice revenue, move toward telemedicine. JAVMA News. Published April 29, 2020. Available at: avma.org/javma-news/2020-05-15/survey-finds-declining-practice-revenue-move-toward-telemedicine. Accessed May 4, 2020.
2 COVID-19: Patient Care & Clinic Administration Guidance. Oregon Veterinary Medical Association. Available at: oregonvma.org/news/covid-19-patient-care-guidance. Accessed May 4, 2020.
3 Kavin K. Treating Fido via FaceTime: Veterinarians adapt as coronavirus spreads. The Washington Post. Published March 26, 2020. Available at: washingtonpost.com/science/2020/03/26/coronavirus-veterinarians-pets/?wpisrc=nl_sb_smartbrief.
4 Definitions of Signs, Symptoms, and Conditions of Ill Travelers. Centers for Disease Control and Prevention. Available at: cdc.gov/quarantine/maritime/definitions-signs-symptoms-conditions-ill-travelers.html. Accessed May 4, 2020.
5 Guidance on Preparing Workplaces for COVID-19. OSHA. Available at: osha.gov/Publications/OSHA3990.pdf. Accessed May 4, 2020.