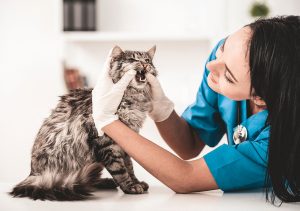 The American Animal Hospital Association (AAHA) has updated its dental care guidelines with the goal of decreasing oral pain and improving the quality of life for dogs and cats.
While not always apparent to pet owners, by the age of three, dogs and cats have some level of periodontal disease.
Updated from the 2013 edition, the 2019 AAHA Dental Care Guidelines for Dogs and Cats are designed to help veterinary professionals expand their current client education efforts, so pet owners understand periodontal disease can be avoided through regular dental checkups and proper home care.
The new guidelines also help veterinary practitioners address the fear of anesthesia among pet owners, as it is the most common reason for declining dental procedures.
"Regular dental care is one of the most powerful ways we can improve the quality of life of our patients," said AAHA chief executive officer, Michael Cavanaugh, DVM, DABVP (emeritus).
"AAHA continues to support the use of general anesthesia in dental procedures to promote appropriate diagnostic capabilities and decrease patient stress, injury, and risk of aspiration. Because home care is crucial in the support of a healthy, pain-free mouth, client communication and education remain central to these guidelines."
Detailed images and resources are also included in the updated guidelines and will explain and support high-quality dental care, allowing the veterinary team to be confident in their dental treatment recommendations. The guidelines also provide:
• anesthetic and analgesic strategies, so practitioners can administer sedation for select purposes, and local and general anesthesia as safely as possible;
• essential steps before, during, and after dental procedures; and
• information about the science behind Veterinary Oral Health Council dental care products.
Click here to read the guidelines.