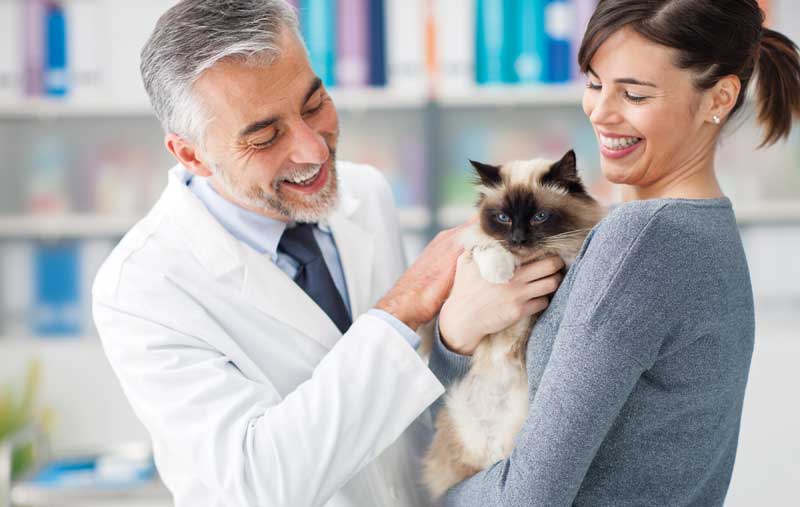 Atlanta, Denver, Chicago, Houston, and cities across the nation reported outbreaks of canine influenza last year, according to a map from Cornell University College of Veterinary Medicine.1 Lyme-spreading deer ticks were seen for the first time in three Nebraska counties.2 Panicked pet owners may call your hospital after watching local news stories and seeing social media posts. From veterinarians to receptionists, everyone needs to educate clients about changing risk factors and your hospital's vaccine protocols.
Clients want specific advice on which vaccines their pets need to stay protected. Too often, your team may use wiggle words that could put pets at risk. Let's makeover these client conversations:
Stop "it's up to you" conversations. When I called a hospital about a newly adopted puppy, the receptionist shared information on distemper and rabies vaccines, but backpedaled on Leptospirosis and Lyme immunizations. Her "it's up to you" response did not support the hospital's standards of care for a puppy that would be trained to be a hunting dog. Simply asking the puppy's breed and whether it was going to take training classes would have led to a confident discussion of Leptospirosis and Lyme immunizations.
Don't "just remember" which history questions to ask. Use templates in electronic medical records or printed forms. Distinguish which questions veterinary nurses and doctors will ask so you avoid duplication (clients don't want to answer the same questions twice). You'll also be more efficient with exam time. Checklists are a valuable compliance tool because they:
Provide insurance against overconfidence (You've already had the flea/tick/heartworm conversation 20 times today!)
Prevent you from shortchanging history questions on busy days with, "Any coughing, sneezing, vomiting, or diarrhea?" or "Any fleas, ticks, lumps, or bumps?"
Create specific questions regarding preventatives for puppies, kittens, adult, and senior pets. For example, you would ask arthritis-assessment questions for senior pets, but not pediatric patients. Design questions around diet, lifestyle, elimination habits, activity level, home dental care, behavior concerns, and the use of flea, tick, and heartworm preventatives. Here are examples of vaccine-focused questions and the applicable diseases that would apply:
Do you take your dog to a groomer, dog park, boarding facility, or stores where it could have contact with other dogs? (Leptospirosis, Bordetella, distemper)
Is there wildlife in your area (mice, squirrels, birds, possums, raccoons, or skunks)? (Leptospirosis, Lyme)
Does your dog come into contact with other pets or their environments? (Leptospirosis, Bordetella, distemper, Lyme)
Does your dog have an opportunity to drink from standing water outdoors (ponds or puddles)? (Leptospirosis)
Does your pet sleep with you or your children? (Leptospirosis is zoonotic)
When was the last time your cat went outside? (Feline leukemia)
Does your cat live in a multi-cat household? (Feline leukemia)
Has your cat ever fought with other cats? (Feline leukemia, feline distemper)
What activities do you do with your pet for exercise? (Outdoor activities: Leptospirosis and Lyme)
Which flea, tick, and heartworm preventative do you use? When did you give the last dose? (Lyme)
Do you travel with your pet to areas where ticks or mosquitoes may be present? (Lyme)
Have you ever found a tick on your pet or on any other pet or person in your home? (Lyme)
Once you've developed questions focused on vaccines and preventatives, create some for vomiting, diarrhea, lameness, skin conditions, allergies, and other common reasons for visits. Veterinarians and nurses should work together to format the wording and order of history questions. Taking a team approach ensures buy-in and ongoing usage. (Get my free history questions for veterinary nurses at csvets.com/historyquestions.)
Don't miss opportunities for future care. When you see a new patient, enter reminders for all future exams, vaccines, and diagnostic testing. You examine a five-year-old dog today and vaccinate it for distemper, Leptospirosis, canine influenza, and Lyme disease. Last year, the dog received a three-year rabies vaccination. Even though you didn't vaccinate for rabies today, enter the vaccine reminder to occur in two years. You don't want to risk the patient's health or disappoint the client by missing future care.
Don't feel guilty about your prices. You call a client about her pet's overdue checkup. The pet owner plans to get her pet vaccinated at a shot clinic that advertised $10 rabies and $25 distemper vaccines.
To communicate value for your fees, the receptionist would say, "Our veterinarian will perform a nose-to-tail exam to ensure your pet is healthy, and it is safe to give vaccines. During the exam, you may discuss your pet's health and behavior concerns with the veterinarian. The doctor will ask you questions about your pet's lifestyle and activities so he will choose only necessary vaccines. We use safe, guaranteed vaccines with the latest technology and research. We offer vaccines with one- or three-year protection, and some vaccines are combined to protect against multiple illnesses in one shot, which is more comfortable for your pet. Your pet is due for <list vaccines>. For the nose-to-tail exam and vaccines, our fee is $____." Lead the client to book now using the yes-or-yes technique. "The doctor could see <pet name> Monday at 4 p.m. or Tuesday at 10 a.m. Which do you prefer?"
Be mindful of words you use in client conversations. Do they reflect your standards of care and lead to client compliance? Discuss phrases you'll use to speak with clients about vaccines and preventatives because receptionists, nurses, and doctors all influence pet owners' decisions.
Wendy S. Myers, CVJ, has been training veterinary teams for more than 20 years as owner of Communication Solutions for Veterinarians in Castle Pines, Colo. She helps health-care teams improve telephone and communication skills that result in getting more pets the medical care they need. Myers shares her expertise through conferences, online courses, and monthly CE credit webinars. She is a certified veterinary journalist and author of five books. You may reach her at wmyers@csvets.com or csvets.com.
References
1 Canine Influenza H3N2 Updates. March 2015 to present. Cornell University College of Veterinary Medicine. Available at: https://www.vet.cornell.edu/animal-health-diagnostic-center/veterinary-support/disease-information/canine-influenza-h3n2-updates. Accessed Jan. 9, 2020.
2 Deer Ticks Turn Up in East Nebraska; Can Carry Lyme Disease. AP. Published June 26, 2019. Article available at: https://apnews.com/. Accessed Jan. 9, 2020.