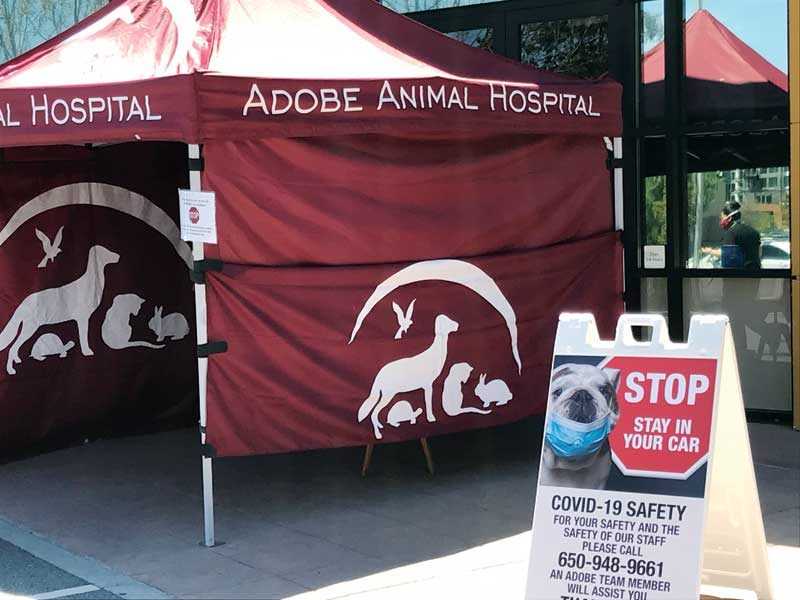 Can you believe we've passed the one-year anniversary of curbside care? As governors began lifting mask mandates in March, practice owners and managers knew clients would start pushing to come inside. Cautious leaders worried a "Wild West" approach of completely opening could put employees and pet owners at risk.
To make employees and clients feel comfortable, create guidelines just as you did for curbside care. Here's a roundup of what practices are doing so you can choose the right approach for yours:
Decide on curbside, in-clinic care or a combo: As local jurisdictions phase in businesses' reopening, your hospital may choose to continue curbside care for the first one to two months before welcoming clients inside your building. Check local jurisdiction guidelines as many frequently change based on COVID prevalence rates.
Like curbside grocery and restaurant pickup, veterinary curbside care will continue. Even when you welcome clients back inside, some may prefer curbside care. A client undergoing cancer treatment or who cares for a high-risk elderly parent will want the safety and convenience of curbside care.
Require clients to use hand sanitizer or wash their hands upon entry: OSHA advises to provide alcohol-based hand sanitizer with at least 60 percent alcohol if soap and running water are not available.1 Place a table or stool at the front entrance with signs with instructions. If a bathroom is near the front door, clients also could wash before checking in at the front desk.
Determine whether clients must wear face masks: Carefully consider a "no mask, no service" policy, know local jurisdiction guidelines, and consult an attorney. "You can set the terms of what happens in your business. For instance, there's no requirement that you allow people to come into your business with a gun or without a face mask," explains David Reymann, a First Amendment attorney with Parr Brown Gee & Loveless in Salt Lake City. "If you want to set those terms, it's your business, you're a private business, and you're entitled to do that."2
An exam room typically measures 8 x 11 or 10 x 10 ft, totaling about 100 sf, explains Daniel D. Chapel, AIA, NCARB, Chapel Associates Architects Inc., Little Rock, Ark. Once furnished with an exam table, client seating, work counter, overhead cabinets, and sink, only two feet may remain between employees and clients.
Because six feet of social distance cannot be achieved in exam rooms, mount or hang sneeze guards at the edge of the exam table closest to client seating. A veterinary nurse or assistant will help the veterinarian with patient restraint. The client cannot cross the physical barrier to hold her own pet.
Create pathways to control clients' movement: Place adhesive arrows and lines on floors to direct them to washing areas, exam rooms, and exits. Post signs in your lobby encouraging physical distancing.
Limit surfaces clients must touch: Provide tissues at the front desk and in exam rooms. Clients may usetissues to open doors or punch keypads on credit card devices. Provide two pen holders marked "sanitized" and "used" if clients must sign credit card receipts. Use step trash cans for touchless waste disposal.
Restrict the number of clients who may accompany pets at appointments: Clients are sick and tired of working and schooling from home. They feel like grounded teenagers who can't leave their rooms. You can't fit a client with her three kids, their grandma, and two dogs in a 10 x10-ft exam room, along with a veterinarian and nurse.
Some practices limit one client and one patient per appointment with exceptions made for euthanasia. Medical staff may choose to perform euthanasia outdoors in a hospital's side or backyard or in a large conference or employee breakroom where families can have more space and privacy.
At Star of Texas Veterinary Hospital in Austin, Texas, practice manager Dana Wile says they offer "backyard exams" when weather permits. If clients wait in their cars, the team uses Zoom for video chat.
Install clear sneeze guards in lobbies: Because many lobbies have high ceilings and curved counters, an easier and visually appealing approach is to hang sneeze guards from chains or cables mounted on ceiling supports. If sneeze guards are placed on counters, have secure mounts so they can't tip over and injure employees or clients. Chapel explains there's competition for every square inch of countertop, so mounting sneeze guards from ceilings is best. Anchor bottoms of sneeze guards to avoid swaying.
Have clients wait in their cars until appointments begin. You don't want elbow-to-elbow clients in your lobby. Tiger Tails Animal Hospital in Duluth, Ga., allows one person per pet to come inside for scheduled appointments. Clients text or call for curbside check-in. When an exam room becomes available, a greeter meets the client curbside and escorts the pet owner and pet directly to the exam room.
Whether you choose to continue curbside care or welcome back clients, make sure the client experience is as amazing outside as it is inside your facility.
Wendy S. Myers, CVJ, has been training veterinary teams for 21 years as owner of Communication Solutions for Veterinarians. She teaches teams to become confident communicators, so more pet owners say yes to medical care. Wendy shares her expertise through conferences, online courses, and monthly live CE credit webinars. She is a certified veterinary journalist and author of five books. Her passion is to help practices like yours thrive and grow through effective communication skills. You may reach her at wmyers@csvets.com or www.csvets.com.
References
1 Guidance on Preparing Workplaces for COVID-19. OSHA. https://www.osha.gov/Publications/OSHA3990.pdf. Accessed Feb. 16, 2020.
2 Thomas E. No Mask, No Service: Can Businesses Legally Require Customers to Wear Masks? Fox 13 News. Available at:
https://www.fox13now.com/news/local-news/no-mask-no-service-can-businesses-legally-require-customers-to-wear-masks. Accessed March 5, 2021.