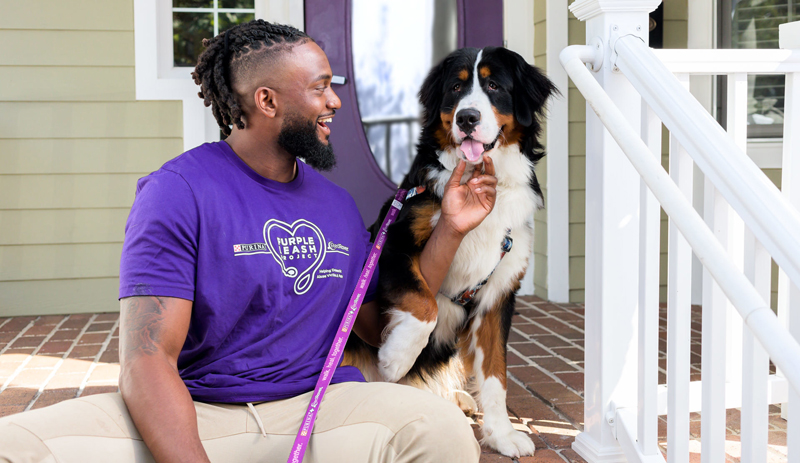 A movement aimed at protecting domestic abuse survivors and their pets, and preserving the human-animal bond has received a helping hand in the form of celebrity support.
Journalist and talk show host, Tamron Hall, and National Football League (NFL) athlete, James Smith-Williams, are lending their voices as advocates for the Purple Leash Project. Founded by Purina and nonprofit organization, RedRover, the national initiative aims to provide more resources and support for domestic violence survivors with pets.
While 70 percent of domestic violence survivors report their abuser threatened, injured, or killed a pet as a means of control, only 15 percent of shelters in the U.S. allow pets. As such, nearly half of victims (approximately 48 percent) will delay leaving an abuser if they cannot take their pet with them into a shelter, Purina reports.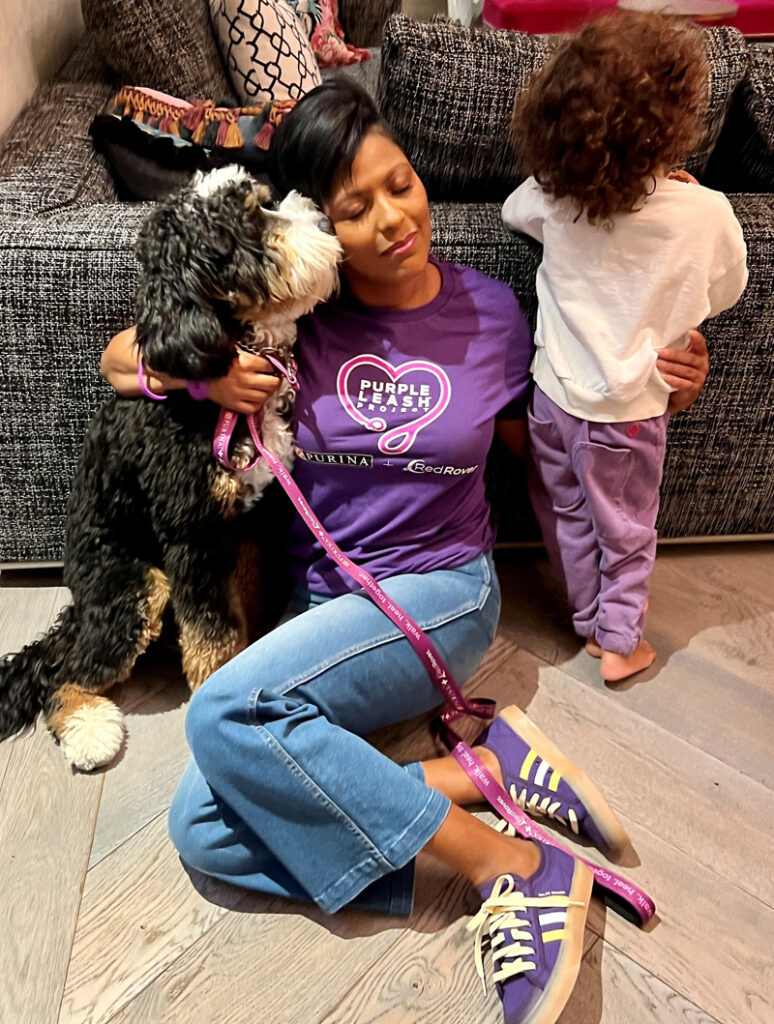 Funds raised through the Purple Leash Project will go toward transforming shelters into pet-friendly spaces, allowing humans and animals to heal together, the company says.
"We can always accomplish more together than we can alone, which is why our partnerships with James and Tamron are so critical to the Purple Leash Project mission," says Purina's president and CEO, Nina Leigh Krueger. "Pets have a unique ability to break down walls, inspire empathy, and help us start conversations about tough issues like domestic violence. The conversations we are having today are driving real change in the way abuse survivors with pets are served."
One in three American women and one in four men experience some form of domestic abuse in their lifetimes, Purina says. This can range from physical violence to emotional or financial abuse.
Hall, a lifelong pet lover whose own sister was killed by an abuser, has supported the Purple Leash Project for the past three years.
"I'm honored to be partnering with Purina and RedRover again," she says. "The work they are doing to ensure safe places for domestic violence survivors and their pets is crucial to the survivor's personal journey. I can't imagine having to leave my Bernedoodle, Exodus, in an unsafe environment. It is truly a heartbreaking decision for someone to make, on top of the abuse they have already endured."
Smith-Williams will be promoting the project as part of the NFL's My Cause My Cleats program, which will see his custom-designed, Purple Leash Project-inspired cleats auctioned in support of the project.
"As a life-long pet lover, pet owner, and domestic violence advocate, I'm proud to represent the Purple Leash Project," the athlete says. "It's an honor to use my platform on and off the field to draw attention to the critical importance pets play in the lives of survivors as companions, healers, and four-legged members of the family—especially during times of crisis."
"We're honored to have James Smith-Williams join us this year as a partner, and to have Tamron Hall back with us for a third year," adds RedRover's president and CEO, Nicole Forsyth. "Together, their voices will help to drive change and highlight all that's already been done to support survivors and their pets. Our collective voices and actions will help bring much-needed awareness to this issue."
Since its founding in 2019, the Purple Leash Project has provided more than $1 million in funding to renovating shelters nationwide. Purina and RedRover hope to transform 25 percent of domestic violence shelters into pet-friendly facilities by 2025.
In 2022 alone, nine Purple Leash Project grants have been given to domestic violence shelters in need of pet-friendly renovations. Most recently, shelters in Missouri, Rhode Island, California, and Florida received funding for upgrades, including converting existing indoor and outdoor spaces to accommodate pets, as well as the installation of pet-friendly flooring and a 'catio.'
For more, click here.